Learn how to create the sensational and viral grinder sandwich recipe! These mouthwatering Tik Tok sandwiches are inspired by Italian grinders, featuring crusty bread stuffed with flavorful deli meat, cheese, and a delectable grinder sandwich salad. Whether you prefer to call it a sub, submarine, hoagie, or hero, you won't be able to resist this simple and satisfying weeknight meal. The grinder sub is essentially a combination of a sandwich and a salad, and it's absolutely delightful.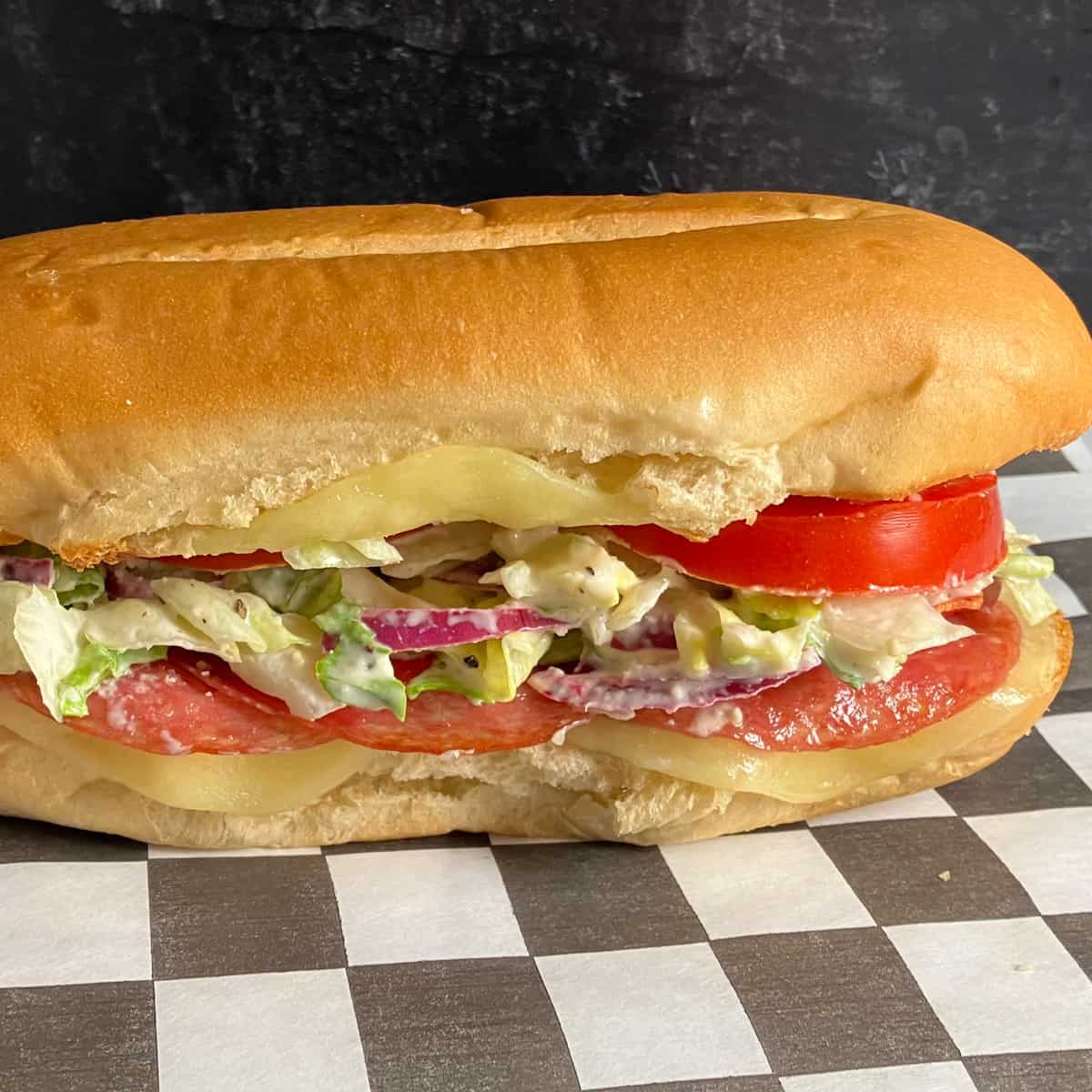 What Makes a Grinder Sandwich So Special?
A grinder sandwich is defined by its long roll that is sliced horizontally and filled with an array of meats, cheeses, vegetables, and condiments. This Italian American creation can be enjoyed cold or heated as a hot submarine sandwich. Originating from the northeastern part of the United States, grinders are also known as heroes, subs, hoagies, or torpedoes, depending on the region.
The Irresistible Grinder Sandwich Recipe
This unbelievably delicious grinder salad sandwich draws inspiration from the viral TikTok version. We've simplified the recipe so that you can easily find all the ingredients at your local grocery store in the United States. There's no need to search for specialty stores carrying prosciutto or capicola. However, feel free to add them to your Italian grinder sandwich if you desire.
To get the detailed printable recipe card, continue reading or jump to the bottom of the article.
The Essential Ingredients for Your Grinder Sandwich
Prepare your taste buds for the ultimate Italian grinder sandwich experience with these ingredients (serves 4):
Grinder bread: Opt for delicious Italian bread sub rolls from the bakery, focaccia, or your preferred type of loaf.
12 slices of provolone cheese: Feel free to substitute with cheddar, Swiss, mozzarella, or your favorite cheese for grinders.
2 ounces of sliced turkey
2 ounces of sliced deli ham
16 slices of pepperoni
2 ounces of salami
About 2 tablespoons of grated Parmesan cheese
2 thinly sliced tomatoes
Grinder salad (explained in the next section)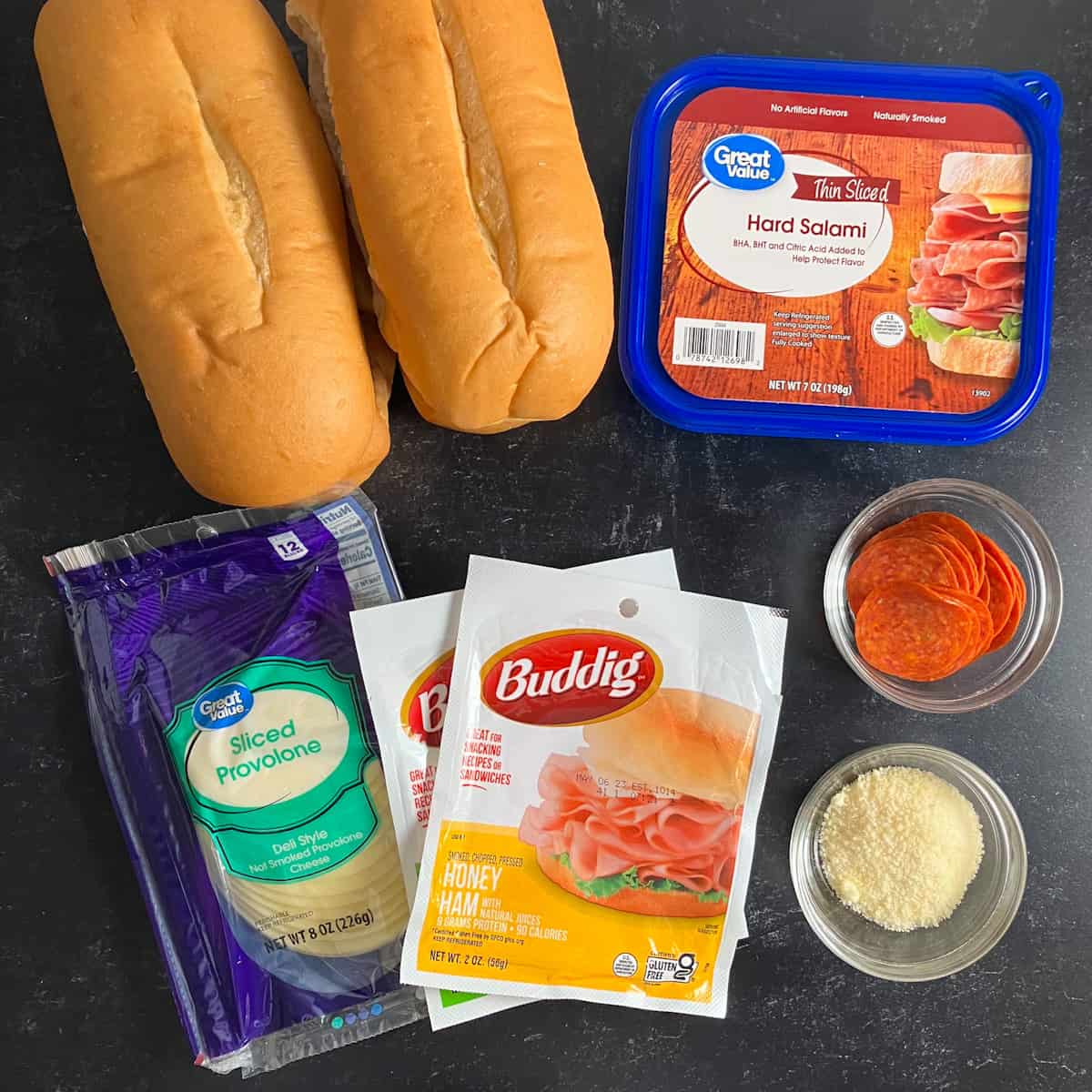 If you choose a thick bread, you can scoop out some of the inside to create more space for the flavorful filling, but this step is optional. Look for 2 oz packages of deli meats at stores like Walmart for convenience. They allow you to enjoy a variety of meats in your sandwiches without buying excessive amounts of each.
For kitchen equipment, a large cookie sheet, a good knife, and an oven are all you need.
The Perfect Grinder Salad
No authentic grinder sandwich would be complete without the addition of a scrumptious grinder salad. Gather the following ingredients to create the ideal complement to your sandwich:
Approximately ⅓ head of iceberg lettuce (around 6.5 oz)
2 tablespoons of thinly sliced red onion
2 sliced pepperoncini peppers
1 tablespoon of fresh lemon juice or red wine vinegar
¼ cup of mayonnaise
½ tablespoon of Dijon mustard
1 clove of minced garlic
2 tablespoons of grated Parmesan cheese
¼ teaspoon of dried oregano (Italian seasoning can be used as a substitute)
Optional: black pepper and red pepper flakes for added flavor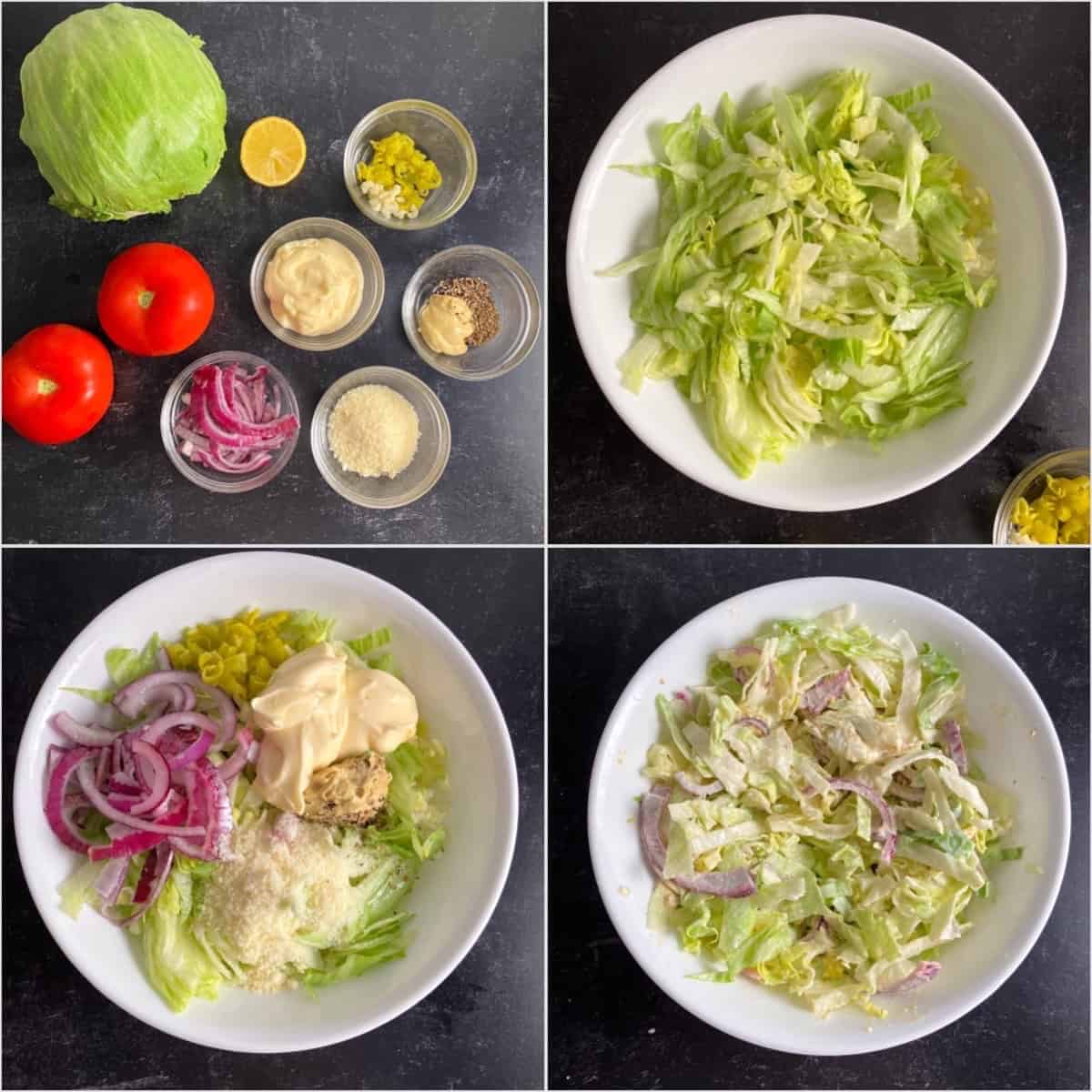 Thinly slice the iceberg lettuce and red onion (refer to the photos for the proper thickness). Slice the pepperoncini and mince the garlic. Gently toss all the grinder salad ingredients together in a large bowl until well combined. It's incredibly delicious, and you might want to double the recipe to have some extra on the side.
Assembling Your Mouthwatering Grinder Sandwich
Follow these easy step-by-step instructions to enjoy your very own grinder sandwiches: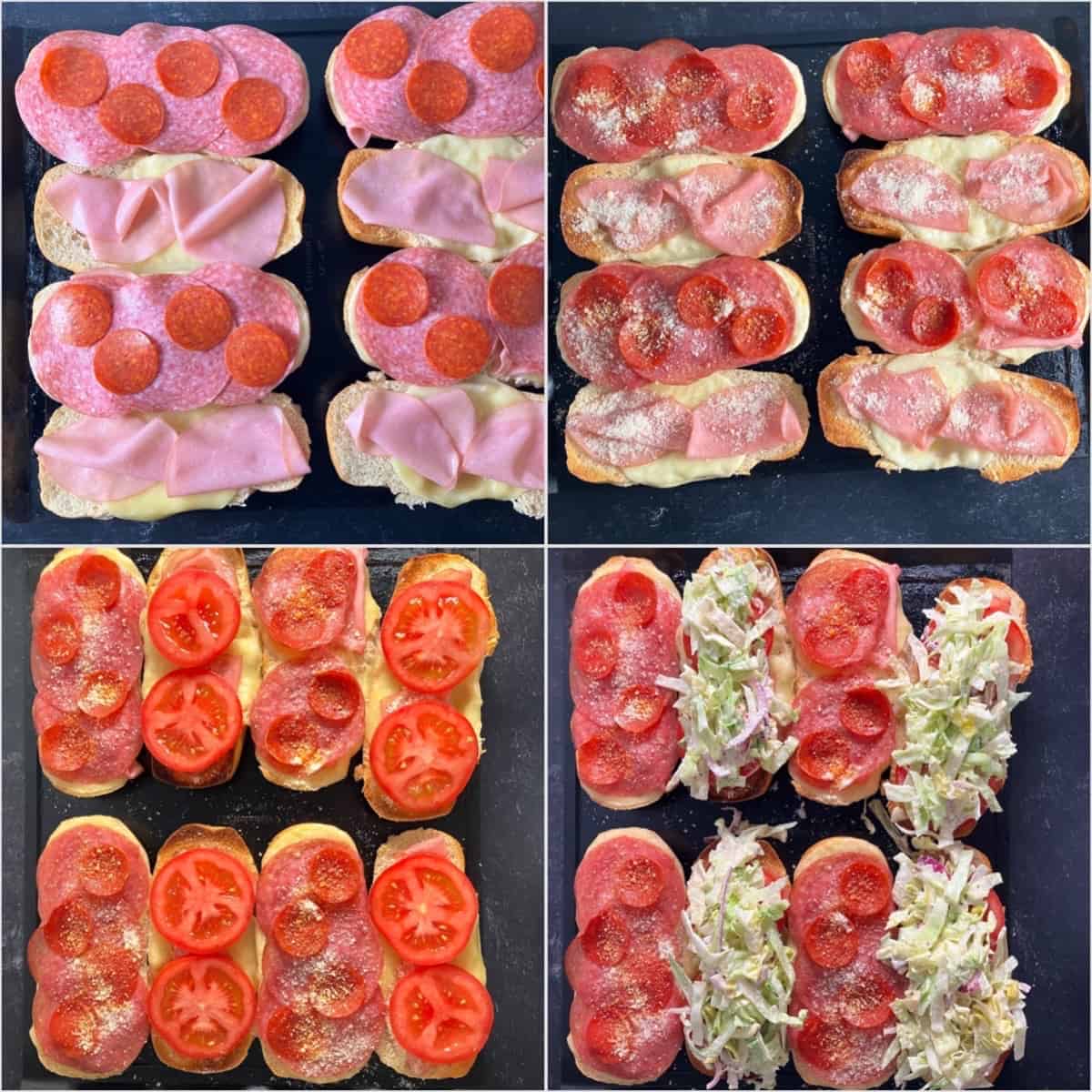 Slice 4 sub rolls in half lengthwise. Place them cut side up on a cookie sheet and layer 12 slices of Provolone cheese on top. Broil the bread on high for 1-2 minutes to melt the cheese.
Evenly divide the deli turkey over one side of the sandwiches and the deli ham on the other side. Fold the deli slices to create a "fluffed up" appearance, giving it that perfect deli-style sandwich feel. Spread the salami and pepperoni evenly on the turkey side of the grinders. Broil for another 1-2 minutes.
Generously sprinkle grated Parmesan cheese on both sides of the grinders. Add thin slices of tomato to the ham side and top it off with a generous portion of grinder salad.
Finally, put the top and bottom halves of the sandwiches together, and serve them with chips or fries. Get ready to experience a burst of amazing flavors!
Grinder sandwiches are best enjoyed immediately. While you can wrap any leftovers in plastic wrap and refrigerate them, they may become slightly soggy if made too far in advance.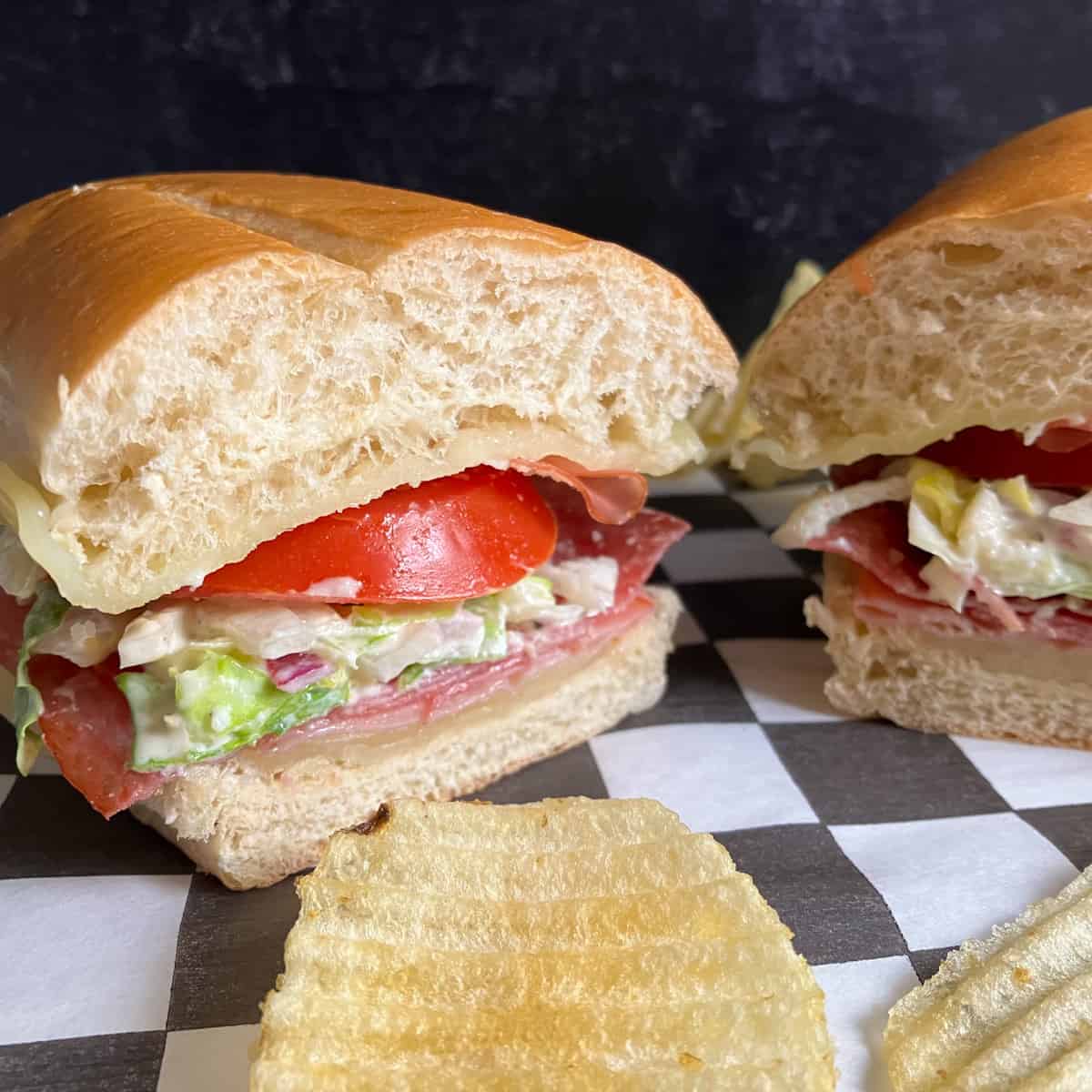 Frequently Asked Questions (FAQs)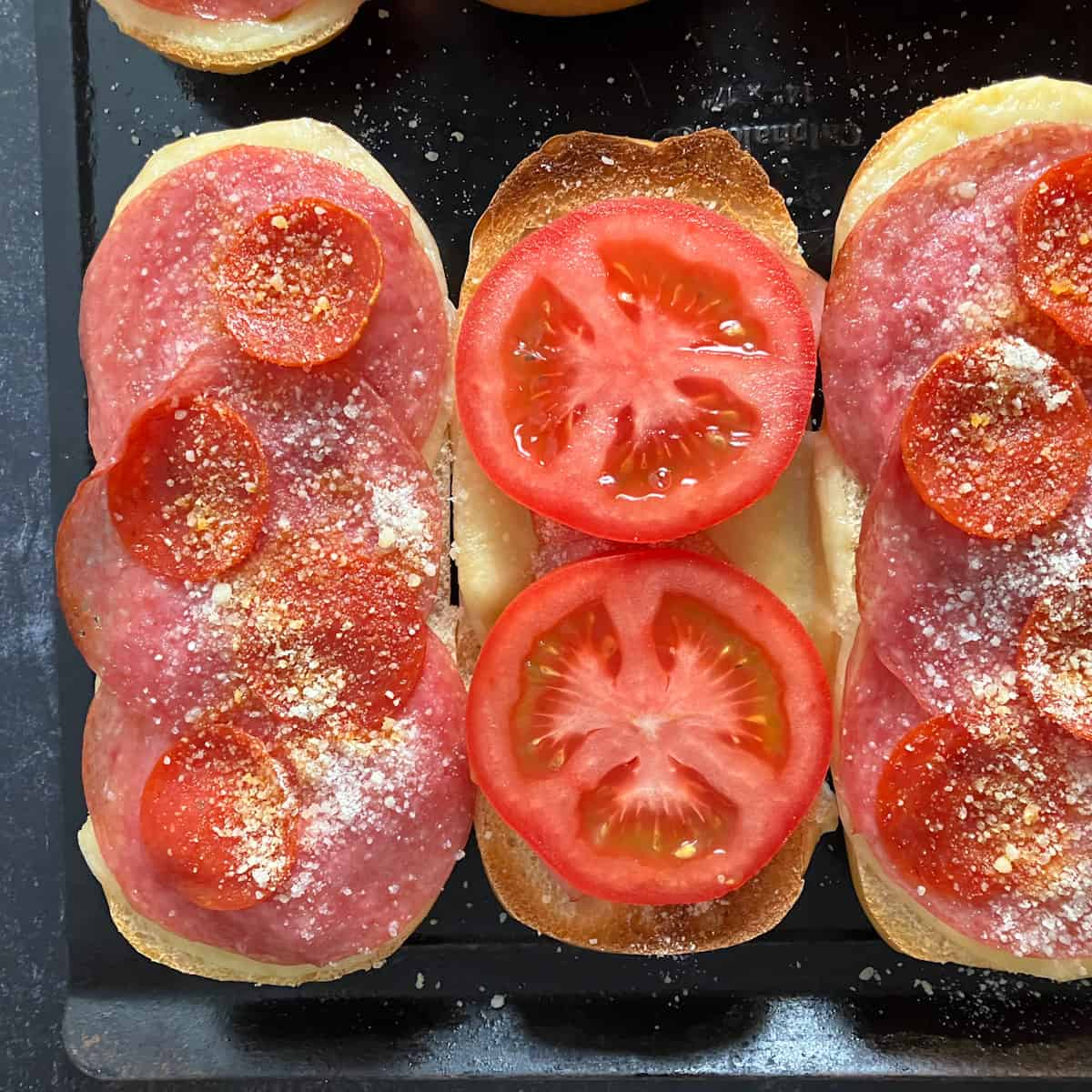 Explore More Hot Grinder Sandwich Recipes
If you can't get enough of submarine sandwiches, here are a few more recipes that require minimal preparation but deliver maximum flavors:
Transform Air Fryer Steak Umms into delectable Philly cheesesteaks.
Try out the savory Salmon Cheesesteak for an exciting twist.
Stuff Air Fryer Sausage and Peppers into hoagie rolls, creating a chopped grinder sandwich.
You can even create a chicken grinder sandwich by substituting the deli meat in the recipe with slices of leftover rotisserie chicken. With a touch of creativity, your homemade grinder sandwich recipes will rival the most famous subs found on TikTok!
Join our community by subscribing and staying up-to-date with the latest and greatest recipes. You can also follow me on Pinterest, Twitter, Instagram, and YouTube for more inspiring culinary content!
Recipe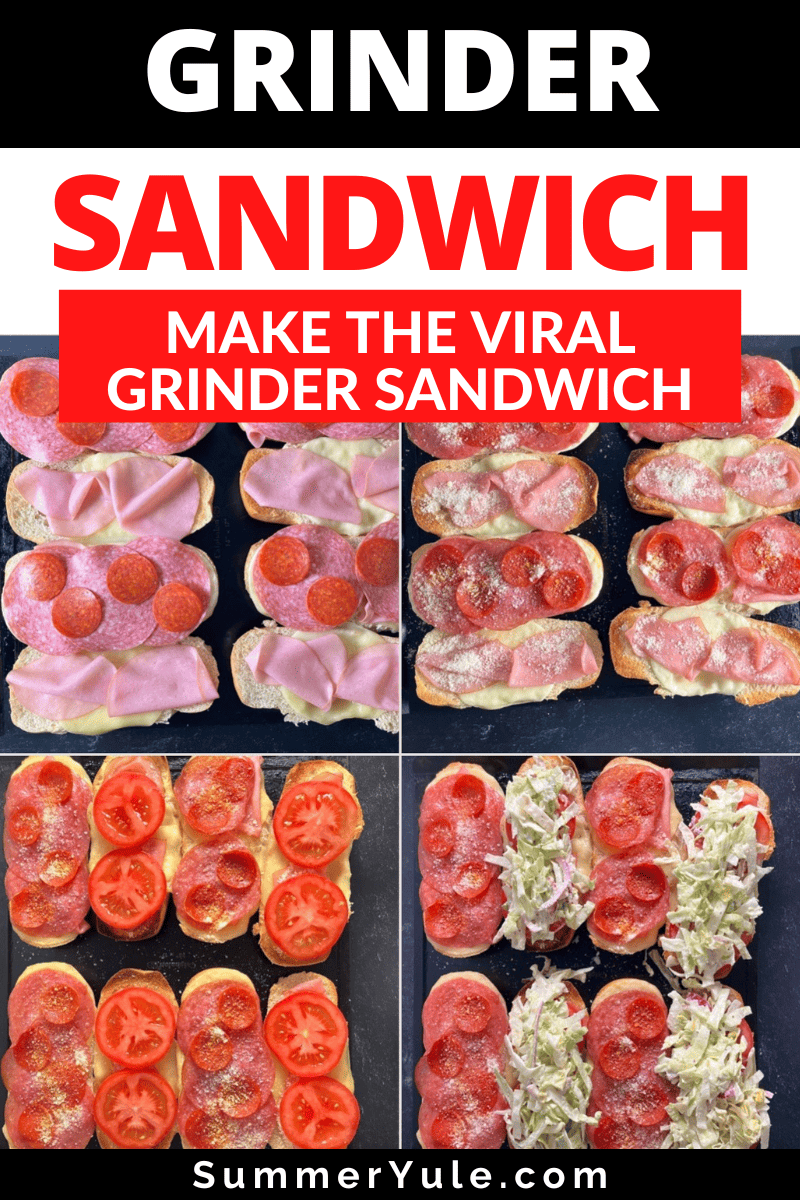 Please note that this is a rewritten version of an article. The original content is protected by copyright laws.