Are you ready to take your grilling game to the next level? Look no further! This grilled sockeye salmon recipe is sure to impress your friends and family with its crispy and tender texture, complemented by a delicious grilled zucchini and tomato salsa. At Hook'd Up Bar and Grill, we believe that grilling should be easy, yet produce succulently delicious results. Follow these tips and tricks to make the ultimate grilled salmon every time!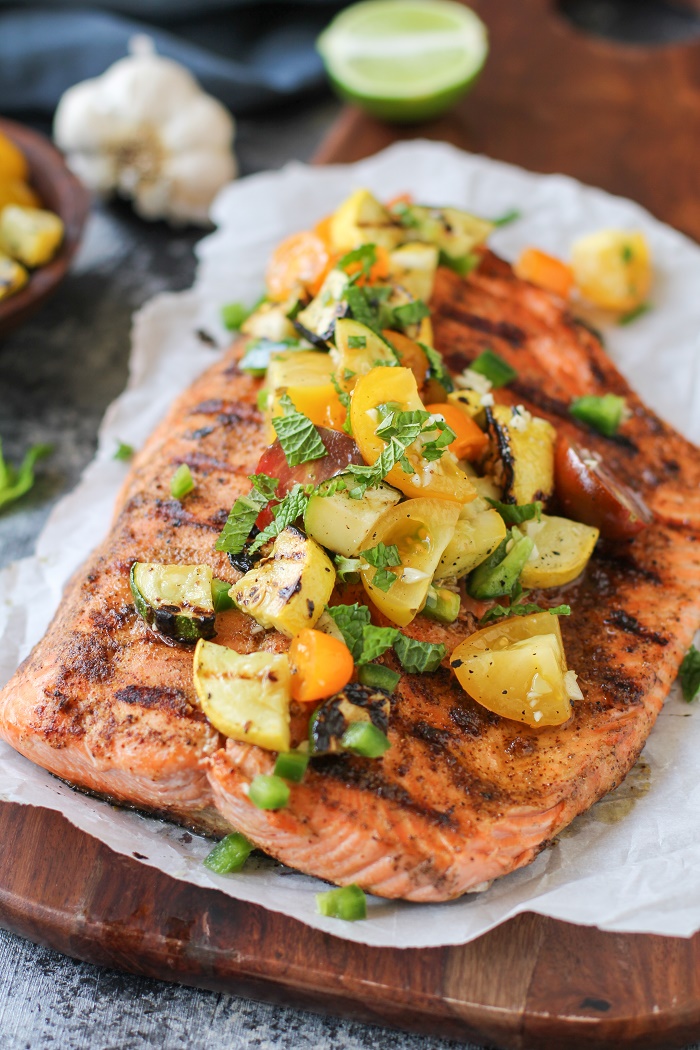 How to Choose the Perfect Salmon Fillet
Before firing up the BBQ, let's start by selecting the right fish fillet. Not all fillets are created equally! Here are some tips for choosing a salmon fillet that's perfect for grilling:
Choose a skin-on fillet. Grilling salmon with the skin on prevents the flesh from sticking to the grill.
Opt for sustainable, wild-caught, and domestically-sourced fish whenever possible.
Familiarize yourself with the different types of salmon and their flavors. Sockeye and King salmon have rich flavors, while Coho salmon offers a delicate flavor with a firm texture.
Look for a fillet with uniform light pink flesh, free of discoloration. Generous streams of fat throughout the fillet ensure moist and tender results.
If you're grilling a large fillet, consider cutting it in half for easier handling.
Sourcing Your Salmon Responsibly
At Hook'd Up Bar and Grill, we are passionate about sourcing high-quality ingredients. We recommend Copper River Salmon, an organization of fishermen in Cordova, Alaska, known for bringing freshly-caught salmon to market. Their King Salmon, in particular, has a super-rich flavor, brilliant texture, and high oil content. It melts in your mouth!
Click here to learn more about Copper River Salmon and find their products near you. Supporting sustainable fishing practices is not only good for the environment but also ensures the freshest and tastiest meals.
Seasonings That Elevate Your Salmon
My go-to seasonings for a dry rub include garlic powder, onion powder, chili powder, paprika, cayenne pepper, and sea salt. Lightly coat the flesh with olive oil and sprinkle on your preferred seasonings. Don't hesitate to experiment with your favorite spices and herbs, or drizzle the fish with lemon juice after grilling. Store-bought seafood seasoning blends are also an excellent option!
The Perfect Grilling Technique
Grilling fish requires careful preparation. Follow these steps for optimal results:
Brush or spray the grill generously with olive oil before preheating to avoid flare-ups.
Preheat the grill to a medium-high setting (around 400 to 450 degrees F) and ensure it's hot before placing the fillet on the grill.
Place the fish skin-side down on the grill, directly over the flame, and cook for 3 to 6 minutes with the cover down. Avoid touching the fish.
Use a spatula to carefully flip the salmon and cook for an additional 2 to 4 minutes, or until the desired level of doneness. Adjust the cooking time based on the thickness of the fillet.
Remember, salmon can be served rare on the inside if it's sushi-grade and safe to eat raw.
Exciting Serving Options
Elevate your grilled salmon experience with fresh seasonal salsa or chutney. For this recipe, we recommend a zucchini and yellow squash salsa with heirloom cherry tomatoes, garlic, jalapeno, fresh mint, and lime juice. A homemade dressing, vinaigrette, or sauce can also enhance the flavors. Serve the salmon atop a bed of greens, fresh veggies, or even with steamed rice and roasted vegetables.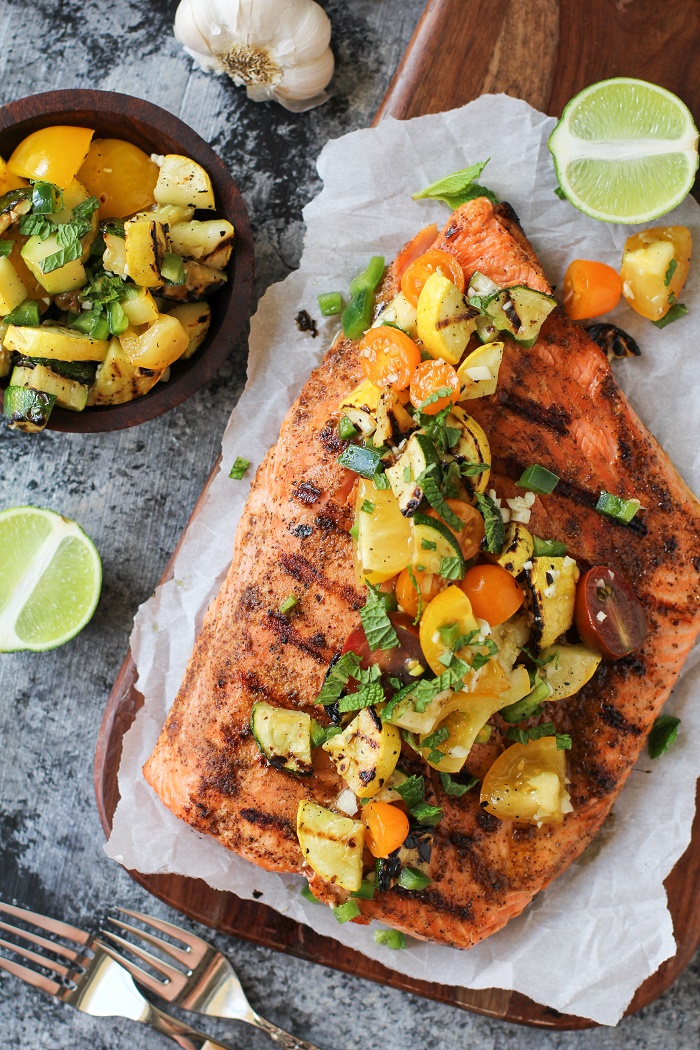 Explore More Delicious Recipes at Hook'd Up Bar and Grill
Salmon is just the beginning! At Hook'd Up Bar and Grill, we offer a wide variety of mouth-watering dishes to satisfy your cravings. Whether you're a seafood lover, a steak aficionado, or a vegetarian, our diverse menu has something for everyone. Check out our website for more information and to discover the perfect dish for your next dining experience.
Disclaimer: This post contains affiliate links. As an Amazon Associate, Hook'd Up Bar and Grill earns a small commission from qualifying purchases without any additional cost to you.
So why wait? Fire up your grill and get ready to enjoy the most delicious grilled salmon you've ever tasted. Your friends and family will be impressed, and you'll be proud to serve this culinary masterpiece from Hook'd Up Bar and Grill. Happy grilling!