Are you ready to experience the most mouthwatering pulled pork recipe ever? Look no further than our Grilled Pork Butt! This easy-to-make dish is packed with flavor and requires just three ingredients. The result? Tender, juicy, and irresistible pulled pork that will have your taste buds dancing with joy. Trust us, your neighbors will be green with envy!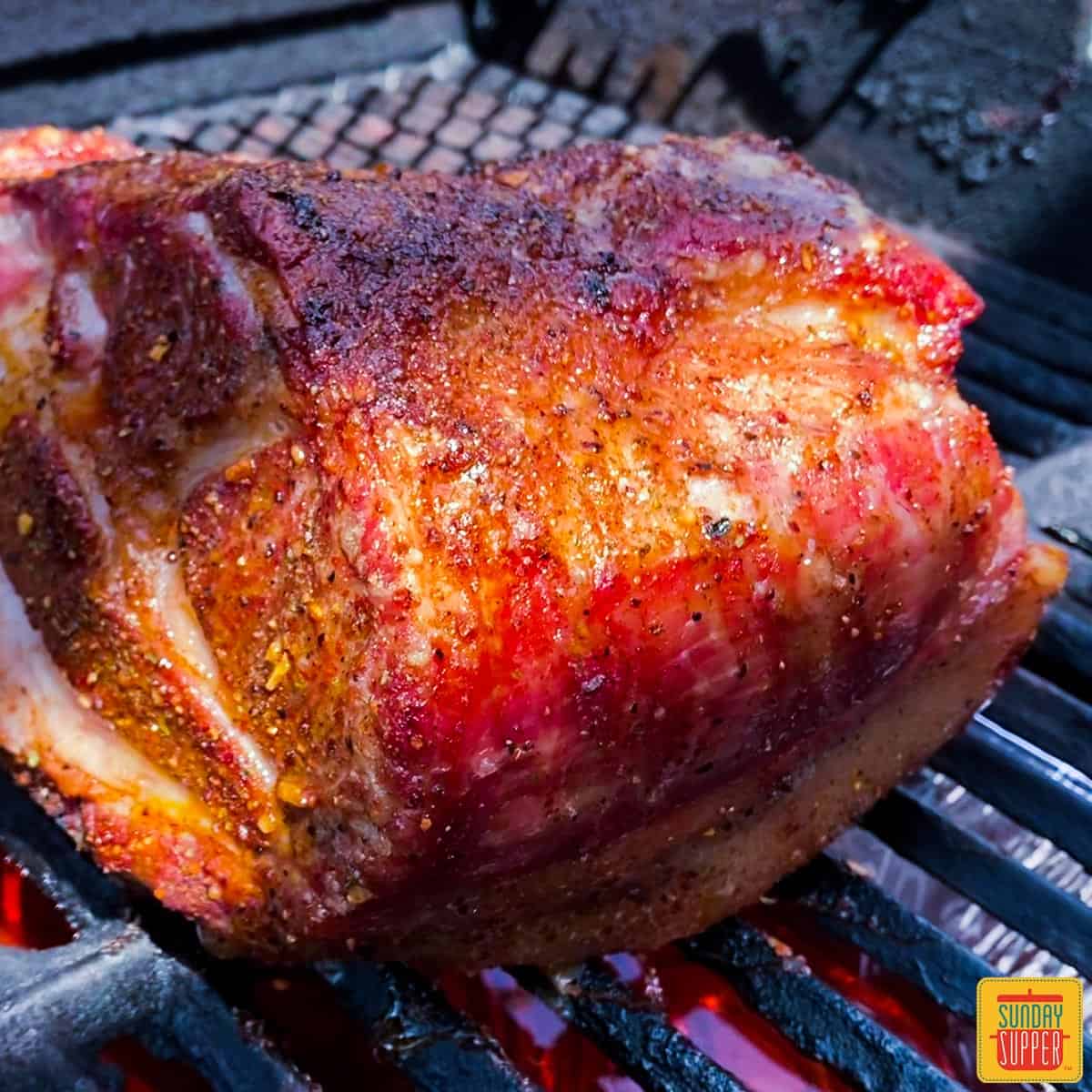 The Best Pulled Pork on the BBQ
Grilling is a year-round tradition that we love. And our Grilled Pork Butt recipe is a clear favorite! The incredible tenderness and rich flavor of this dish will have you hooked from the first bite. The best part? It's an effortless recipe that even beginners can master. With just three simple ingredients, you can create a sensational meal for your loved ones.
One taste of this fork-tender pork butt on the grill, and you'll wonder how you lived without it all your life! For a perfect pairing, try it with our mouthwatering Mexican Street Corn Recipe. Oh, and if you're a fan of pork recipes, don't miss our collection of the best pork chop dishes!
"This is the only way I will make pulled pork from now on! It is amazing." – Amy on Pinterest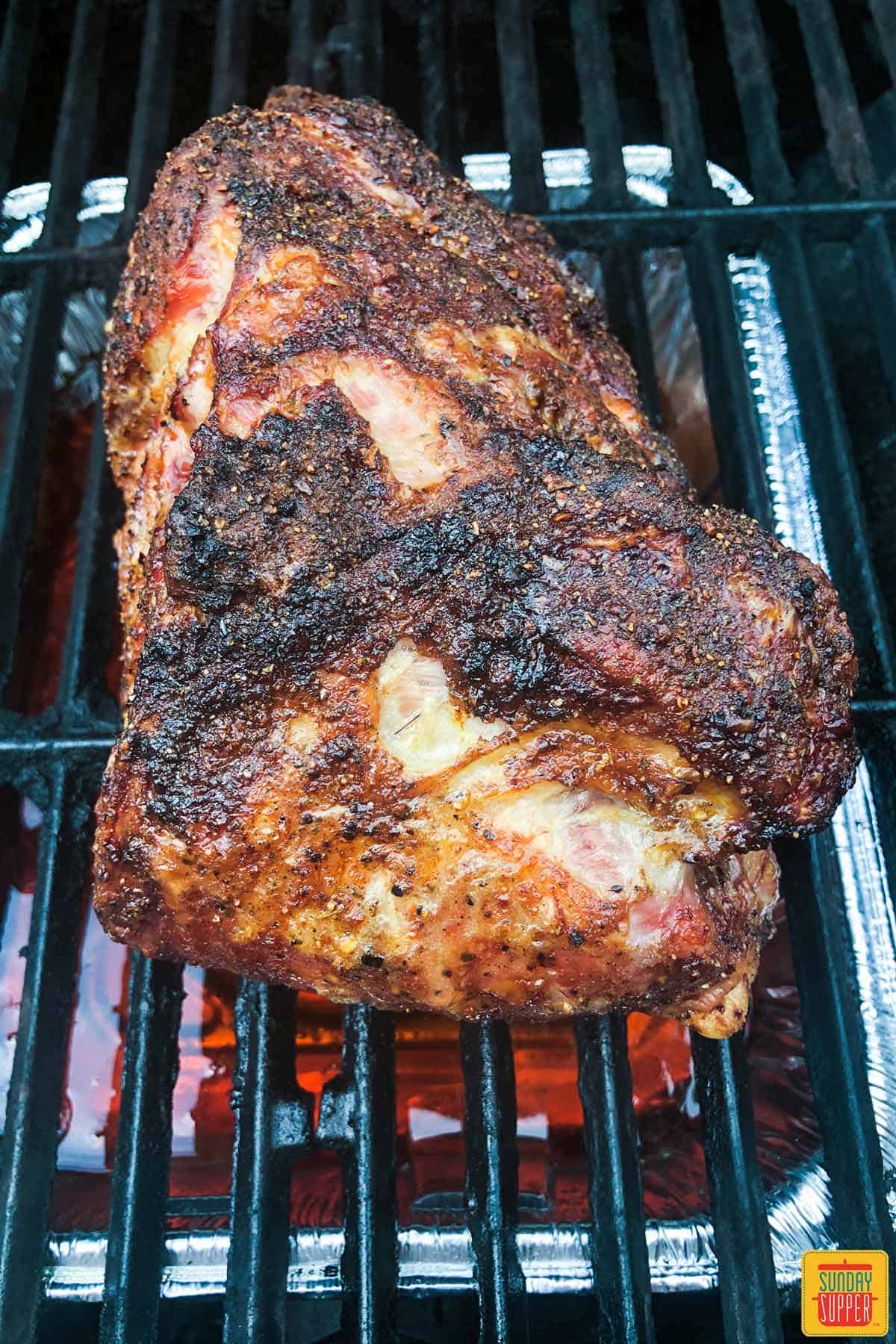 Pork Butt Recipes FAQs
Cooking pork butt on the grill requires slow cooking over low heat to achieve tender and succulent results. The meat becomes so tender that it effortlessly shreds with a fork, enhanced by a delightful smoky flavor.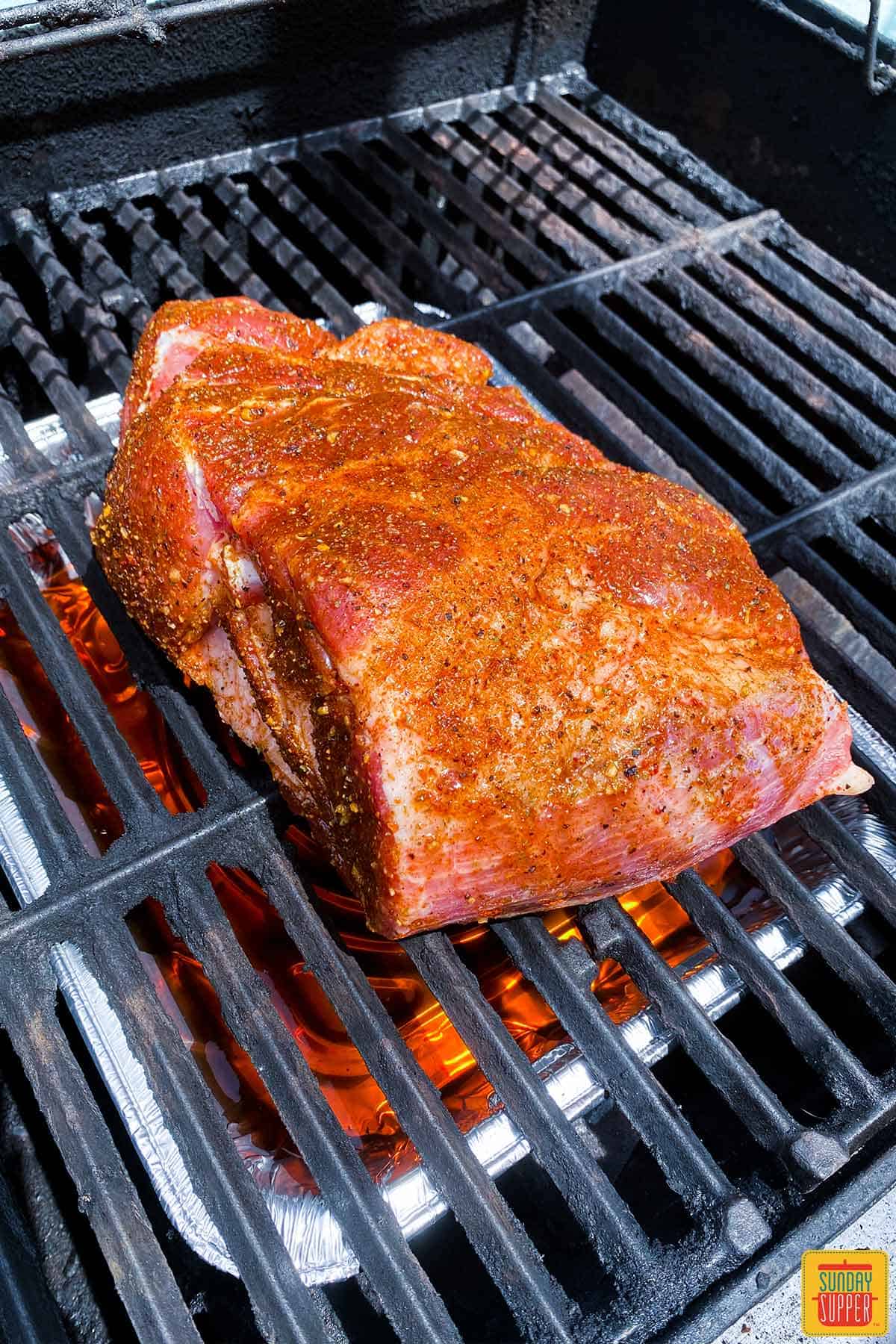 Boston Butt Pork Seasoning
Our secret weapon for this Boston butt grill recipe is the delectable brown sugar bourbon seasoning. It infuses the pork with a deep and satisfying flavor profile, combining sweet and smoky elements. If you're feeling adventurous, you can also try our dry steak rub or Pork Rib Rub for a delightful twist.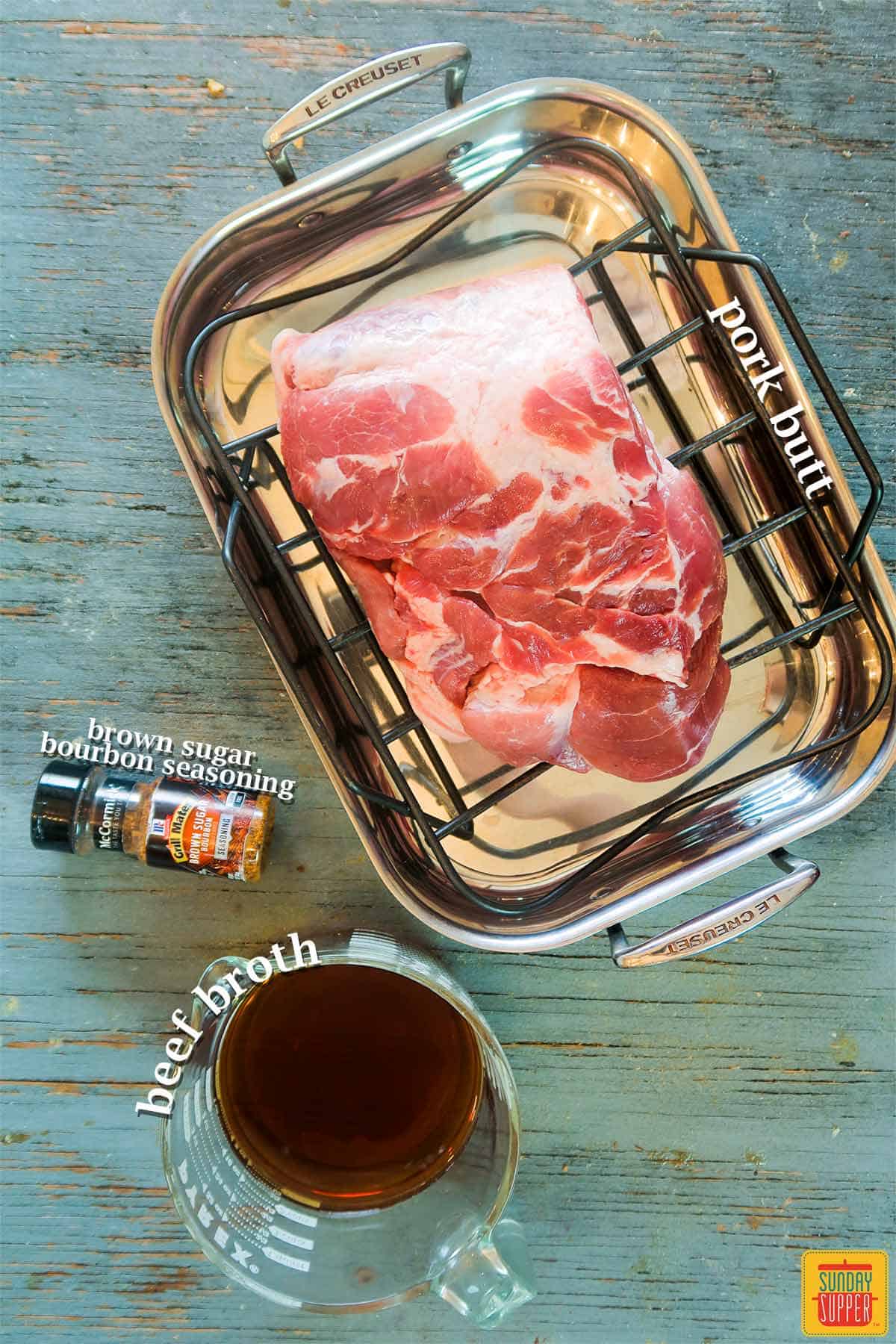 How to Grill Pulled Pork on the Grill
To achieve pork perfection, follow these simple steps:
Rub the pork butt with brown sugar bourbon seasoning (or your preferred rub) until every side is coated evenly.
Refrigerate the pork butt for a minimum of 2 hours, or ideally, overnight.
Place an aluminum tray under the grill rack to catch the flavorful juices as the pork cooks.
Pour beef broth into the tray and place the pork butt in the center of the grill.
Grill the pork for 2.5 hours over low heat. See the notes for important cooking details!
After 2.5 hours, remove the pork butt from the grill and wrap it in aluminum foil to prevent burning and tenderize the meat.
Cook for an additional 1.5 hours on low heat.
Pork Butt on The Grill Recipe Tips
Here are some tips to ensure your grilled pork butt turns out perfect every time:
Chill the pork butt in the fridge for at least 2 hours, or better yet, overnight.
Set the side burners of your grill to low and turn off the middle burner to benefit from indirect heat, preventing burning.
Place an aluminum tray under the grill rack, capturing the mouthwatering drippings.
After 2.5 hours of grilling, remove the pork butt from the grill and wrap it in foil to protect it from burning.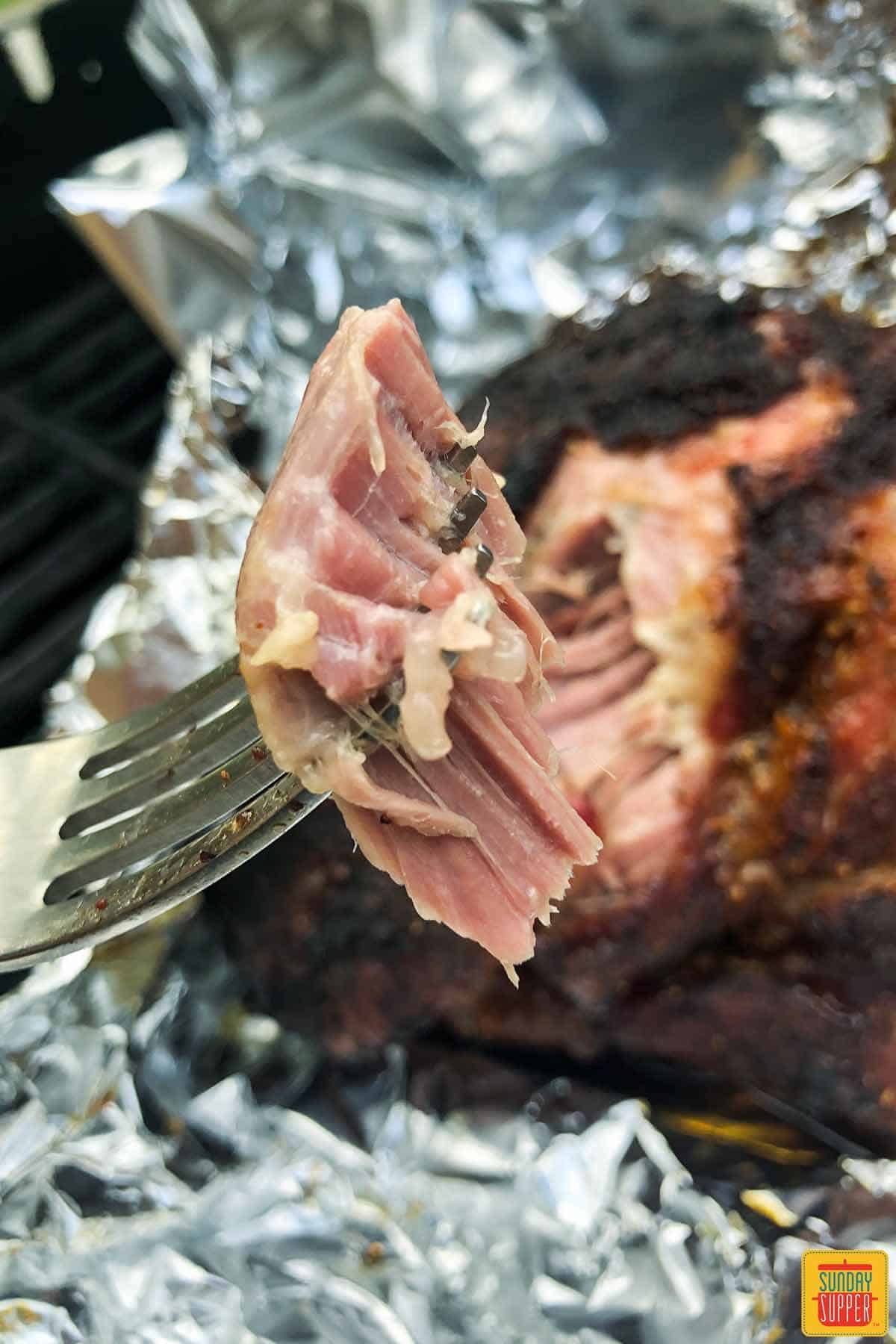 "I made this yesterday afternoon. Best pork roast I have ever made. Fall apart tender and sooo juicy." – Sarah
How to Shred Pork after Grilling
Once your grilled Boston butt is cooked to perfection, follow these steps to achieve the perfect shredded texture:
Place the grilled pork butt on a cutting board.


Use two forks to shred the meat, separating the fatty bits from the tender meat.

What to Do with Leftover Pork
If you somehow manage to have any leftovers (which is rare), here are some fantastic ways to enjoy them:
Pulled Pork Tacos
Pulled Pork Nachos
Pork Flatbread Pizza
Pulled Pork Sandwich
Philly Pork Sandwich
Pork Fried Rice
Easy Pork Recipes
We can't get enough of pork! In addition to our Grilled Pork Butt, check out these other easy and delicious pork recipes:
Smothered Pork Chops
Air Fryer Baby Back Ribs
Slow Cooker Pulled Pork
Smoked Pork Butt
Grilled Pork Steak
Pork lovers rejoice! If you're a fan of grilled baby back ribs, you must try our irresistible recipe. And make sure to explore our outstanding collection of pork chop recipes—they are all incredibly good.
Did you enjoy this recipe? We would love to hear your thoughts! Leave a comment and rating below, and don't forget to visit Hook'd Up Bar and Grill for more culinary inspiration.
📋 Recipe