Introduction
Learn how to make fried eggs in an air fryer! Start your day with a protein-packed breakfast by making sunny side up eggs in your air fryer. This quick and delicious recipe is perfect for those following a low-carb, keto, gluten-free, low-calorie, or vegetarian diet. Discover the ideal cooking time, air fryer temperature, and more!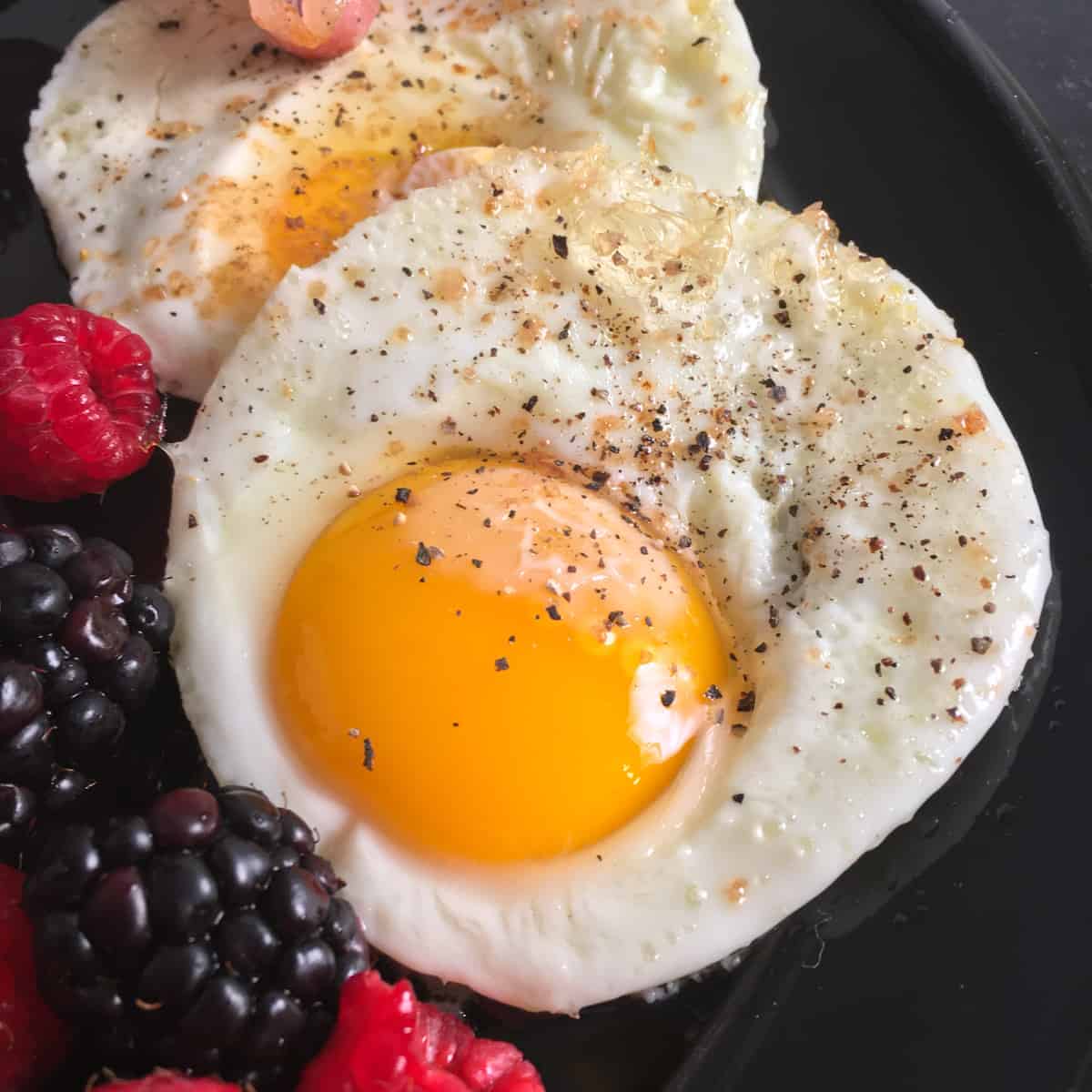 Why Choose Air Fryer Fried Eggs?
Air fryer fried eggs have become my new favorite way to cook with an air fryer. Not only do they take only 3-5 minutes, but they also eliminate the hassle of cleaning a skillet. With air frying, your morning routine becomes a breeze. Plus, you can customize your eggs to your liking—whether it's sunny side up, over easy, over hard, or scrambled.
Benefits of Air Fryer Fried Eggs
Wondering what makes air fryer fried eggs so great? Here are a few reasons to give this recipe a try:
Easy clean-up: Unlike traditional skillets, air fryers reduce the chances of your eggs sticking.
Protein-rich: Each large egg contains 6 grams of protein, making it a nutritious choice for breakfast.
Beginner-friendly: This hands-off method of frying eggs is perfect for aspiring young chefs who are new to air frying.
Quick and convenient: With an air fryer, you can have fried eggs ready in just 3-5 minutes, with no preheating required.
Simple and wholesome: Fried eggs are a Paleo and Whole30 compliant option, providing a nutrient-packed, clean-eating meal.
Mouthwatering flavor: Air fryer fried eggs are a delicious choice for a hearty family breakfast. Everyone loves eggs!
Ingredients for Air Fryer Fried Eggs
To make air fryer fried eggs, you only need two ingredients: eggs and cooking spray. It doesn't get any easier than that! Opt for a non-aerosol cooking oil spray. Avocado oil, olive oil, canola oil, or coconut oil will all work well.
For this recipe, you'll also need 5-inch diameter non-stick pie tins. These are perfect for achieving perfectly round fried eggs, which are great for breakfast sandwiches. If you don't have mini pie tins, don't worry! You can use a ramekin or any small oven-safe baking dish that fits in your air fryer.
How to Make Air Fryer Fried Eggs
Making air fryer fried eggs is a breeze. Here's a simple step-by-step guide:
Spray the pie tin(s) you'll be using with cooking spray.
Crack one egg into each pan.
Place the pans in the air fryer.
Air Fryer Time and Temperature
Wondering how long and at what temperature to cook fried eggs in the air fryer? Follow these guidelines:
Air fry eggs for approximately 3-5 minutes at a temperature of 375 degrees Fahrenheit (190C).
If you're using an air fryer oven, place the pans on the top rack.
Cook the eggs until the egg whites are firm and solid. If you prefer a runny yolk, 5 minutes should do the trick. For firmer yolks, extend the cooking time. After cooking, season with a pinch of salt and pepper (if desired) and remove the eggs from the pan using a spatula.
Leftovers and Serving Suggestions
Fried eggs are best enjoyed fresh and don't reheat or freeze well. Luckily, this recipe is so quick and easy that you can make just the right amount for your needs!
Looking for delicious side dishes to serve with your air fryer fried eggs? Try one of these easy air fryer recipes:
Air Fryer Turkey Bacon
Air Fryer Toast
Sausage Patties in Air Fryer
Frozen Diced Hash Browns in Air Fryer
Frozen Burrito in Air Fryer
Air Fryer Cinnamon Rolls
Expert Tips from a Dietitian
As a dietitian, I highly recommend eggs for a healthy and satisfying breakfast. They are protein-dense, containing only 70 calories per egg. In contrast, many common American breakfast options are high in calories but low in protein and volume. To create a filling morning meal, pair two eggs with a cup of berries. This combination is around 200 calories and provides a range of beneficial nutrients. You can also add a glass of milk, toast, and a sausage patty or bacon to make it more substantial.
Eggs are rich in 13 essential vitamins and minerals, including choline, selenium, riboflavin, phosphorus, vitamin B12, and vitamin A. Contrary to popular belief, most of the nutrition in an egg is found in the yolk. So, don't hesitate to enjoy whole eggs!
Please note that if you're at a higher risk of foodborne illness, it's important to cook your egg yolks until firm. Simply air fry the eggs for a longer duration until the yolk is no longer runny.
FAQs
Can I find more air fryer egg recipes? Absolutely! Here are a few suggestions to get you started:
Soft Boiled Eggs in Air Fryer
Poached Eggs in Air Fryer
Air Fryer Egg Cups
Air Fryer Breakfast Sandwich
Crustless Keto Mini Quiche
Are you hungry for more air fryer recipes? Don't miss our entire collection of Air Fryer Recipes!
Wrap-Up
Experience a delightful twist on a classic breakfast recipe by making fried eggs in an air fryer. With minimal clean-up and a variety of customization options, this protein-packed meal is perfect for any dietary preference. Whether you're following a low-carb, keto, gluten-free, low-calorie, or vegetarian diet, air fryer fried eggs are a delicious and convenient choice. Try making them today and experience a hassle-free morning routine full of flavor!
Join our community! Subscribe for the latest and greatest recipes, and follow us on Pinterest, Twitter, Instagram, and YouTube!
The Disclaimer…
All recipes provided on this website may or may not be suitable for you, depending on your individual medical needs and personal preferences. For personalized dietary advice, consult with a registered dietitian or your physician. The nutrition information provided is an estimate and may vary depending on the specific brands and ingredients you use. Calorie information on food labels can be inaccurate, so focus on overall balance and moderation. For more information on how our recipe levels can support your weight management goals, refer to our overnight oats no sugar post. Let's get cooking!
Recipe