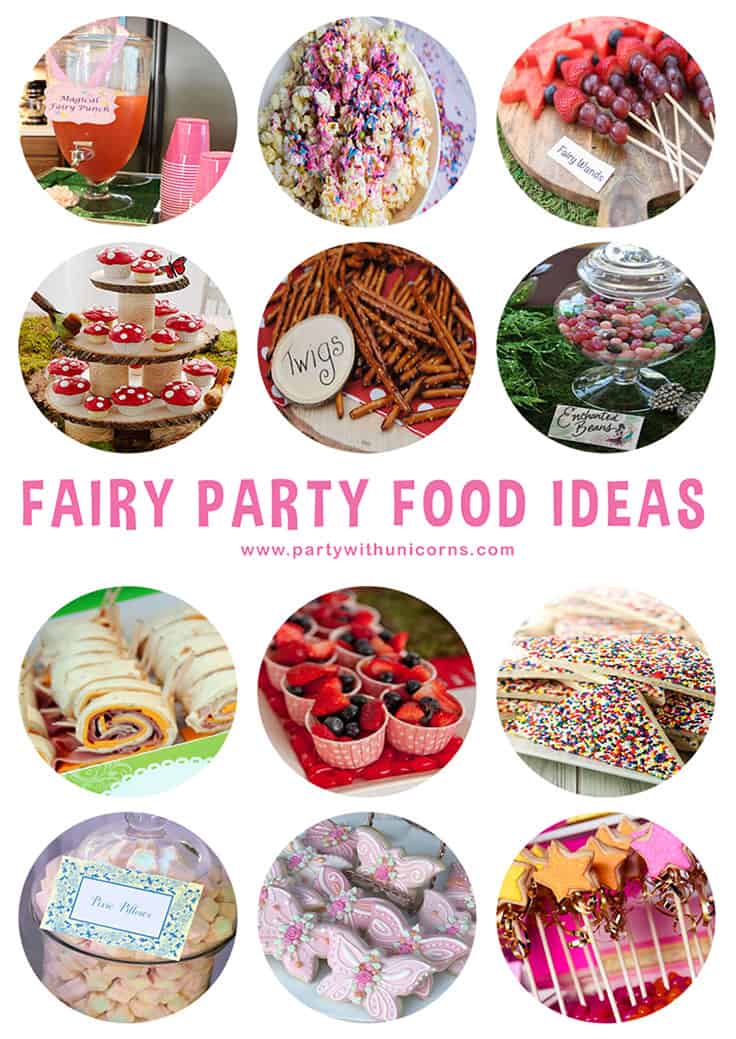 We're in an era where birthday celebrations always come with a theme! As someone with event planning experience, I'm always excited to organize creatively themed parties for my children. While I enjoy browsing extravagant party ideas on platforms like Pinterest and Instagram, I don't want to spend a fortune on a single party. For my kids, a small, simple celebration with friends and a birthday cake is more than enough. But adding a themed touch to make the day extra special is always magical. And the best part? It doesn't have to break the bank. With three kids, I've already got enough expenses!
My daughter, for instance, is enchanted by magic and everything related to fairies, woodland creatures, and unicorns. Her love for these magical beings knows no bounds, and she adores all things pink and purple. While I'm trying to broaden her color palette, I've gathered some fairy party food ideas to inspire us. These food ideas are not only simple to prepare but also visually appealing, perfectly fitting the fairy theme. Some of them even double as adorable decorations. With these ideas, your party table will transform into an enchanted feast.
1. Fairy Cake
"Where do fairies live?" we often hear our kids ask. And the answer, of course, is "Under the toadstool." It's a common association thanks to fairy movies. So, for your Fairy Party, remember to include some Toadstool Cupcakes on the table! These cupcakes can even serve as a simple fairy party cake.
2. Magical Fairy Punch
One crucial aspect of a party filled with energetic children is serving a refreshing and delicious drink. To stay true to your Fairy theme, consider preparing some Magical Fairy Punch. You can either create your own recipe for a delightful kiddie punch or make pink lemonade and give it a magical touch by labeling it accordingly.
3. Fruit Fairy Wands
Next on the list is a healthy snack option for your fairy-themed party: fruit fairy wands! These wands are incredibly easy to make, and your kids can even assist. Simply use a star-shaped cookie cutter to create the top part of the wand, then thread your favorite berries onto the skewer. Voilà! Now you have edible fairy wands for your guests.
4. Enchanted Beans
For those looking to add some magical treats to the table, consider the idea of "enchanted beans" in a jar. Find the perfect jar to display jelly beans and make sure to label it as something "enchanted" or "magical." This way, the kids will believe that you've acquired these beans from the fairyland. You can also place these magical beans in envelopes and organize a fairy treasure hunt in the garden.
5. Fairy Dust Popcorns
Popcorn is always a versatile treat for parties. It's loved by both kids and adults, and it's incredibly easy and affordable to prepare. To make your popcorn stand out at your fairy-themed party, add some "fairy dust" (sprinkles). You can follow the recipe from Clumsy Crafter to create this delightful treat. And if you're looking for even more magically fun popcorn ideas, check out our list of Unicorn Popcorn recipes.
6. Fairy Twigs
If you're pressed for time and still need to add some fairy food to your party, consider ready-to-eat treats that resemble your theme. For example, pretzel sticks can easily be transformed into fairy twigs for your fairy parties! It's a cute and time-saving option.
7. Woodland Berries
Another simple and healthy snack idea for your fairy party is serving woodland berries in decorative paper cups. Make sure to choose fresh and sweet berries. Fairies in the forest love to eat fresh fruits, and your fairy guests will also enjoy these refreshing snacks.
8. Sandwich Snails
When you're in fairyland or the woodland, you come across various creatures. One of them is snails! That's why sandwich snails are the perfect food to serve at your fairy party. They are not only delicious but also incredibly cute and easy to make. Consider including them on your food list for the next fairy party you host.
9. Fairy Cookie Wands
If you enjoy baking, you'll love this idea of creating fairy cookie wands for your fairy party. Choose vibrant colors for your cookies to make them pop, and don't forget to add decorative ribbons. However, if baking isn't your strong suit, don't worry! You can buy star-shaped cookies and decorate them with pre-made icing. Attach some sticks to the back of the cookies with melted chocolate or similar ingredients to serve as wand handles. Who doesn't love edible and adorable fairy wands?
10. Fairy Pretzel Wands
Here's another food idea using pretzel sticks: Fairy Pretzel Wands. Simply dip your pretzel sticks in melted chocolate and add some sprinkles on top. It's that easy! Serve them on a wide dish or jar at your fairy-themed table.
11. Fairy Bread
No fairy party list would be complete without mentioning the delightful treat known as fairy bread. This simple yet classic party food has been a staple at kids' parties in Australia since the 1980s. In fact, it's hard to imagine an Australian child's party without fairy bread. All you need is soft white bread, butter, and sprinkles. The colorful sprinkles make it practically impossible for any child to resist.
12. Pixie Pillow
Another ready-to-eat fairy party food idea is Pixie Pillows, which are actually tiny marshmallows. Look for pink flower-shaped marshmallows at your local store and place them in a jar to add to your fairy party food display. Make sure to label them as Pixie Pillows, so guests can truly appreciate their whimsical nature. It's amazing how a cute little sign can fuel people's imagination.
13. Fairy Butterfly Cookie
Last but not least, we have the super cute butterfly cookie. Butterflies and fairies are often associated due to their wings, making this food idea a perfect addition to your fairy party. If you don't have time to bake, you can simply buy butterfly-shaped cookies and decorate them with pre-made icing. Alternatively, you can dip them in melted white chocolate for added charm.
That's it! I hope you find these fairy party food ideas helpful when planning your next fairy-themed birthday party or afternoon tea. Remember, you don't have to spend a fortune to throw a fantastic party for your child. A little creativity, a few good ideas, and lots of fun are all you need to ensure your party guests have a magical time.
I love gathering ideas from the internet and sharing them with all of you. I'm not the best baker out there, so I appreciate easy-to-prepare party food ideas. I know many moms face similar challenges, so this list is for all of you too!
If you have any themed party ideas in mind that you'd like me to feature next, feel free to leave a comment below. Let's make a list together! Happy party planning!
Similar Posts:
45 Best Fairy Party Ideas
42 Best Enchanted Forest Party Ideas
Easter Craft Ideas For Kids
18 Magical Fairy Party Cake Ideas
Sugar Free Easter Recipes