If you're searching for an exquisite Indian-style pork curry recipe that's both quick and easy, your quest ends here! In just 30 minutes, you can create a culinary masterpiece using lean pork loin, a medley of traditional Indian spices, and rich, creamy coconut milk. Whether you're seeking a delightful weeknight meal or planning a curry extravaganza for the weekend, this recipe is guaranteed to satisfy your cravings.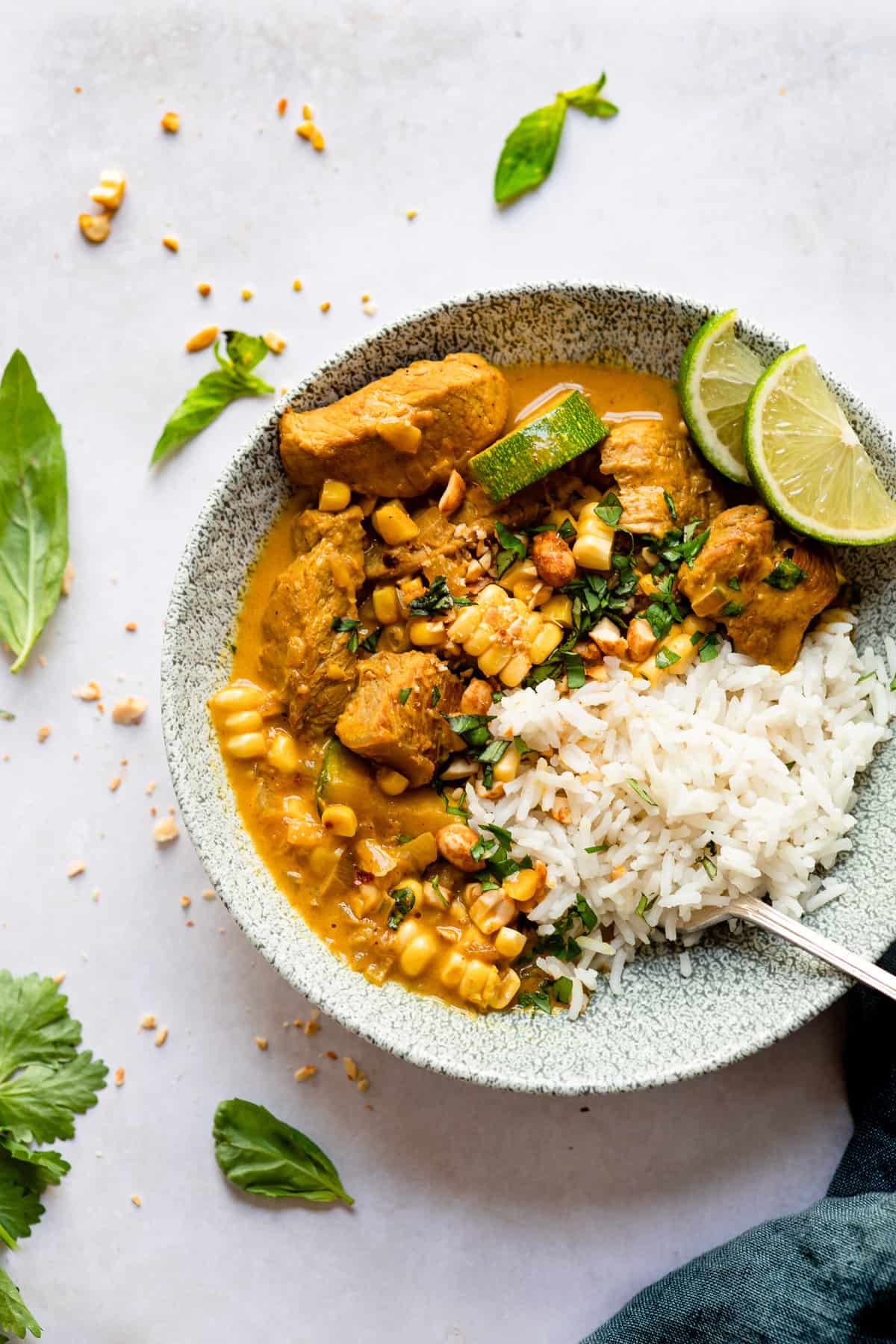 Curries are renowned for their affordability, ease of preparation, and bold flavors. With countless variations, the possibilities are endless. If you're a fan of creamy coconut chicken curry or succulent curry chicken thighs, you'll surely adore this creamy pork curry. To elevate your dining experience, pair it with homemade naan bread for a match made in culinary heaven.
For those with a penchant for Thai cuisine, why not experiment with Thai curry meatballs or a delightful prawn curry noodle bowl?
🧾 Key Ingredients for the Perfect Indian-Style Curry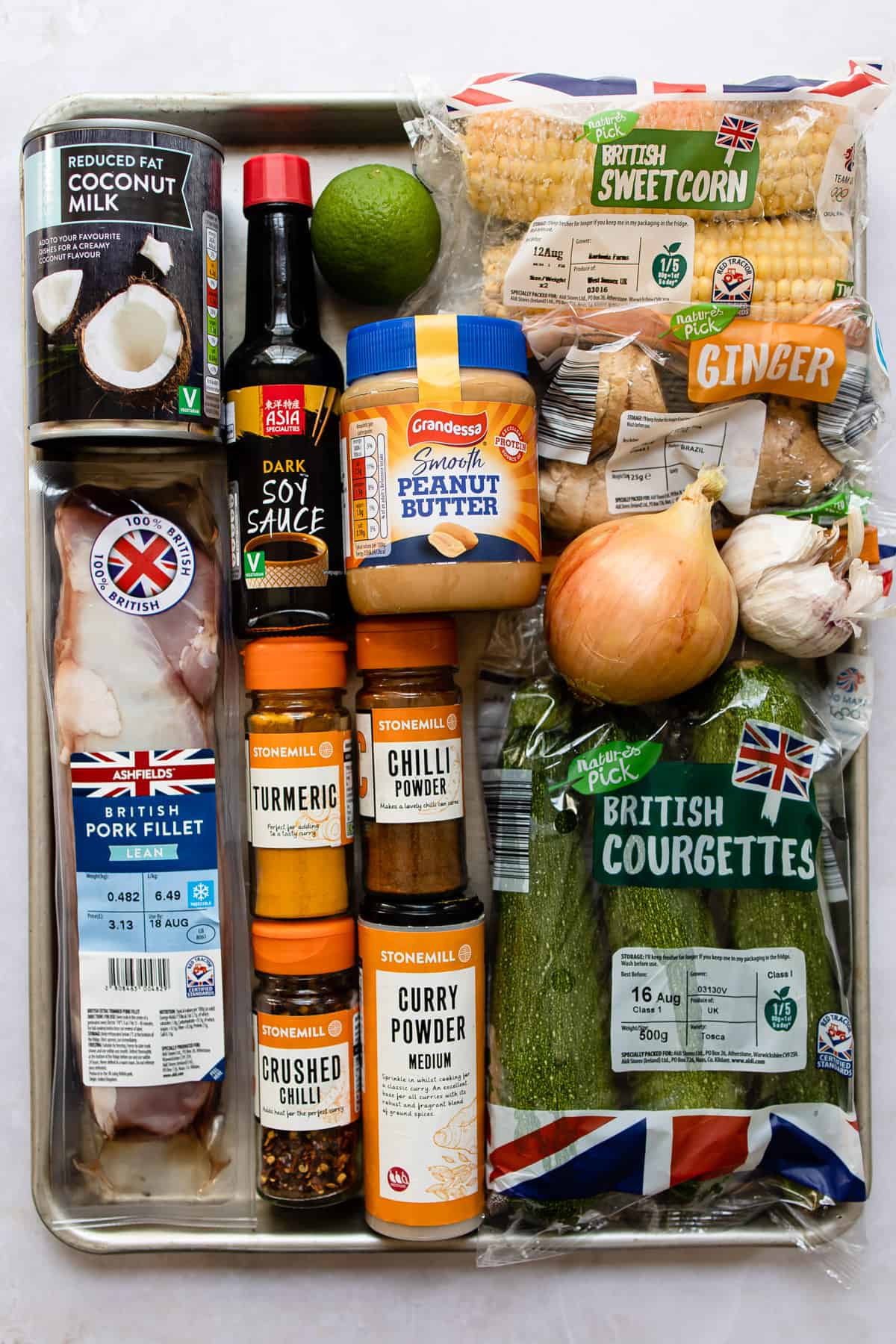 To achieve the authentic flavors of this Indian-style curry, you'll need the following key ingredients:
Meat: Tender pork loin.
Aromatics: Garlic, onion, and fresh ginger.
Sauce: Creamy coconut milk, peanut butter, and soy sauce.
Spices: Fragrant curry powder and vibrant turmeric.
Vegetables: Sweetcorn and courgette. For those feeling adventurous, consider adding cauliflower, potatoes, broccoli, or red onions for an extra burst of flavor.
For precise measurements, refer to the recipe card below.
👩🏻‍🍳 Crafting the Perfect Pork Curry in Four Simple Steps
Browning the Pork
Begin by dicing the pork into bite-sized pieces and seasoning them with a pinch of salt and pepper.
Heat a pan with oil until it shimmers, indicating it's hot enough. Add the pork to the pan and sear it until all sides turn a beautiful golden brown.
Adding the Spices and Vegetables
Once the pork has attained that perfect browning, introduce the chopped vegetables and aromatic spices to the pan.
Continue cooking until the fragrance of the garlic fills the air and the vegetables begin to soften.
Thoroughly coat the pork and vegetables with the aromatic spices, ensuring every morsel is fully infused with their flavors.
Making the Coconut Cream Sauce
Pour the velvety coconut milk into the pan, allowing it to gently simmer.
Incorporate the peanut butter, melting it into the sauce for a luscious, creamy texture.
For an extra kick of heat, squeeze in some lime juice and sprinkle in a pinch of chili flakes.
Perfecting the Seasoning
Taste and adjust the seasoning to achieve the perfect balance of flavors. If desired, add additional spices or chili flakes to tantalize your taste buds further.
🥡 Storage
When it comes to storage, here's what you need to know:
Storage Directions: Once the pork curry has cooled down, transfer it to an airtight container and refrigerate. It will remain fresh for 3 to 4 days.
Reheating: Retrieve the desired portion from the fridge and transfer it to a microwave-safe dish or saucepan. Cover loosely to prevent splattering, then reheat in the microwave or on the stovetop, stirring occasionally until thoroughly heated. Ensure that it reaches a safe internal temperature before indulging in its savory goodness.
Freezing: If you plan to freeze the pork curry, allow it to cool completely before transferring it to airtight freezer-safe containers or bags. Don't forget to label them with the date and contents. The curry can be frozen for up to 3 months.
Thawing and Reheating: Remove the frozen pork curry from the freezer and thaw it overnight in the refrigerator. Once thawed, follow the reheating instructions mentioned earlier to restore its delightful flavors.
💭 Frequently Asked Questions
Quick and Easy Curry Recipes
Looking to expand your curry repertoire? Look no further. Delve into these delectable recipes:
Find These Recipes as Part of the Weekly Meal Plans
Discover a world of culinary possibilities by exploring our weekly meal plans. Embark on a flavor-filled journey that will excite your taste buds and leave you craving for more.
Don't miss out on the culinary delights that await you at Hook'd Up Bar and Grill – your gateway to a delightful dining experience.