When you indulge in a crustless keto mini quiche baked in single-serve mini pie tins, you get to savor every bite! This mouthwatering low carb frittata recipe features a delightful combination of flavorful sausage, mozzarella, pesto, and sun-dried tomatoes. It's a savory and satisfying morning meal that's not only high in protein but also loaded with veggies. Plus, kids just can't resist the charm of these adorable mini versions of traditional favorites. And if you're watching your portion sizes, these mini frittatas are perfect for portion control too!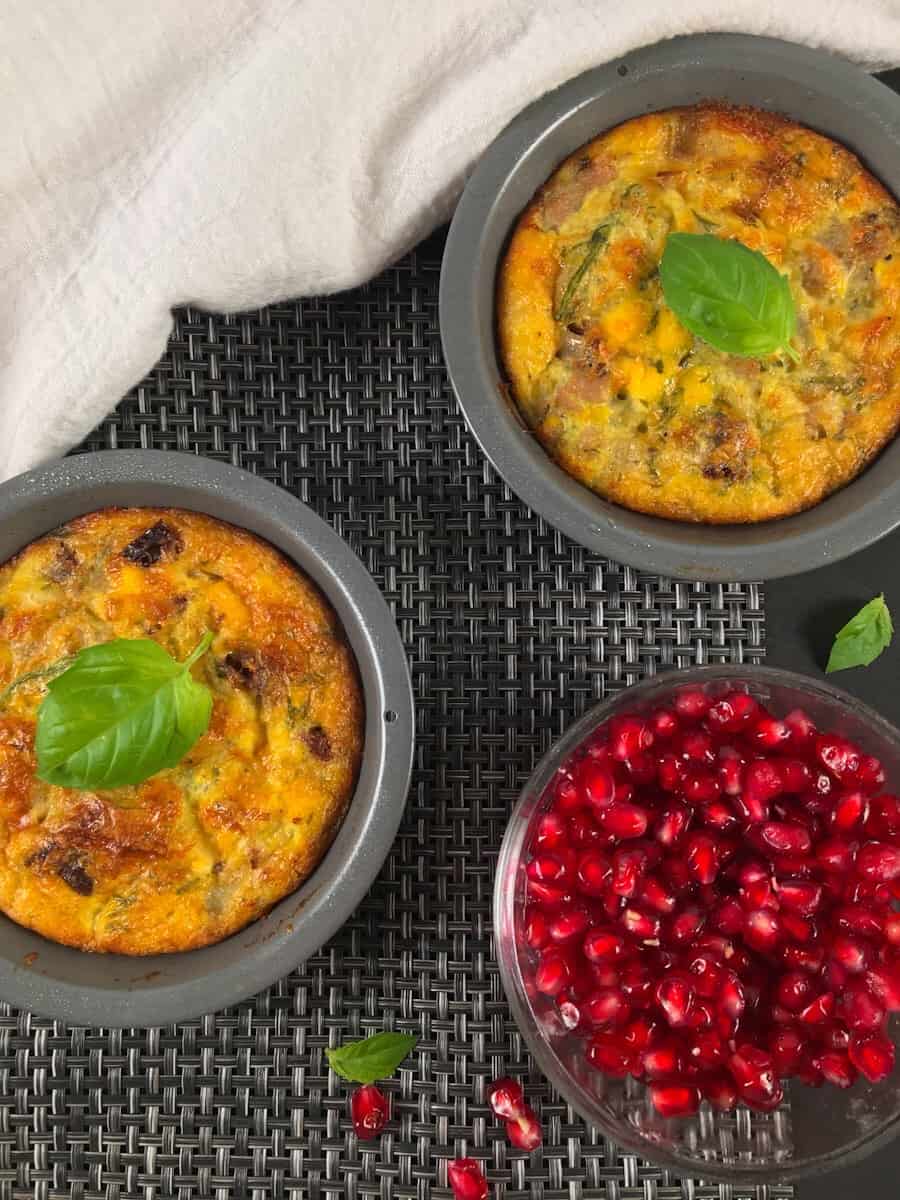 I still remember when my son was little; he was always eager to try sample foods at stores. He seemed more inclined to try new things or give another chance to foods he didn't particularly fancy if they were served in smaller portions. Maybe the small bites made the food seem less overwhelming or perhaps it was the appeal of beautifully presented tiny food that caught his attention.
With these keto mini quiches, I've tried to capture that irresistible charm of small foods. They are undeniably cute, like the adorable babies of the frittata world. However, don't be fooled by their cuteness; these cheesy mini frittatas are not just for kids! If you're an adult who loves frittatas so much that you don't want anyone else to get a bite, this recipe is perfect for you. With these single-serve portions, you can savor a whole frittata all to yourself!
Now, let's dive into the incredible benefits of making these keto mini quiches without crust.
Benefits of Making Keto Mini Quiche with No Crust:
Why should you try this keto-friendly mini quiche recipe? Here are a few good reasons:
Gluten-Free Mini Quiche: Since this recipe is for crustless quiche, these mini quiches are naturally gluten-free. In traditional quiches, the crust usually contains gluten from wheat flour. (However, if you're buying a store-made frittata, do check the nutrition label to ensure it's gluten-free.)

Low-Calorie Mini Quiche: By skipping the crust, this keto mini egg quiche becomes significantly lower in calories compared to classic quiche recipes. Regardless of whether you're following a keto diet or counting calories, maintaining a calorie deficit is crucial for weight loss. High-protein, low-calorie dishes like these keto mini quiches can help you reach your goals.

No Refined Grains: Another advantage of making low-carb mini quiche without crust is that it eliminates refined grains. Many people consume more refined grains than the recommended daily limits. If you're looking to reduce your refined grain intake or follow a keto diet, these crustless mini quiches are a perfect option.

Minimizes Food Waste: The recipe is designed to avoid unnecessary leftovers. It fills four 5-inch pie tins precisely, leaving no ingredients to go to waste. This approach not only minimizes food waste but also makes it easier to track your calorie intake.

Mediterranean Diet Compatible: This cheese and vegetable-packed frittata aligns well with the Mediterranean diet, which emphasizes fruits, vegetables, lean protein, whole grains, and healthy fats like olive oil. Serve it with a side of fruit, and you have a Mediterranean-inspired meal!
Now that you know the benefits, let's take a look at the ingredients you'll need to create these delicious mini crustless quiches.
Ingredients for Mini Crustless Quiche (Keto):
To make these mini crustless quiches, gather the following ingredients:
Olive oil (or your preferred cooking oil)
Chopped shallot
Fresh chicken sausage (crumbled)
Minced garlic clove
Eggs
Pesto
Milk
Shredded mozzarella cheese
Sun-dried tomatoes (packed in oil)
Salt and black pepper
Cooking oil spray of choice
Optional: Fresh basil or chives for garnish
For this recipe, I used my homemade chicken sausage with feta and sun-dried tomatoes. It adds tremendous flavor to these mini keto frittatas. However, feel free to use your favorite store-bought chicken sausage if you're short on time. Whole Foods offers fresh chicken Italian sausage, both spicy and mild, which works perfectly in this recipe.
I also used my carrot leaves recipe for pesto, but you can use store-bought pesto or another homemade variety. If you prefer, freeze your pesto in two-tablespoon portions for convenient use. As for sun-dried tomatoes, I took a shortcut and used store-bought ones packed in olive oil. You can also dry your own tomatoes if you have the time and inclination.
Next, let's talk about the equipment needed to prepare these delicious low carb mini quiches.
Equipment for Low Carb Mini Quiche:
To create these delectable keto mini quiches, you'll need a skillet and mini pie tins. The skillet is used for cooking the shallots, garlic, and browning the sausage. The mini pie tins, on the other hand, are essential for baking these delightful low carb mini quiches. I recommend using 5-inch mini pie plates, like the ones available on Amazon. They produce larger frittatas compared to using a muffin tin.
If you have mini pie tins sitting unused, now's the perfect time to put them to good use with this keto mini egg quiche recipe! This recipe fills four of these mini tins perfectly, which is usually the number sold in a set.
Now, let's move on to making these scrumptious keto mini quiches without crust.
How to Make Keto Mini Quiche (No Crust):
Here's a step-by-step guide to creating these mouthwatering keto mini quiches:
Preheat your oven to 350 degrees Fahrenheit.
In a skillet over medium heat, cook the chicken sausage, shallot, and garlic in olive oil. Use a spatula to break the sausage into crumbles as it browns. This should take approximately 10 minutes until the sausage is browned and the shallot becomes translucent.
In a medium-sized bowl, whisk together the eggs, pesto, milk, shredded mozzarella cheese, sun-dried tomatoes, salt, and black pepper. Mix in the cooked sausage mixture.
Spray four 5-inch mini pie pans generously with cooking oil spray to prevent sticking.
Divide the egg mixture equally among the pans.
Bake the mini frittatas in the top third of your preheated oven for 25-30 minutes, or until they are cooked through.
Once the cooking time is complete, remove the mini crustless quiches from the oven. Allow them to cool for a couple of minutes before garnishing with fresh basil leaves or chives. Enjoy them while they're still warm!
Expert Tips from a Dietitian:
Here are a few expert tips to enhance your experience with these keto mini quiches:
This recipe falls under level 1, which means it may help support fat loss. The precise calorie count and nutrition information will vary depending on the specific brands and ingredients you use. The details of the ingredients I used are mentioned earlier in the post.
To add more volume to your meal while staying keto-friendly, serve the mini quiches with one cup of strawberries or raspberries on the side. This simple addition of berries won't take the recipe out of level 1, which focuses on low-calorie dishes. Remember, even on a keto diet, you still need to maintain a calorie deficit to lose weight.
If you're successfully losing weight on a keto diet, it means your overall diet is likely low in calories, even if you're not tracking them. Limiting carbohydrate intake can help control calorie intake without constant hunger. That's why some individuals find weight loss on keto diets feels "effortless" since they don't need to meticulously track nutrients or constantly battle hunger.
It's important to find a way of eating that helps you feel full on fewer calories. There are various ways to achieve this without exclusively following a low-carb diet. For example, you can achieve weight loss by incorporating plenty of whole foods rich in protein, fiber, and fluids into your diet.
The additional advantage of this keto mini quiche recipe is its compatibility with different dietary patterns. It fits well within a Mediterranean diet, which emphasizes fruits, vegetables, lean protein, whole grains, and healthy fats like olive oil. Consider adding some fruit on the side for a complete meal!
What to Serve with Low Carb Mini Quiche?
One of the best accompaniments for these low carb mini quiches is a side of fresh berries. Raspberries, blackberries, strawberries, and blueberries can all be incorporated into most keto diet plans. Another option is half a cup of pomegranate seeds, which contains under 9 grams of net carbs (according to Cronometer). Pomegranate arils can be a delightful addition to your very low carb diet, though they may require some effort to prepare.
If you have kids or other carb enthusiasts at home, here are a few high-carb side dishes to serve alongside these low carb quiches:
Air Fryer Frozen Hash Browns
Gluten-Free Sweet Potato Toast (Stick with plain avocado toast since the frittata already contains eggs.)
Air Fryer Home Fries
A selection of fruits such as honeydew melon, cherries, sliced apples, or your favorites!
Frequently Asked Questions:
Q: How do you make quiche without milk?
A: This recipe calls for a small amount of milk, which you can easily substitute with your favorite dairy-free milk alternative. Alternatively, you can try skipping the milk altogether, though this might slightly affect the overall texture of the frittata.
Q: At what internal temperature is quiche done?
A: According to the FDA, egg dishes, including quiche, should be cooked to a minimum internal temperature of 160 degrees Fahrenheit. Leftover quiche should be reheated to 165 degrees Fahrenheit to ensure safety.
Q: If you had to choose between low-carb or keto, which one would you go for and why?
A: It's a great question! If I were on a ketogenic diet as part of medical nutrition therapy, such as for epilepsy, I would choose keto. However, for weight loss or blood sugar control in diabetes, I would prefer a more flexible low-carb diet. It's important to note that this preference only applies if low-carb or keto are the only options available.
Q: Is quiche high in carbs?
A: Traditional quiche recipes with a flaky pie crust shell tend to be high in carbs. However, this no-crust quiche is a much lower-carb option suitable for keto diets. It contains only 4.7 grams of net carbs per serving.
Q: How many calories are in a mini quiche?
A: These keto mini quiches contain approximately 320 calories per serving. The calorie content in a mini quiche may vary depending on the recipe used. A keto mini quiche with crust or with high-fat ingredients might have more calories than a frittata.
Q: Can I make this a keto mini quiche with bacon?
A: Absolutely! Feel free to swap the sausage in this recipe with crumbled bacon to create a keto bacon and cheese mini quiche. You can also add some chopped cooked spinach instead of pesto. Additionally, you can choose your favorite shredded cheese to substitute for mozzarella and customize the recipe to your liking.
Eager to discover more keto breakfast recipes? Here are few options for you to explore:
Cauliflower Hash Brown Egg Cups with Cheese
Cooking Pork Sausage with Eggs (Swap berries for peaches and use a small amount of almond flour as a binder instead of oats.)
Keto Crustless Quiche (A low-carb, vegetarian frittata packed with baby kale and sun-dried tomatoes, perfect for keto meal prep!)
Don't forget to subscribe to our Weekly Newsletter to stay updated on the latest and greatest recipes! You can also find us on Pinterest, Twitter, and Instagram!
And now for the disclaimer…
All the recipes on this website may or may not be appropriate for you, depending on your medical needs and personal preferences. If you need assistance in determining the dietary pattern that suits you best, consult with a registered dietitian or your physician.
The term "keto" used on the web may not always be suitable for those following ketogenic diets as part of medical nutrition therapy, including this recipe.
Keep in mind that the nutrition information provided here is an estimate and may vary depending on specific brands and ingredients used. Calorie counts on food labels can be inaccurate, so don't fret too much about the numbers.
For more information on how the three recipe levels can help with your weight management goal, refer to my overnight oats with yogurt post. Let's get cooking!
Recipe
(The original article continues with the recipe instructions, which I have omitted for brevity. Interested readers can follow the link provided in the content.)
How to Reheat Leftover Mini Frittatas
(The original article continues with instructions for reheating leftovers, which I have omitted for brevity. Interested readers can follow the link provided in the content.)
Air Fryer Directions
(The original article continues with instructions for using an air fryer, which I have omitted for brevity. Interested readers can follow the link provided in the content.)
💬 Comments
(The original article ends with a section for comments. Since this is not an interactive platform, I have omitted this section.)
Article written for Hook'd Up Bar and Grill.