Introduction
Looking for a simple and flavorful weeknight meal? Look no further than these creamy ranch pork chops and potatoes! This easy and delicious recipe requires only five ingredients and can be made in your trusty crock pot. Imagine coming home after a long day to the enticing aroma of tender pork chops and perfectly cooked potatoes, all covered in a creamy and zesty sauce. It's a hearty and satisfying dish that the whole family will love.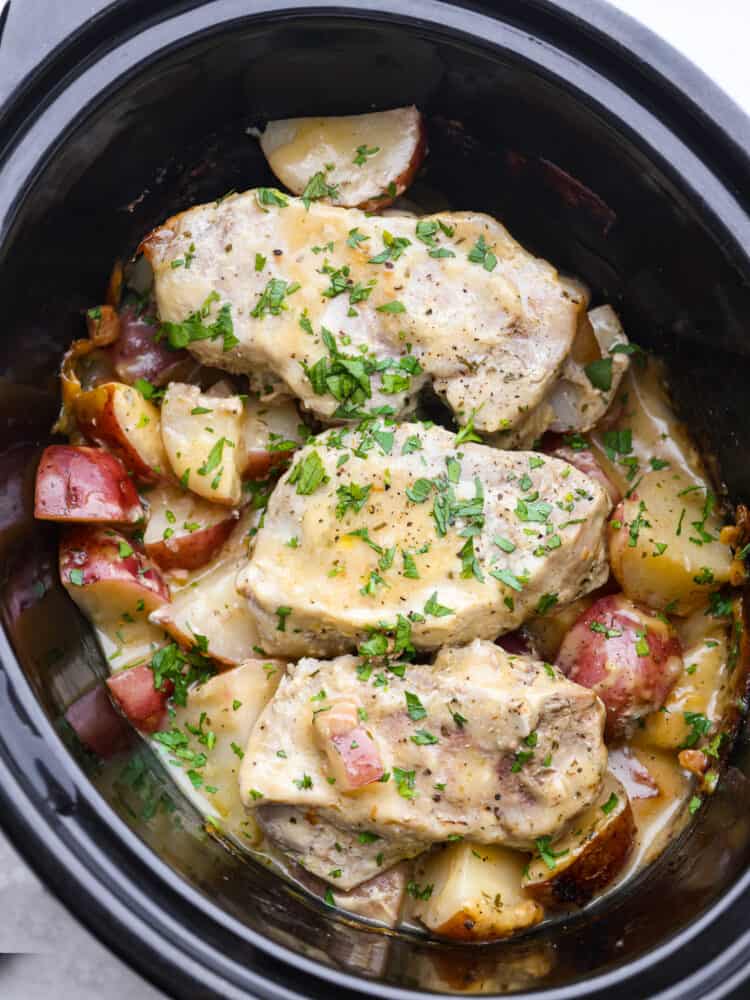 The Recipe: Creamy Ranch Pork Chop
As a busy mom, I'm always on the lookout for recipes that are both convenient and delicious. And this recipe checks all the boxes! Creamy ranch pork chops are incredibly flavorful and incredibly easy to make. All you need is your slow cooker, some pork chops, potatoes, ranch seasoning, and a can of cream of chicken soup. Simply toss everything in the slow cooker, let it simmer, and go about your day. It's a family-favorite recipe that will have your kids asking for seconds!
The pork chops in this dish are unbelievably tender and melt-in-your-mouth. And let's not forget about the sauce – it's the star of the show! With its rich and flavorful coating, the creamy ranch sauce takes these pork chops to the next level. My kids are especially fond of its ranch goodness, often seen licking their plates clean. Trust me, the flavor is so good, you might find yourself doing the same. So let's get cooking!
Ingredients You'll Need
This recipe keeps things delightfully simple with just a handful of ingredients. You probably already have most of them in your pantry!
Pork Chops: Opt for thick boneless pork chops, although bone-in chops work just as well. The slow cooker is perfect for making thick pork chops tender and smoky with minimal effort!
Potatoes: Use medium-sized red potatoes, or feel free to experiment with different varieties like Yukon or baby gold potatoes.
Cream of Chicken Soup: You can use canned cream of chicken soup or try making your own from scratch for an extra boost of flavor. It's surprisingly quick and easy!
Dry Ranch Dressing Mix: Use your favorite store-bought brand or whip up your own batch using my quick and easy recipe.
Parsley: Optional, but highly recommended for a fragrant and delicious garnish.
How to Make Creamy Ranch Pork Chops in a Slow Cooker
This recipe couldn't be simpler! Just follow these easy steps, and you'll have a mouthwatering meal ready with minimal effort:
Prep the Slow Cooker: Start by spraying your slow cooker with non-stick cooking spray to prevent sticking.
Layer the Veggies and Pork Chops: Arrange the potatoes (and baby carrots, if using) at the bottom of the slow cooker. Place the pork chops on top.
Mix the Sauce Ingredients: In a separate bowl, combine the cream of chicken soup and dry ranch dressing mix. Pour this flavorful mixture over the pork chops.
Cook to Perfection: Set the slow cooker to low heat for 6-7 hours or high heat for 4 hours. The extra sauce can be used as a delicious gravy over the potatoes and pork chops. For an extra touch, sprinkle some parsley on top.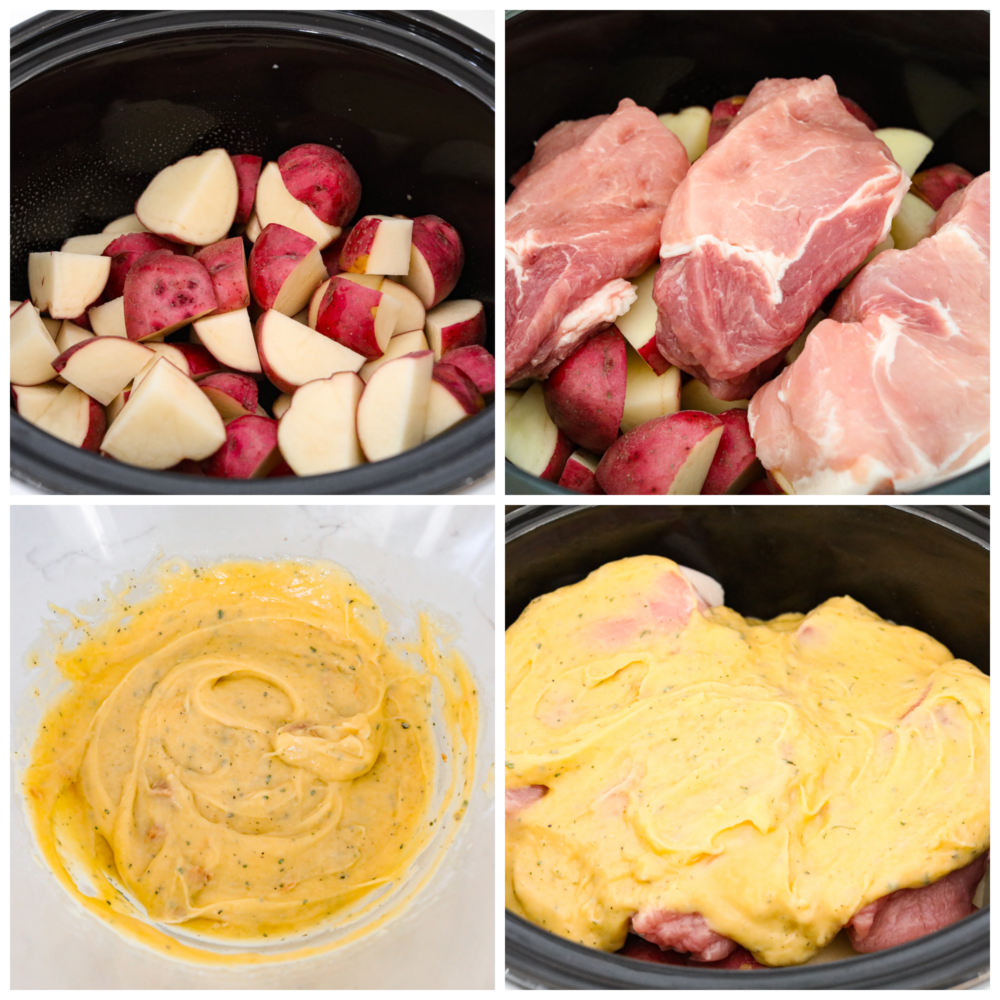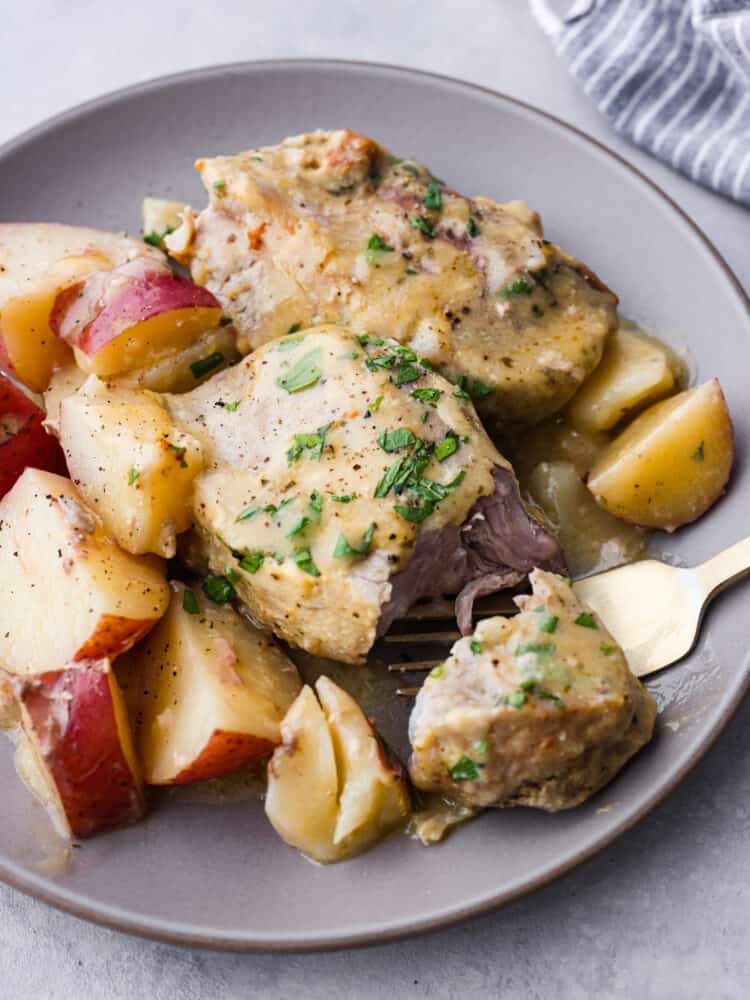 Conclusion
Creamy ranch pork chops and potatoes are the ultimate comfort food that requires minimal effort. With their tender texture, heavenly flavor, and creamy ranch sauce, they are guaranteed to be a hit with your family. So grab your slow cooker and let it do the magic while you focus on other things. Enjoy this delicious meal with steamed asparagus or cauliflower steaks for a complete and satisfying dinner. Give this recipe a try, and discover how these creamy ranch pork chops will become a regular on your weeknight dinner rotation.