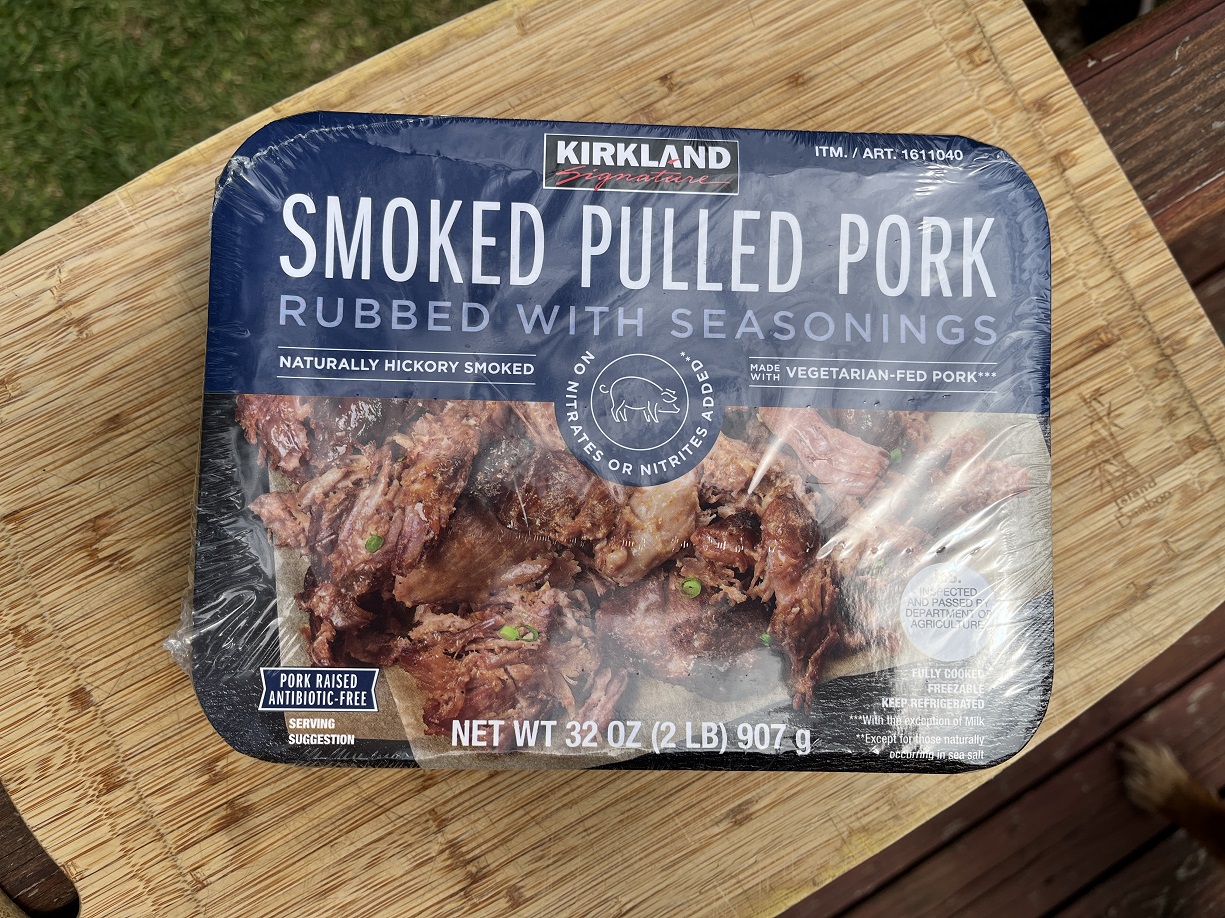 The Tasty Costco Pulled Pork
The Costco Pulled Pork, available under the Kirkland Signature brand, is smoked with hickory, offering a rich and flavorful experience. Unlike its previous version, this pulled pork does not contain any added nitrates or nitrites.
In my honest opinion, the Costco pulled pork is highly satisfying, and I wholeheartedly recommend trying it.
Convenient Heating Instructions
Costco provides simple heating instructions for the pulled pork, with options for both the microwave and stovetop.
Microwave Heating
To heat the pulled pork in the microwave, follow these steps:
Remove the plastic wrap and outer sleeve.
Poke a few holes in the plastic bag that holds the pulled pork.
Keep the plastic bag inside the plastic tray.
Microwave on High for 7 minutes.
Allow it to stand for 2 minutes, then empty the contents into the tray and serve.
I followed these instructions and found that the center of the pulled pork wasn't fully heated. However, after mixing the meat with a fork and microwaving it for an additional 2 minutes on High, it turned out perfectly.
Stovetop Heating
For stovetop heating, follow these steps:
Remove the plastic wrap and outer sleeve.
Bring a pot of water to a boil.
Place the pouch containing the meat into the boiling water.
Let the pouch boil for 12-15 minutes.
Carefully remove the pouch, pat it dry, and empty the contents into the tray before serving.
Although this method works well, I find the microwave method to be easier and faster.
Taste Test Results
I sampled the pulled pork on its own, straight from the tray, and I have to say, it surpassed my expectations compared to Costco's previous version.
The shredded meat is perfectly sized, smoky, and well-seasoned, with minimal visible fat. It retains enough greasiness to remind you that you're enjoying pork, but not to an unpleasant extent. The flavors are harmoniously balanced, giving the meat a delightful richness without overpowering it.
While I've had better pulled pork from my Traeger pellet grill, I've also encountered worse. The Kirkland Signature pulled pork is undeniably respectable.
Serving Suggestions
One of my favorite ways to enjoy the pulled pork is by making a delicious sandwich. I use a toasted Costco ciabatta roll and add a Pineapple Habanero glaze (also available at Costco) for an irresistible combination.
Here are a few other creative ways to use the pulled pork:
Pulled Pork Tacos
Meat Lovers Nacho Platter
Pizza Topping
Pork Filled Quesadillas
Mix it in with Costco's Mac and Cheese
Stir into a pot of chili
Make BBQ Eggrolls
Pulled Pork Grilled Cheese
Unmatched Convenience
The pulled pork is fully cooked and comes in a convenient two-pound package. This size is perfect for making four large sandwiches without any leftovers to deal with.
What sets this pulled pork apart is the time-saving aspect. Making your own pulled pork in a smoker takes around 10 hours, so having a fully cooked option like this is a massive time-saver.
Nutritional Information
One serving of this pulled pork weighs three ounces and provides the following nutritional values:
Calories: 160
Fat: 11g
Cholesterol: 60mg
Sodium: 780mg
Carbohydrates: 1g
Protein: 16g
Quality Ingredients
The pulled pork contains a carefully selected list of ingredients, including:
Pork
Water
Vinegar
Salt
"Natural Flavoring"
Black Pepper
Paprika
Red Pepper
Garlic Powder
Please note that we cannot guarantee that the pulled pork is gluten-free due to the inclusion of "Natural Flavoring."
Storage Information
The pulled pork must be refrigerated and is stamped with a Use By/Freeze By date, usually about a month from the purchase date. You can also freeze the pork, and it should maintain its quality for at least six months.
If frozen, you can heat it straight from frozen using one of these methods:
Defrost the pork using the microwave's defrost setting before heating.
Boil the pouch on the stovetop for an additional 10 minutes.
Any leftovers should be consumed within four days.
Where to Find It
The Kirkland Signature Smoked Pulled Pork can be found in the refrigerated coolers near the deli section, where you can also find the fully cooked Costco Pot Roast. If you don't see it in your local warehouse, feel free to check with a store associate to see if it will be restocked.
Great Value for Your Money
The two-pound package of smoked pulled pork is priced at $13.99, which comes out to approximately $7 per pound or $1.31 per three-ounce serving. While $7 per pound might seem slightly high for a pork product, it is still more affordable than what you would pay for pulled pork at a barbecue restaurant. And trust me, this pulled pork is just as good as what most BBQ joints offer.