The Perfect Way to Cook Steel Cut Oats
If you're searching for the best way to cook steel cut oats, look no further! The slow cooker is your secret weapon. With my cinnamon apple steel cut oats crockpot recipe, you can simply set it and forget it. Just add apples, milk, spices, steel cut oatmeal, and other ingredients to the crockpot, let it cook overnight, and wake up to the aroma of apple pie without any added sugar!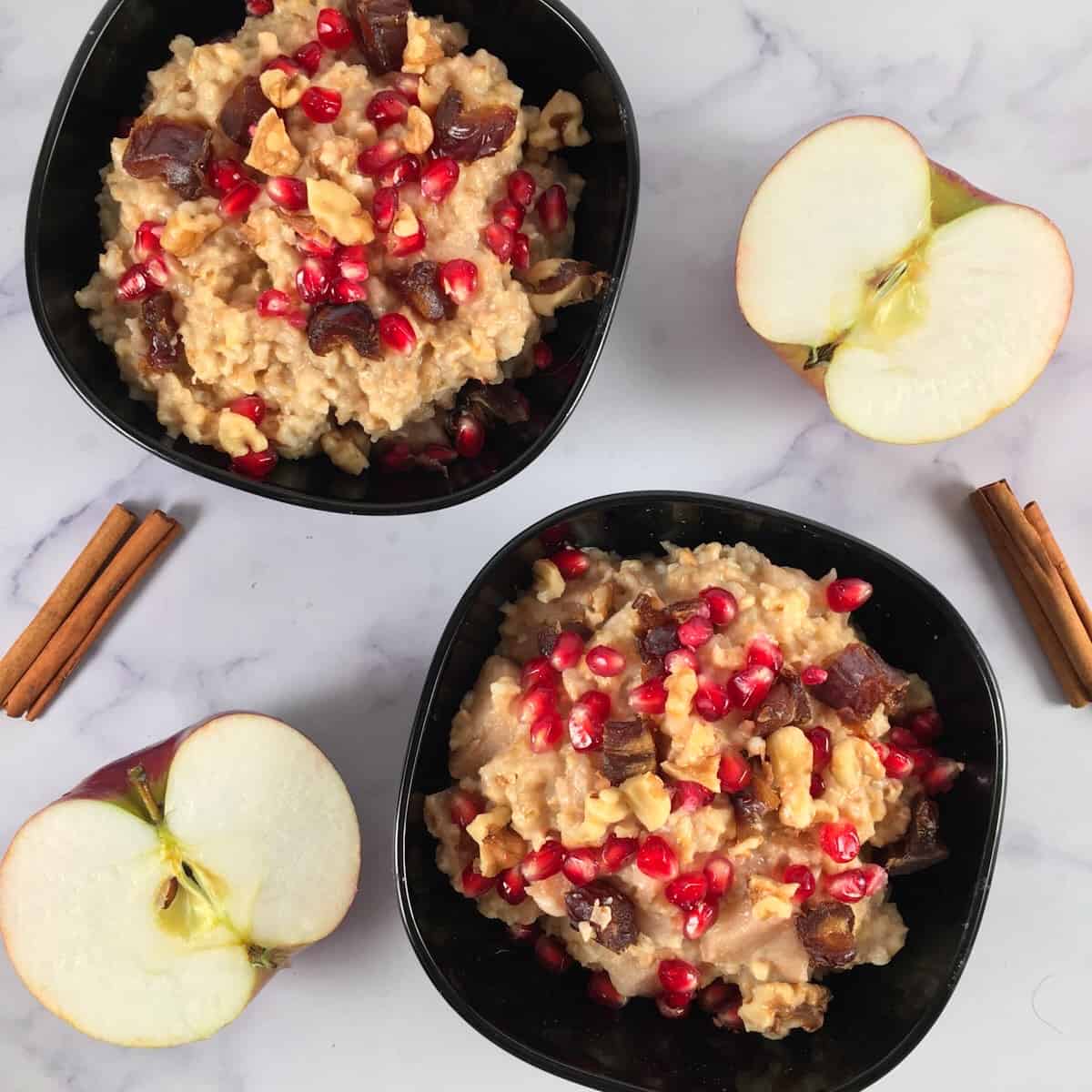 The Healthy and Flavorful Appeal of Cinnamon Apple Steel Cut Oats
While some beige foods may not seem appealing, this apple cinnamon steel cut oats crockpot recipe is packed with fiber, phytonutrients, and vibrant flavors. Steel-cut oatmeal cooked in the slow cooker becomes creamy with a delightful texture. The combination of sweet apples and cinnamon adds a natural sweetness, eliminating the need for additional sugar.
Additionally, the enticing aroma of apple crisp that fills your house in the morning serves as an incentive to jump out of bed. Enjoy a hearty bowl of fragrant apple oats to start your day off right.
Slow cookers and steel-cut oatmeal are a match made in breakfast heaven. Set it at night, and by morning, you'll have a comforting bowl of creamy oats with a chewy texture. The best part? No stirring required, which means you can enjoy extra sleep!
Benefits of Making Cinnamon Apple Steel Cut Oats
No Laborious Stirring
Using a crockpot to cook steel cut oats eliminates the need for constant stirring. Unlike stovetop cooking that requires 30-45 minutes of stirring, you can set it and forget it with the slow cooker. Say goodbye to sticking and burning issues!
Pleasing Texture
Oatmeal can sometimes have a reputation for a paste-like texture. However, steel-cut oats offer a chewy and satisfying texture that resembles barley rather than instant oats.
Pantry Staple with Fresh Fruit
Apples are a versatile fruit that can be stored for a long time without freezing or drying. This recipe allows you to utilize fresh apples easily, making it a pantry staple.
Easy and Convenient
Preparing this recipe is a breeze. Just put all the ingredients in the slow cooker in the evening, and by morning, your delicious apple spice oatmeal is ready to enjoy. No additional preparation required!
Vegetarian and Gluten-Free
By using gluten-free steel-cut oats, this recipe is naturally gluten-free and suitable for vegetarians. For a dairy-free and vegan version, substitute butter with avocado or coconut oil and use calcium-fortified soy milk instead of dairy milk. It's important to note that almond milk and oat milk may not provide the same protein content as dairy milk.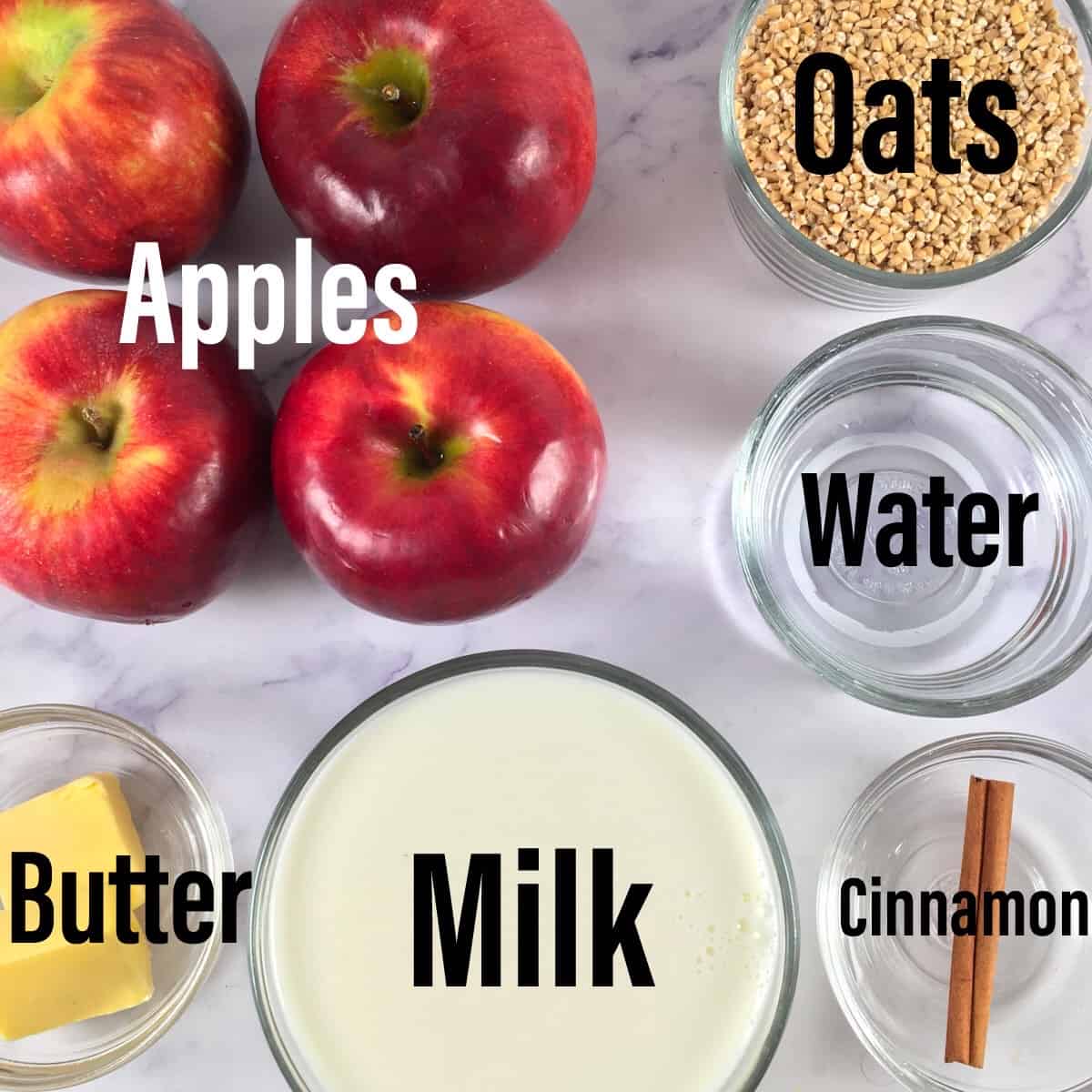 Ingredients for Apple Cinnamon Steel Cut Oats (Slow Cooker)
To make this delightful apple spice oatmeal, you only need a handful of ingredients:
Steel cut oatmeal
Butter
Water
2% milk
Peeled apples
Cinnamon stick
Oatmeal toppings (fresh fruit, dried fruit, nuts, or seeds)
Cortland apples work particularly well for this recipe, but you can use any apple variety you prefer. The apple flavor in this recipe is subtle, making it versatile for various toppings. Whether you choose fresh pomegranate arils, Medjool dates, walnuts, banana slices, or peanut butter, the choice is yours to personalize your oatmeal. You can even add sautéed apples for an extra burst of apple goodness!
How to Make Apple Spice Oatmeal
Preparing cinnamon apple steel cut oats is a breeze. Here's how you do it:
Peel, core, and chop the apples into small pieces.
Grease the bottom and sides of your slow cooker with butter.
Add the apples and cinnamon stick to the pot, followed by the liquids (water and milk).
Finally, add the steel cut oats, making sure they are on top of the other ingredients to prevent sticking.
Gently stir the oats, ensuring they are submerged in the liquids.
Cover the slow cooker and let it cook on low for nine hours.
In the morning, remove the cinnamon stick and stir in some additional milk.
Serve the oatmeal in bowls and sprinkle with your favorite toppings.
Expert Tips from a Dietitian
This recipe is a level 1 option, which may support fat loss. The calorie count provided does not include optional toppings. However, the apple cinnamon steel cut oats are delicious on their own.
To increase satiety and add more protein, consider pairing this dish with a side of plain Greek yogurt. Another option is to incorporate cottage cheese, plain skyr, hard-boiled eggs, or an egg white omelet. Opt for low-fat or non-fat dairy alternatives as they offer more protein per calorie.
Frequently Asked Questions
Q: How are steel cut oats made?
A: Steel-cut oats are oat groats that have been chopped into 2-3 pieces. This process reduces their cooking time compared to whole oat groats.
Q: Which oats are the most nutritious: steel cut, rolled, or instant?
A: Steel-cut, rolled, and instant oats are all considered whole grains with similar nutrient profiles. The main difference lies in their texture and cooking times.
Q: What spices go well in oatmeal?
A: While cinnamon is the star spice in this recipe, feel free to experiment with other flavors. Pumpkin pie spice, ground ginger, nutmeg, cloves, paprika, and even chili powder (for savory oatmeal dishes) can be excellent additions. Don't forget about vanilla extract, cocoa powder, chia seeds, coconut flakes, peanut powder, and natural sweeteners like maple syrup, brown sugar, or honey.
Q: Is it bad to eat oatmeal every day?
A: Oatmeal is a nutritious food and safe to consume daily for most individuals. However, as with any food, moderation is key. If oatmeal dominates your diet and restricts other essential food groups, it may be necessary to reduce your intake. Additionally, individuals with diabetes may want to monitor their blood sugar levels when consuming larger portions of oatmeal.
Q: Why am I still hungry after eating oatmeal?
A: Protein, fiber, and fluid volume are crucial for promoting satiety. While oatmeal contains fiber and some fluid, it is relatively energy-dense. Adding more protein and fluid to your meal can help increase fullness. Consider incorporating fruits, vegetables, and water for low-calorie fluid sources.
Other Spiced Apple Recipes That You May Enjoy
If you're a fan of apple and spice combinations, try these delicious recipes:
Slow Cooker Applesauce (No Sugar Added!)
Applesauce Overnight Oats (High Protein, No Added Sugar!)
Sugar-Free Apple Crisp
Apple Strawberry Smoothie (No Added Sugar!)
Apple Pie Chunky Granola Recipe
Pumpkin Spice Baked Apple Chips (also perfect as oatmeal toppings!)
Remember to subscribe to our Weekly Newsletter for more exciting recipes. You can also find us on Pinterest, Twitter, and Instagram.
And now for the disclaimer…
All the recipes on this website are provided for informational purposes only and may not be suitable for everyone. Consult a registered dietitian or your physician to determine the best dietary pattern for your needs and preferences.
The nutrition information provided is an estimate and may vary depending on specific brands and ingredients. Calorie information on food labels can sometimes be inaccurate, so don't worry too much about the numbers.
For more tips on weight management goals, refer to our overnight oats with yogurt post. Now let's get cooking!
📖 Recipe