Explore a Variety of Chocolate Covered Pineapple Recipes
Discover the best ways to enjoy the delightful combination of juicy pineapple and rich chocolate. Whether you prefer dark chocolate, semi-sweet chocolate, milk chocolate, or white chocolate, there's a recipe for you. With just three simple ingredients, you can create your own pineapple with chocolate masterpiece that rivals even Edible Arrangements. Fresh pineapple, canned pineapple rings, or dried pineapple can all be transformed into delectable chocolate-covered treats. In fact, the dried pineapple version tastes similar to those irresistible pineapple chocolate candies!
The Perfect Snack: Chocolate Covered Pineapple
If you haven't tried chocolate-covered pineapples yet, now is the perfect time to do so! Indulge in the ultimate tropical treat and experience a burst of flavors. While you can find chocolate-covered pineapple on a stick at places like Disney or Edible Arrangements, this recipe allows you to create your own sweet delight right at home. Not only will you save money, but you can also enjoy a pineapple pop dessert anytime, even when you're not on vacation.
Versatility at its Best
When it comes to chocolate covered pineapples, the possibilities are endless. You can use any type of chocolate or pineapple that you have on hand. Wondering what you can make with canned pineapple? Look no further – this recipe has got you covered! If you're already a fan of chocolate-covered strawberries, chocolate pineapple will quickly become your new favorite snack. It's the perfect alternative when strawberries are out of season – a little indulgent and oh-so-good!
How to Make Chocolate Covered Pineapple
Let's dive into the exciting process of making chocolate-dipped pineapple! Here's what you'll need:
Fresh pineapple
Chocolate (choose your favorite type)
Coconut oil (you may also use canola oil or another oil)
To make this recipe, I used fresh pineapple wedges, canned pineapple rings, and even dried and sugared pineapple tidbits. You can also use dried pineapple without added sugar. As for the chocolate, I opted for mini milk chocolate chips for quick melting. However, you can also use regular chocolate chips or chopped chocolate bars. If you prefer a low-carb option with no added sugar, try Lily's chocolate chips. And don't be afraid to mix things up – make white chocolate covered pineapple and drizzle it with dark chocolate, or vice versa!
To take your chocolate-covered pineapple to the next level, sprinkle on some creative toppings. From flaky salt to toasted coconut flakes, sanding sugar to mini chocolate chips, there's a world of possibilities. Get creative and experiment with different flavors and textures. Just remember to sprinkle the toppings before the chocolate coating dries and hardens.
Making Chocolate Dipped Fresh Pineapple
Here's a step-by-step guide for making chocolate-dipped fresh pineapple:
Core and cut the pineapple. You can slice it into spears, tidbits, or rings – it's up to you!
Dry the pineapple by laying the pieces on paper towels and gently patting away excess moisture.
Melt the chocolate. You can use a double boiler on the stove or the microwave. I recommend microwaving ½ cup of mini chocolate chips with 1 teaspoon of coconut oil in 30-second intervals until melted.
Dip the pineapple. I prefer dipping only one end of the pineapple spear in chocolate. If you want to dip the entire piece, place the pineapple spears on a skewer before dipping. Let the chocolate-dipped pineapple dry on parchment paper.
Let the chocolate pineapple dry and harden before decorating. You can also add additional toppings, such as jimmies or sanding sugar, before the chocolate sets.
Finally, go the extra mile and decorate the chocolate-coated pineapple pieces. Melt ¼ cup of mini white chocolate chips with ½ teaspoon of coconut oil in the microwave. Use a drizzle spoon or piping bag to drizzle the melted white chocolate over the pineapple pieces. Sprinkle some sanding sugar for an added touch of sweetness.
Tips for Cutting Pineapple
To cut a pineapple, start by rinsing it with cool water and patting it dry. Remove the top and bottom, and then stand the pineapple upright. Slice off the rough skin in strips, working from top to bottom. To remove the core, cut four large pieces off the pineapple, north, south, east, and west around the core. Discard the core and slice the remaining flesh into long wedges, around 4-5 inches long and about an inch wide.
How to Make Chocolate Covered Pineapple Rings
The process for making chocolate-covered pineapple rings is similar to using fresh pineapple. Follow these step-by-step instructions:
Drain and dry the canned pineapple rings, then place them in a single layer on a paper towel. Remove excess moisture from the top of the pineapple with more paper towels.
Melt the chocolate in a double boiler or microwave. I suggest microwaving ½ cup of mini chocolate chips with 1 teaspoon of coconut oil in a microwave-safe bowl.
Dip one end of each pineapple ring into the melted chocolate, then place the chocolate-dipped pineapple on parchment paper to dry.
Allow the chocolate pineapple to dry and harden completely. Feel free to add jimmies or other toppings before the chocolate sets.
Finally, decorate the chocolate pineapple rings. Melt ¼ cup of mini white chocolate chips with ½ teaspoon of coconut oil in the microwave. Drizzle the melted white chocolate over the pineapple rings using a drizzle spoon. Sprinkle sanding sugar on some of the rings before the white chocolate dries.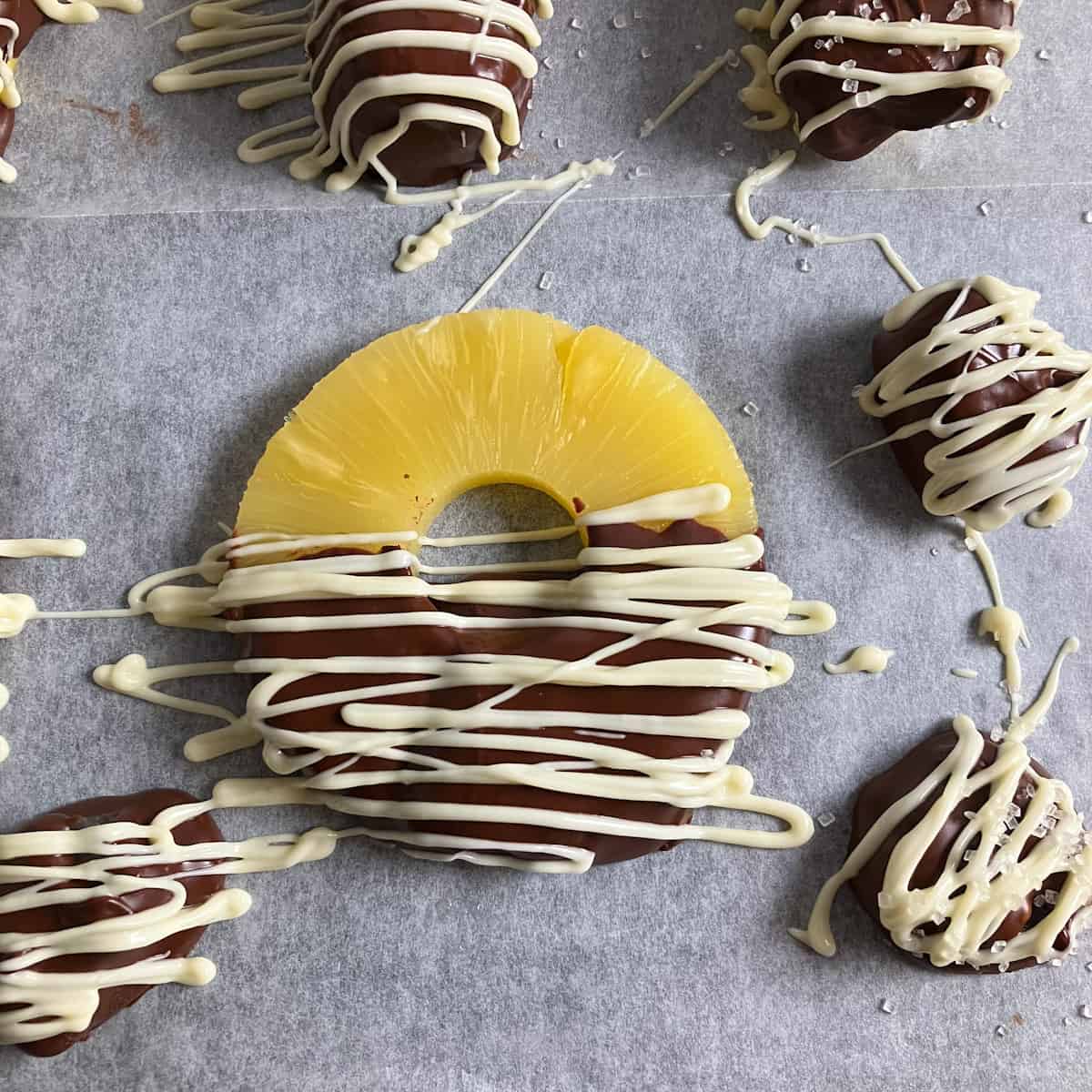 Experiment with Pineapple Chocolates and More!
If you can find sugared dried pineapple, don't miss the opportunity to dip them in chocolate! Whether it's the rings or tidbits, these sugared dried pineapple pieces are a real treat. To dip the pineapple chunks in chocolate, use a toothpick to grab them individually. You can remove the tidbits from the toothpick by carefully pushing them off with a fork. If you're having trouble fully coating the pineapple, use a spoon to help.
Storing and Freezing Chocolate Covered Pineapple
Canned and fresh chocolate-dipped pineapple slices can last for 1-2 days in the fridge. However, the exposed parts of fresh pineapple may become slightly dry after that time. On the other hand, chocolate-covered dried pineapple tidbits can last for a week or even longer. Remember to store your chocolate-covered pineapple in the refrigerator and avoid leaving it at room temperature for more than 1-2 hours.
While dried pineapple tidbits covered in chocolate can be successfully frozen, freezing fresh chocolate-covered pineapple may result in a loss of quality after thawing. Therefore, it's not recommended to freeze fresh or canned chocolate-covered pineapple. To freeze dried chocolate pineapple, place it in a single layer on a baking tray lined with freezer paper. Once frozen, transfer the pieces to an airtight container or freezer bag, making sure to press out any excess air. This method will prevent the pieces from sticking together in the freezer.
Beyond Pineapple: Explore More Chocolate-Covered Fruits
If you're a fan of chocolate-covered fruit, there are plenty of other tempting options to try. Consider indulging in chocolate-covered strawberries, fresh Medjool dates, kiwi slices, sliced mango, cherries, blackberries, blueberries, peach slices, pear slices, bananas, dried orange slices, raisins, or dried apricots. Don't be afraid to experiment with your favorite fruits and discover new flavor combinations.
Nutritional Information: Chocolate Covered Pineapple
One serving of chocolate-covered pineapple, which includes a Dole pineapple ring covered in approximately 5 teaspoons of chocolate, contains 150 calories, 20.7 grams of net carbs, and 2.2 grams of protein. Please note that the nutrition information may vary depending on the specific brands and ingredients you use, as well as the amount of chocolate coating. Keep in mind that calories on food labels can sometimes be inaccurate, so don't stress too much over the numbers.
Expert Tips from a Dietitian
Pineapple is a heart-healthy fruit packed with essential nutrients like vitamin C, potassium, and fiber. When it comes to chocolate-covered fruit, however, it's important to remember that the added sugar and fat turn it into a candy-like treat. For those with weight loss goals, savoring the natural sweetness of fruits without the additional chocolate can be a healthier choice and save you time in the kitchen. While both fresh and canned pineapple are relatively low in calories, they are not considered low-carb options. Dried pineapple, due to its concentrated nature and added sugar, is the highest in calories among the three options.
I must admit, the chocolate-covered dried pineapple was my personal favorite in terms of taste. If you're looking for a sweet treat to satisfy your cravings, this recipe hits the spot when plain pineapple just isn't enough. If you're following a low-carb diet, you can still enjoy this recipe by using low-carb chocolate chips, such as Lily's brand, which tastes surprisingly similar to regular chocolate.
Frequently Asked Questions
Looking for more pineapple recipes? Here are a few other ideas to explore:
Peach Pineapple Salsa Recipe (gluten-free)
Peach Pineapple Smoothie
Watermelon Ice Lollies (with mango and pineapple)
Join our community and stay updated on the latest and greatest recipes by subscribing to our Weekly Newsletter. You can also follow us on Pinterest, Twitter, Instagram, and YouTube to catch all the deliciousness!
Disclaimer
Please note that all recipes on this website may or may not be suitable for you, depending on your medical needs and personal preferences. If you require assistance in determining the best dietary pattern for you, consult with a registered dietitian or your physician. The nutrition information provided is an estimate and should be used as a courtesy. Actual values may vary depending on the brands and ingredients you use. Calorie information on food labels can sometimes be unreliable, so don't get too caught up in the numbers.
Now that you have the recipe, let's get cooking and indulge in some mouthwatering chocolate covered pineapple delights!