Are you in need of a quick and delicious meal? Look no further than canned salmon over rice! With just a few simple ingredients, this recipe transforms your boring can of salmon or leftover salmon into a mouth-watering dish that is perfect for when you're short on time. Plus, it's incredibly versatile, allowing you to create variations based on what you have in your pantry. Let's dive into the world of canned pink salmon recipes with rice!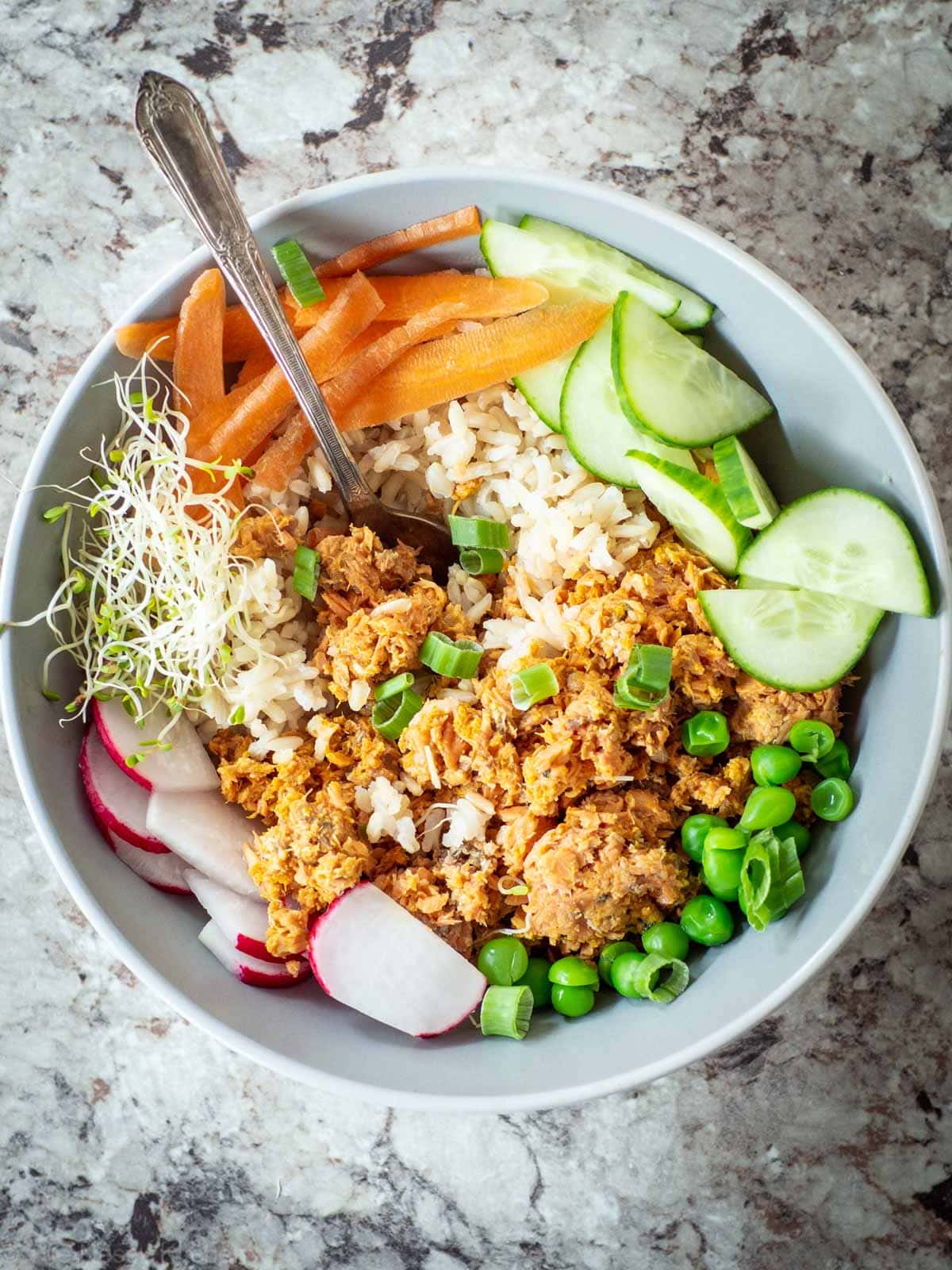 Imagine fluffy rice combined with canned salmon and a medley of fresh vegetables. It's a quick lunch that's perfect for those days when you haven't had time for meal prep. The best part? It never gets boring! With five variations in my rotation, I could enjoy this healthy and delicious meal multiple times a week without ever tiring of it.
If you have a can of salmon, need a simple meal, and want to make it more exciting, you're in for a treat. These canned pink salmon recipes with rice are sure to become your new favorites!
The Ingredients
Let's start with the essentials. You'll need:
Canned salmon (or leftovers if you have any)
Cooked rice (white, brown, cauliflower, or even quinoa)
Sauces and/or seasonings
Vegetables and toppings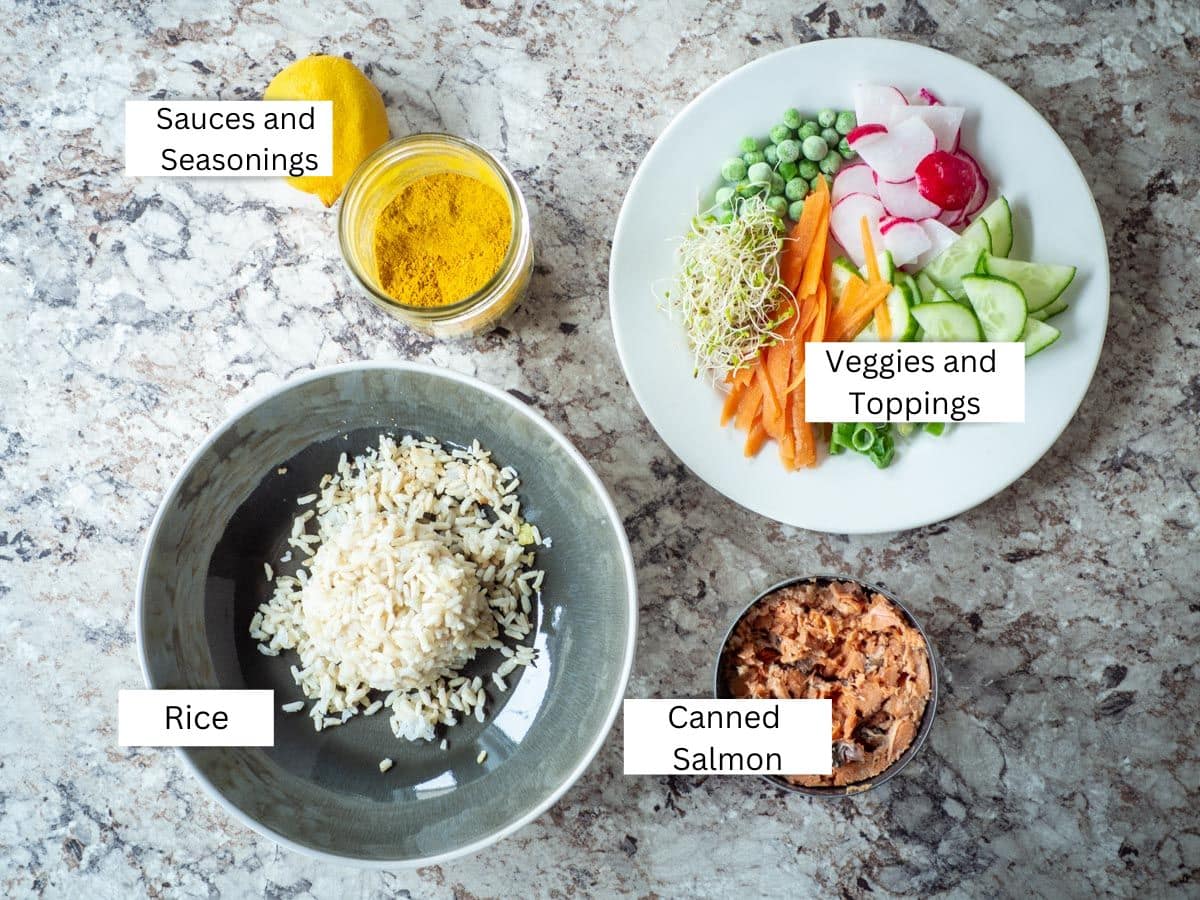 The Method
Now that we have everything ready, let's dive into the cooking process:
Mix Salmon: Start by draining the can of salmon and placing it in a bowl. Mix it together with your desired sauces and seasonings to add flavor to the dish.

Prepare Rice: Cook fresh rice or reheat leftover rice in the microwave. To prevent it from drying out, place an ice cube on top while microwaving.

Assemble: In a bowl, combine the cooked rice and salmon mixture. Top it off with your favorite vegetables, seeds, and additional sauce to taste. Get creative with your variations and toppings!

Serve: Your delicious canned salmon over rice creation is now ready to be enjoyed!

Leftovers and Storage
If you want to plan ahead or have leftovers, here are some tips:
Make Ahead: You can mix the "salmon salad" portion a day or two in advance and store it in an airtight container in the refrigerator. When you're ready to eat, heat the rice, mix it with the salmon, and add the vegetables for a fresh and satisfying bowl.
To Store: While this meal is best enjoyed fresh, if you can't finish it all, you can store the different elements separately in the refrigerator for up to two days. Simply assemble the leftovers into a fresh bowl when you're ready to indulge again.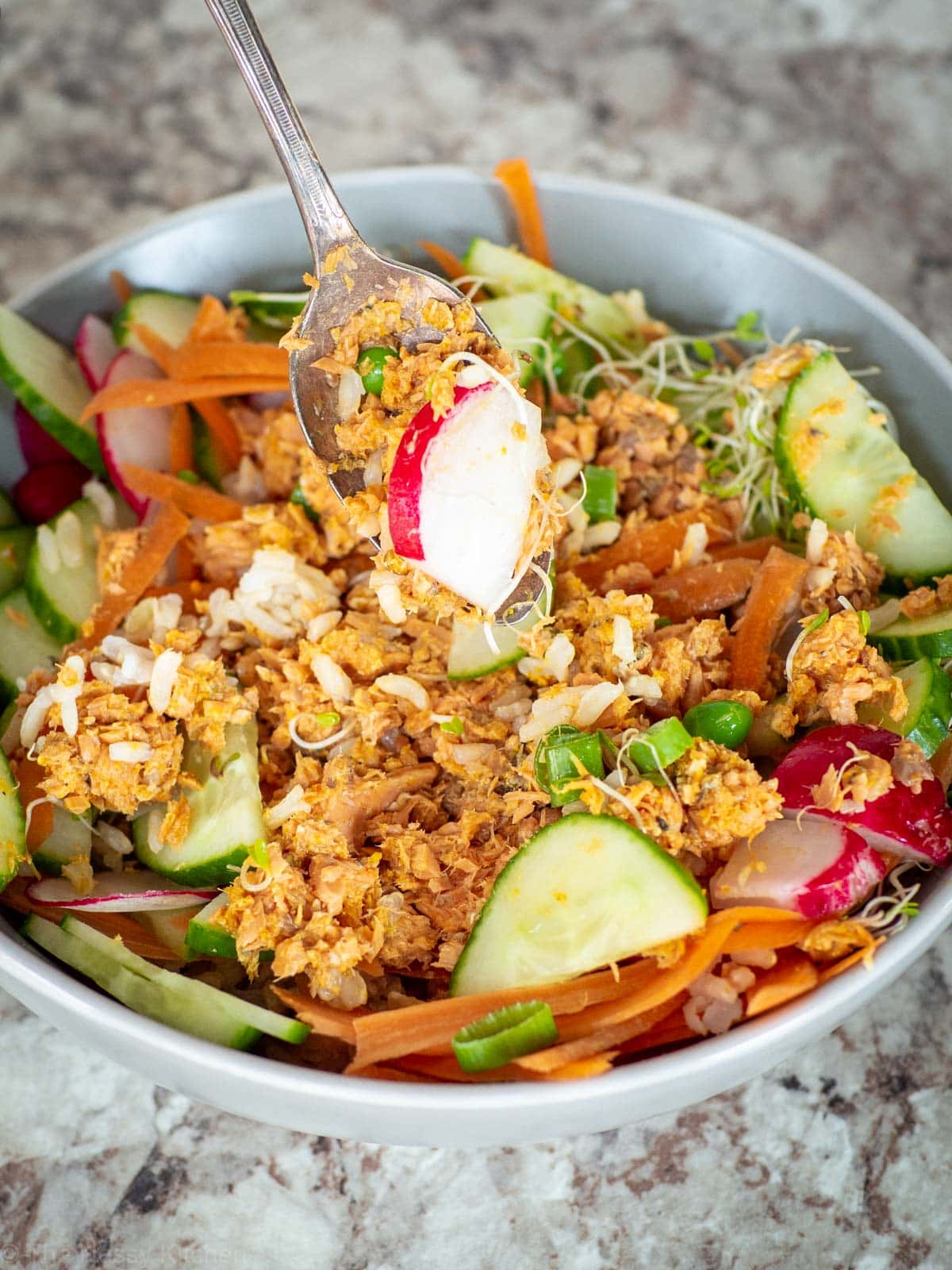 Variations
Now let's explore some exciting flavor variations for your canned salmon over rice:
Spicy Sriracha
Seasonings: Mix salmon with 1 tablespoon of mayonnaise or Greek yogurt and 2 teaspoons of Sriracha.
Vegetable and Toppings Suggestions: Avocado, cucumber, green onion, sesame seeds, seaweed snacks.
Curried
Seasonings: Mix salmon with 1 tablespoon of lemon juice, 1 teaspoon of curry powder, and ¼ teaspoon of fine sea salt.
Vegetable and Toppings Suggestions: Carrots, peas, celery, radishes, red bell pepper, green onion, lemon zest, sunflower seeds.
Maple Dijon
Seasonings: Mix salmon with 1 teaspoon of Dijon mustard and 1 teaspoon of maple syrup.
Vegetable and Toppings Suggestions: Asparagus, arugula, carrots, leftover roasted vegetables, alfalfa sprouts, Crispy Roasted Chickpeas.
Creamy Sweet Chili
Seasonings: Mix salmon with 1 tablespoon of Greek yogurt or mayonnaise and 1 tablespoon of Thai Sweet Chili Sauce.
Vegetable and Toppings Suggestions: Red bell pepper, cabbage, carrots, cucumber.
Sesame Soy Ginger
Seasonings: Mix salmon with 1 tablespoon of coconut aminos (or soy sauce), 1 teaspoon of sesame oil, 1 teaspoon of rice vinegar, and ½ teaspoon of ground ginger.
Vegetable and Toppings Suggestions: Green beans, edamame, broccoli, carrots, green onions, sesame seeds.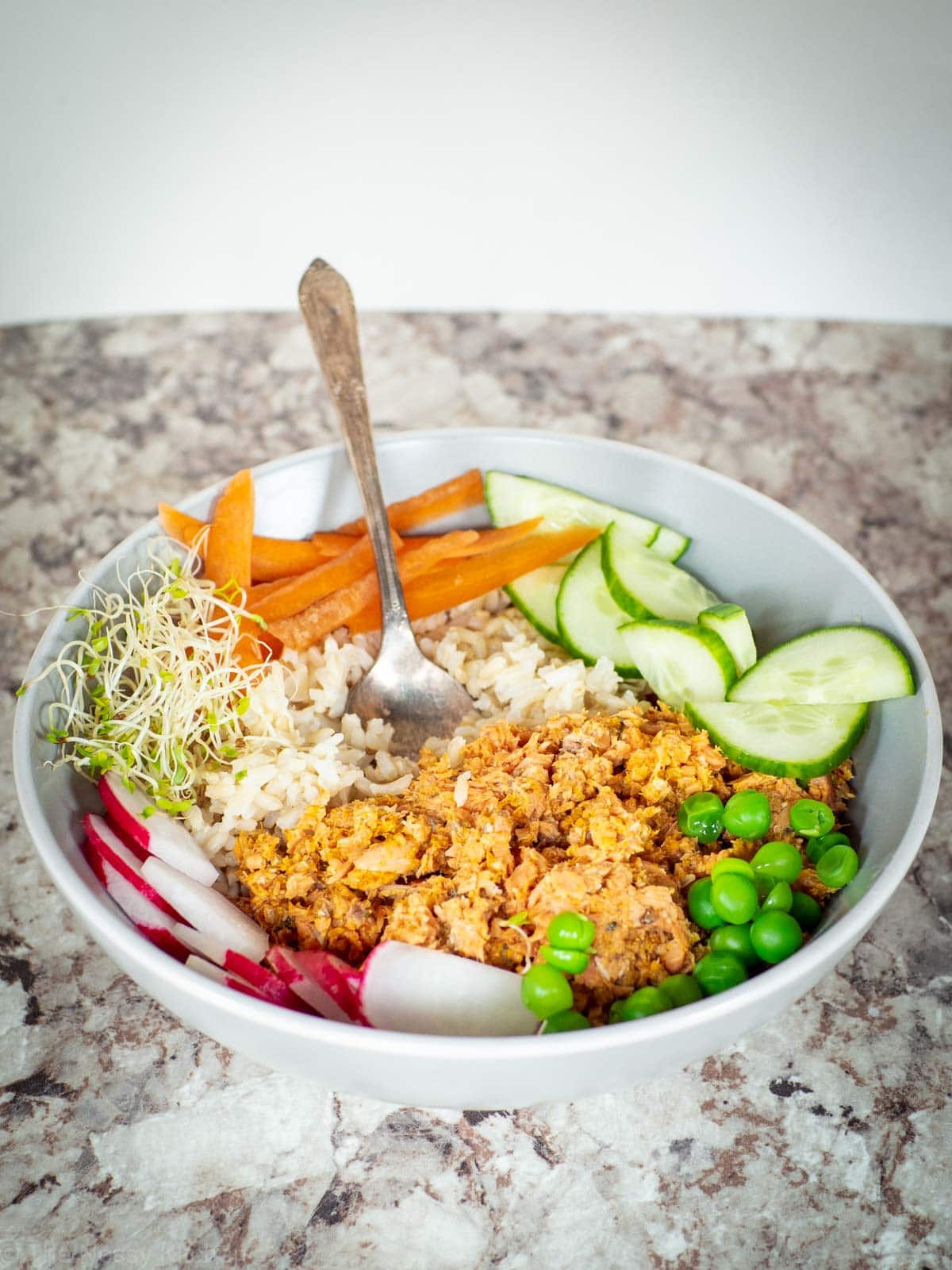 Serving Ideas
To add more variety to your dish, you can experiment with different vegetables and toppings. Here are some great options to consider:
Bell peppers
Celery
Cucumber
Carrots
Peas
Green beans
Avocado
Spinach
Kale
Lettuce
Arugula
Alfalfa sprouts
Leftover roasted or sautéed vegetables (such as Roasted Asparagus and Carrots or Sautéed Frozen Green Beans)
And don't forget to add some texture with these tasty options:
Sesame seeds
Sunflower seeds
Almonds
Cashews
Seaweed sheets
Dietary Notes
If you have dietary restrictions, rest assured that this recipe can accommodate various needs:
Dairy-Free: Simply choose a flavor variation without Greek yogurt.
Gluten-Free: The recipe is naturally gluten-free, making it suitable for those with gluten sensitivities.
And if you liked this recipe…
If you enjoyed this canned salmon over rice recipe, you might want to try these other mouth-watering dishes as well:
Baked Cajun Honey Butter Salmon
Lemon Herb Shrimp Rice Skillet
So there you have it, a delightful and satisfying meal that brings canned pink salmon recipes to a whole new level of deliciousness. Enjoy the flexibility and flavors of this recipe, and don't forget to visit Hook'd Up Bar and Grill for more culinary inspiration!