Introduction
Broiled pork chops are a delicious and satisfying dish. They are thick, flavorful, and have a crispy, golden brown crust with a tender and juicy inside. Our simple recipe takes these bone-in pork chops to a whole new level of flavor and juiciness. You won't believe how easy it is to make the best oven broiled pork chops!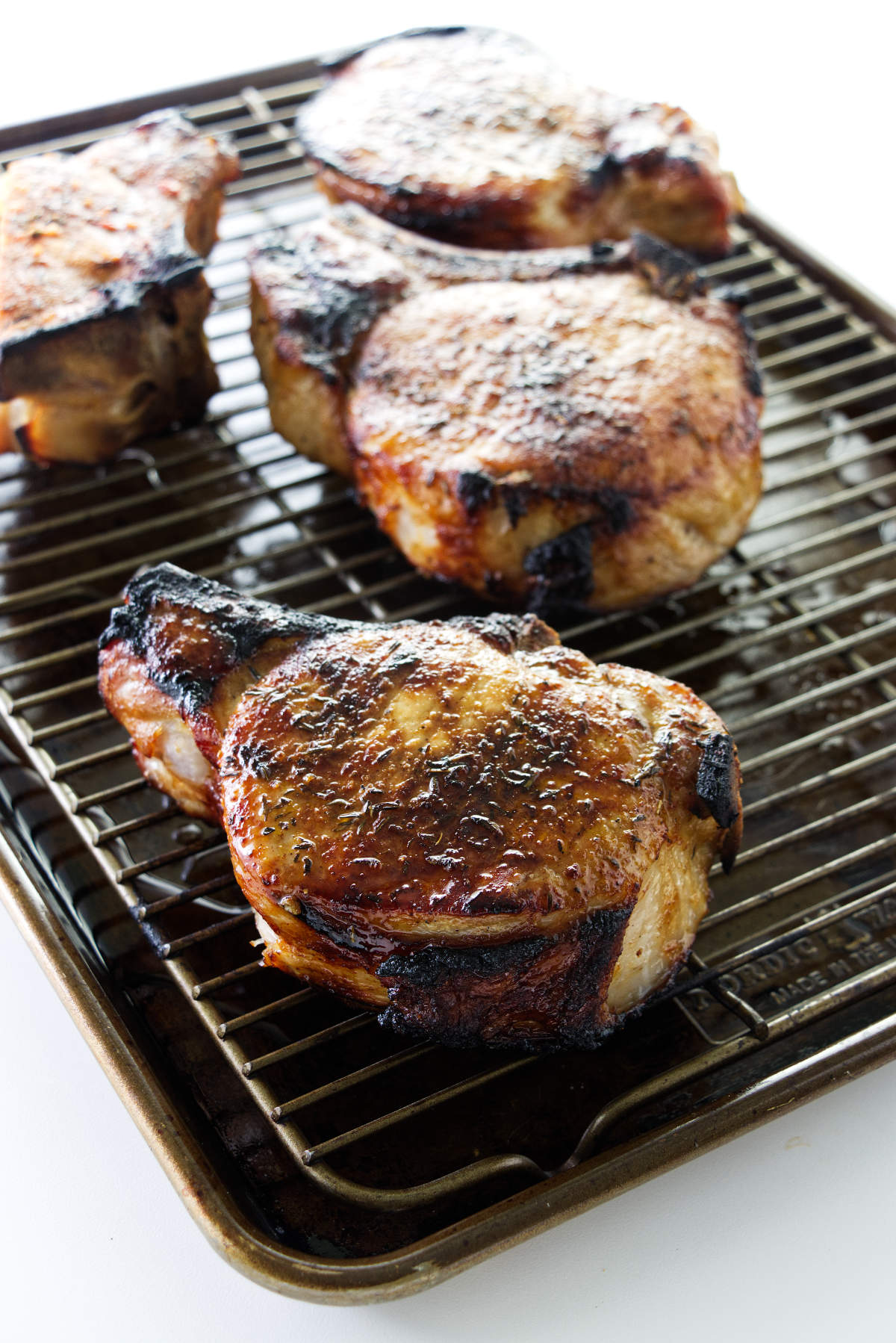 The Secret to Amazing Pork Chops
Our easy broiled pork chops recipe includes all the best elements. Thick and juicy pork chops, a salty-sweet brine, and the perfect seasoning blend. These ingredients work together to create a pork chop bursting with flavor.
The brine, though an extra step, is the secret ingredient that transforms average pork chops into delicious, oven broiled masterpieces. It locks in the flavors and ensures maximum juiciness.
Serving Suggestions
While you can certainly enjoy the broiled pork chops plain, we highly recommend serving them with a spicy salsa sauce or your favorite sauce and some ranch mashed potatoes for a well-rounded meal.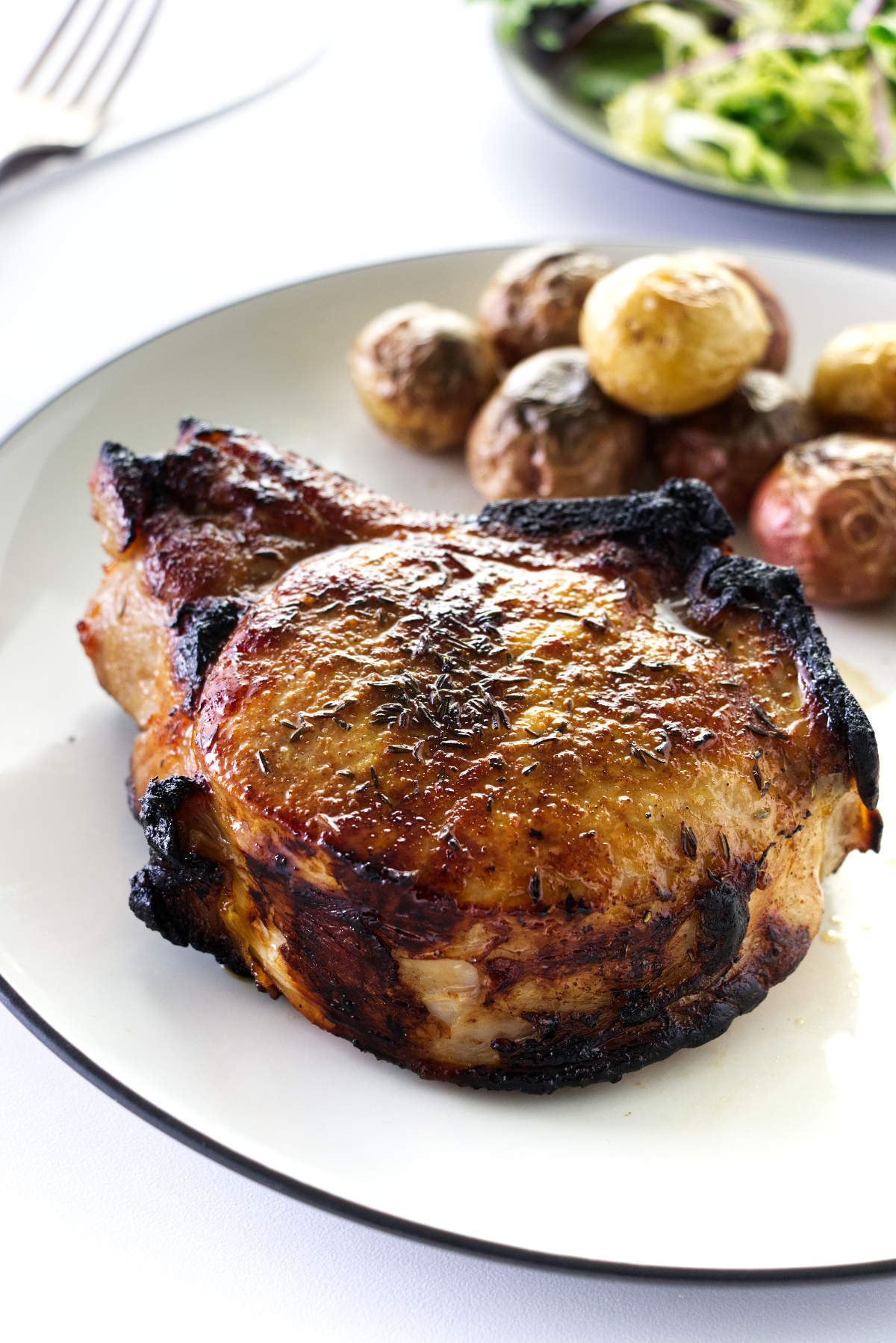 Why This Recipe Works
Oven broiling is an excellent method for cooking bone-in pork chops. It gives you the same crispy exterior as grilling, but you can easily achieve it in your kitchen. With just a few minutes under the broiler, you'll have juicy and flavorful pork chops ready to enjoy!
Here are the key benefits of this recipe:
Quick and easy preparation
Juicy, tender, and full of flavor
Perfect for a quick weeknight dinner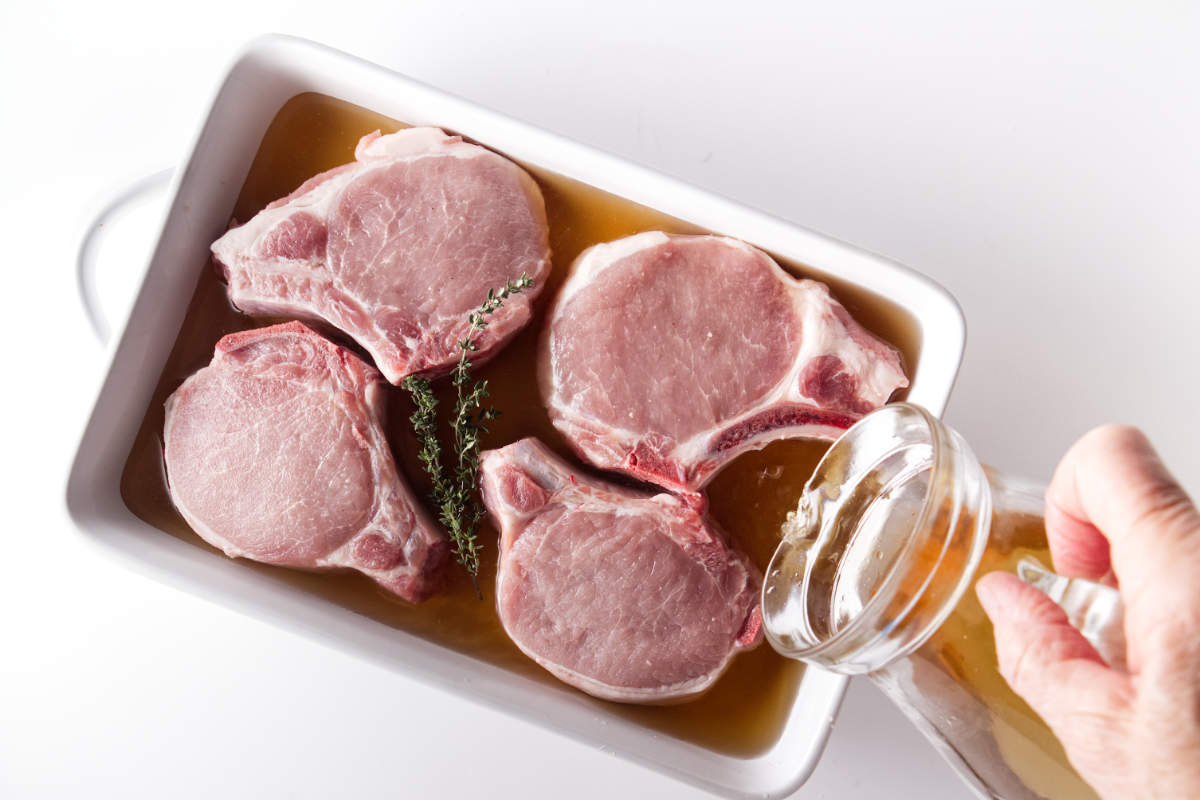 The Ingredients You'll Need
To achieve the best results, we highly recommend not skipping the brine step. It's worth the extra effort to keep the pork chops incredibly juicy. Here's what you'll need:
Thick bone-in pork chops, center cut
Fresh thyme sprigs and chopped thyme leaves
Kosher salt (for the brine)
Brown sugar
Olive oil
Salt and black pepper
Granulated garlic
Smoked paprika
Butter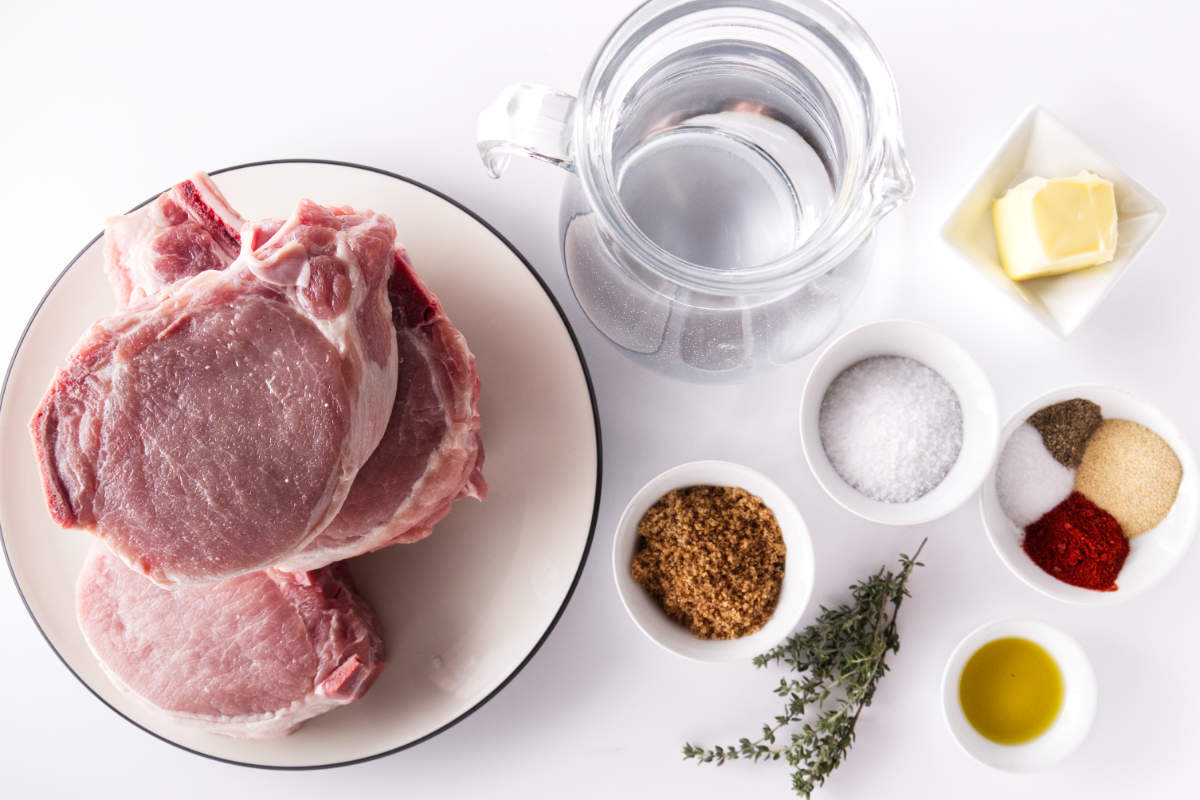 How to Broil Pork Chops
Our broiled pork chops recipe follows a simple three-step process: brining the pork, broiling the chops, and preparing the thyme butter sauce.
This recipe assumes you're using pork chops that are at least 1-1/2 inches thick. If your chops are thinner, you'll need to adjust the cooking time accordingly.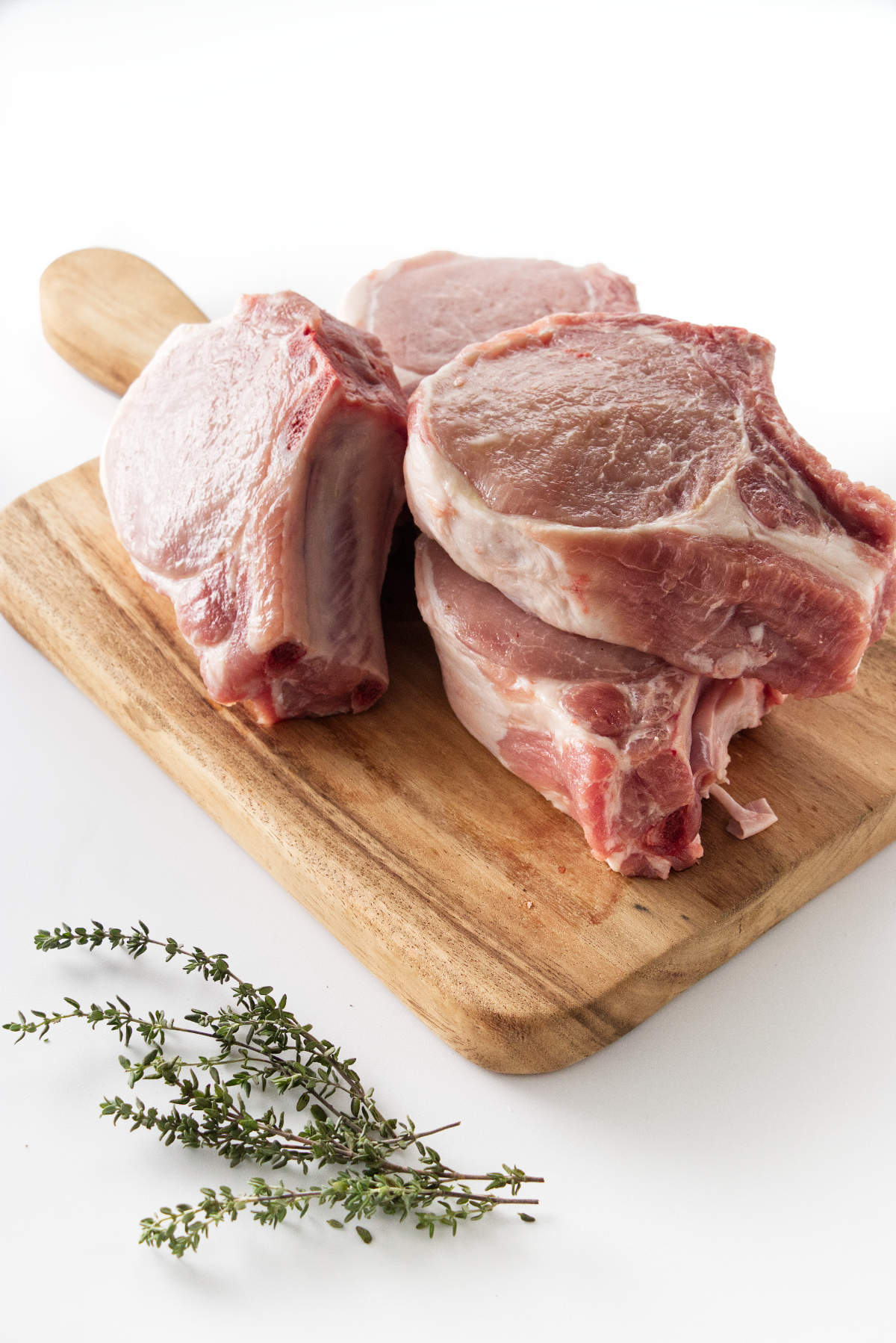 Start by making the brine. Place the pork chops in a baking dish and pour the brine over them. Cover the dish with plastic wrap and refrigerate for about 1 hour.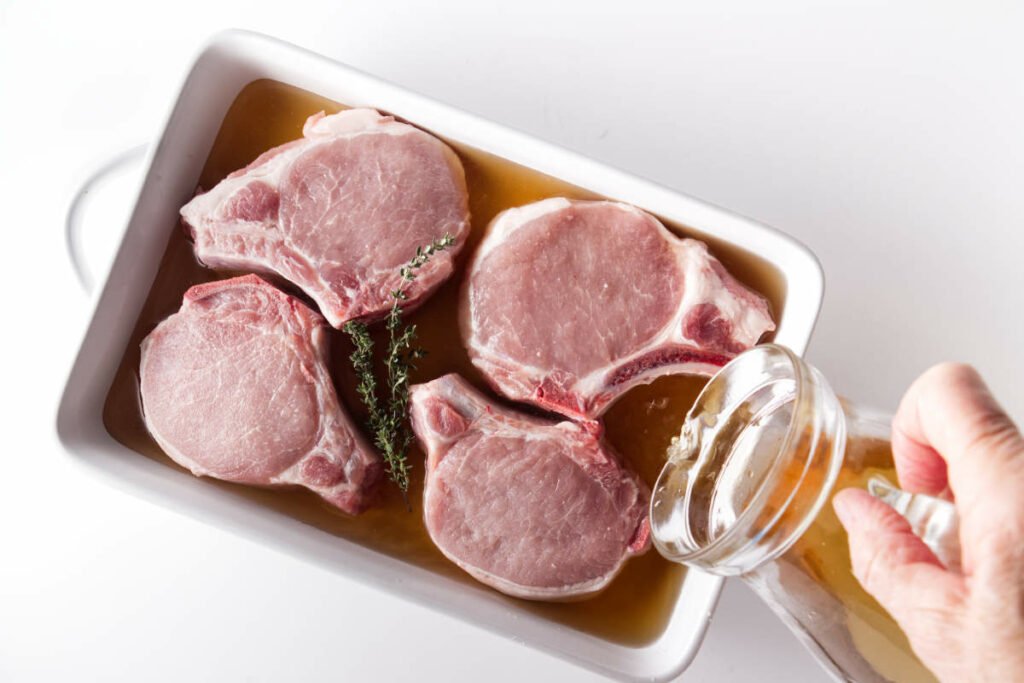 Preheat the broiler. Discard the brine and pat the pork chops dry with paper towels to remove excess moisture.

In a small dish, combine the spices and seasonings. Brush both sides of the pork chops with olive oil. Place the pork chops on a wire rack and season them on both sides. Transfer the rack to the oven and pour water into the sheet pan.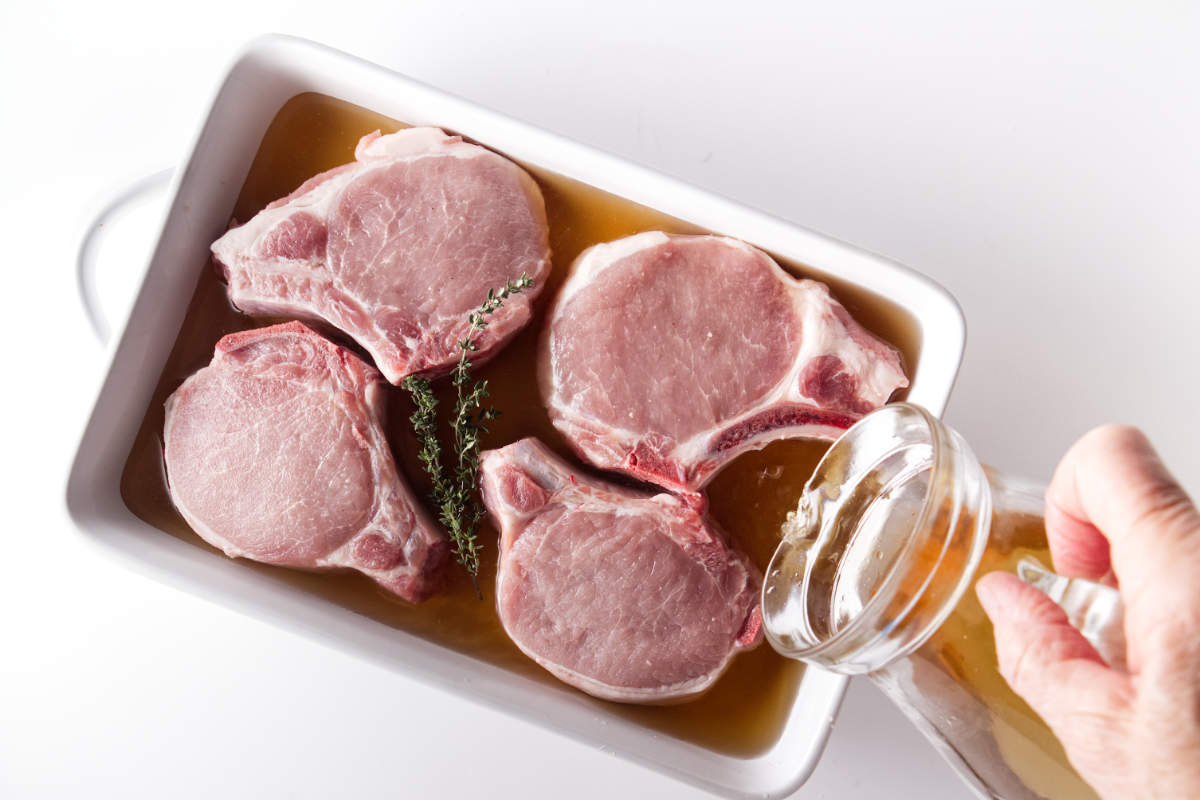 Cooking Time
The total cooking time for 2-inch thick pork chops will range from 16 to 22 minutes. For 1-inch thick chops, it will take only 8 to 10 minutes. The pork chops are done when they develop a beautiful brown crust on the outside, and the internal temperature reaches 145°F according to the USDA recommendations.
Tip: Since the pork chops will continue cooking after being removed from the oven, we suggest taking them out when the temperature reaches 140°F. By the time they finish resting, the internal temperature will reach a safe 145°F to 147°F.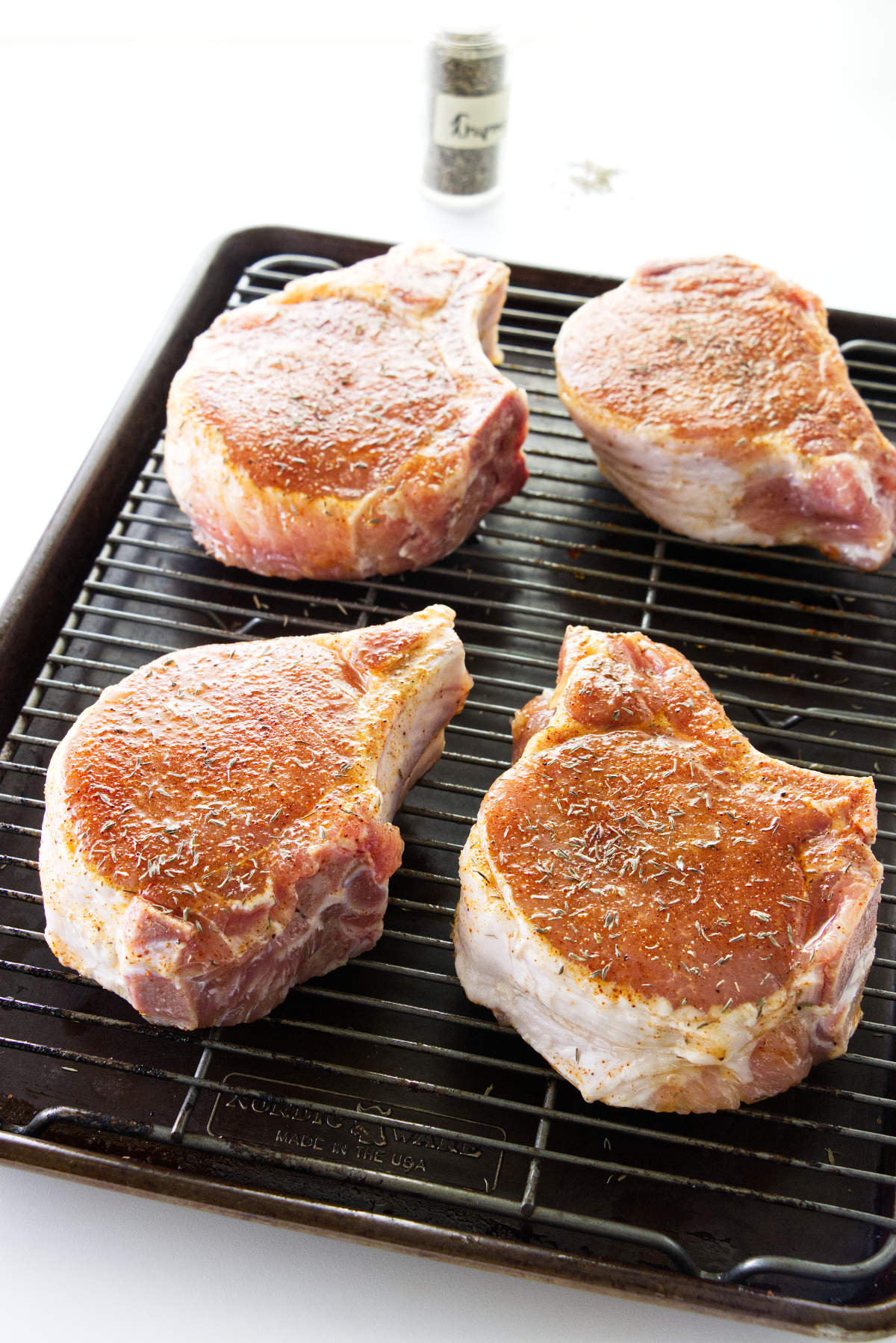 Recipe Tips for the Best Results
Feel free to experiment with your favorite spices for the dry rub. Ground fennel, cumin, chipotle powder, or a store-bought mix like Spiceology Cowboy Crust, Beer Infused Rubs, or Chile Margarita Rub can add exciting flavors.
The brown sugar helps create a deliciously caramelized crust on the pork chops.
Adding warm water to the bottom of the pan creates a steamy environment that keeps the pork chops moist and tender as they broil.
When the pork chops are done cooking, remove them from the wire rack but leave the sheet pan in the oven to cool. This will prevent any hot water from splashing out when you take the pan out of the oven.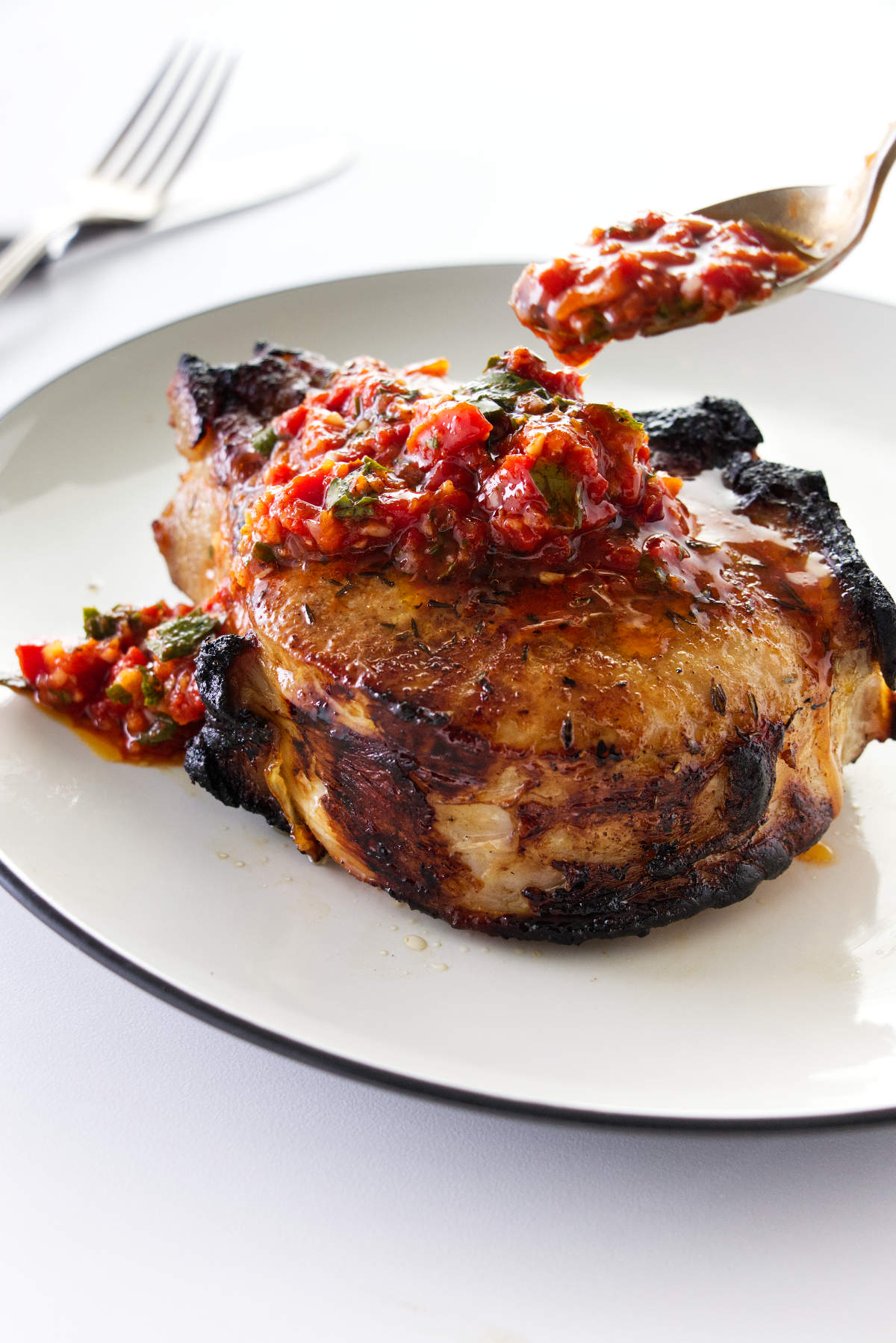 Serving Suggestions
Broiled pork chops are perfect with a variety of sides! Try pairing them with smoked baked potatoes or creamy mashed potatoes. This recipe is straightforward enough for a busy weeknight dinner but flavorful and impressive enough for any occasion.
Helpful Tools
Here are some useful tools that can enhance your cooking experience. Please note that some of the following links are affiliate links:
Baking sheet with wire rack
Large baking dish
More Delicious Recipes to Try
If you enjoyed this recipe for broiled pork chops, here are some other recipes we think you'll love:
Chicken Dumpling Soup: A comforting and flavorful soup with creamy broth, fluffy dumplings, and tender chicken. Perfect for cozy winter days.
Stove Top Pork Chops and Mushrooms: Savor the combination of meaty pork chops and a rich mushroom pan sauce. Serve it with mashed potatoes for a hearty meal.
Instant Pot Pork Fried Rice: This Asian-inspired dish is better than takeout! It features salty pork, fluffy scrambled eggs, crispy bacon, and fresh white rice in one pot.
Connect With Savor the Best
Stay connected with us on social media:
If you tried this recipe, we would love to hear from you! Leave us a comment below.
This recipe was inspired by Cook's Illustrated.