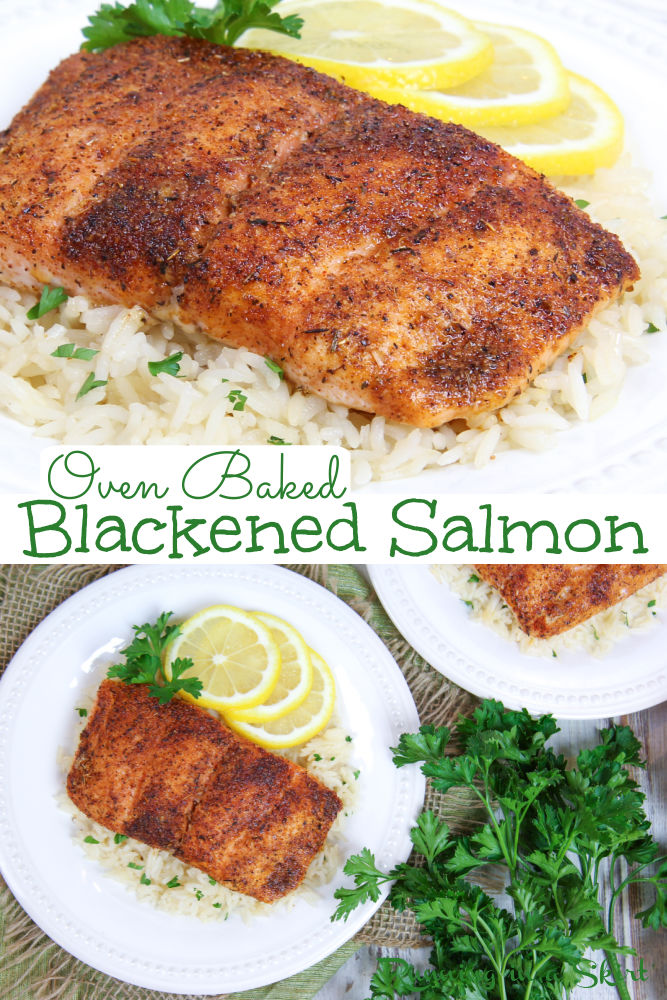 This Baked Blackened Salmon recipe offers a delicious and easy way to prepare salmon that is both healthy and bursting with flavor. Instead of pan-searing, this recipe calls for oven-baking, making it a hassle-free option that takes less than 20 minutes to make. With just a few ingredients, including a homemade blackening seasoning and lemon, you can create a tender and flaky salmon that is fool-proof and absolutely delightful.
A Healthful and Convenient Salmon Dish
This Baked Blackened Salmon recipe is the epitome of an easy, healthy salmon dish. It requires only a handful of ingredients and can be prepared in under 15 minutes, making it a perfect choice for a quick and nutritious family dinner. The star of this recipe is the Homemade Blackening Seasoning, which adds a Cajun-like flavor to the fish. Combined with a touch of butter and lemon, this seasoning creates a fresh, flavorful, and tender salmon that is sure to impress. Serve it with one of my 20 Healthy Side Dishes for Salmon, and you'll have a delectable meal that everyone will love. The best part? This recipe is pescatarian, gluten-free, keto, clean-eating, and paleo-friendly.
Why is it called blackened salmon?
Blackened Salmon, also known as Blackened Fish, refers to fish cooked with blackening seasonings. These seasonings consist of a tangy mixture of paprika, smoked paprika, garlic powder, onion powder, oregano, salt, black pepper, and other spices. This cooking style originated in New Orleans and typically involves seasoning the fish and searing it in a cast-iron skillet over high heat. The result is a beautifully dark or blackened appearance and a burst of flavorful goodness. Don't let the color fool you; the fish is not burnt but perfectly cooked and packed with taste.
In my version of this recipe, I've taken a slightly different approach to make it easier and healthier. By baking the salmon in the oven, you can achieve similar flavors with less butter. This method allows you to pop it in the oven and forget about it, freeing you from the need to stand over the stove. The result is a delightful salmon that is both flavorful and guilt-free.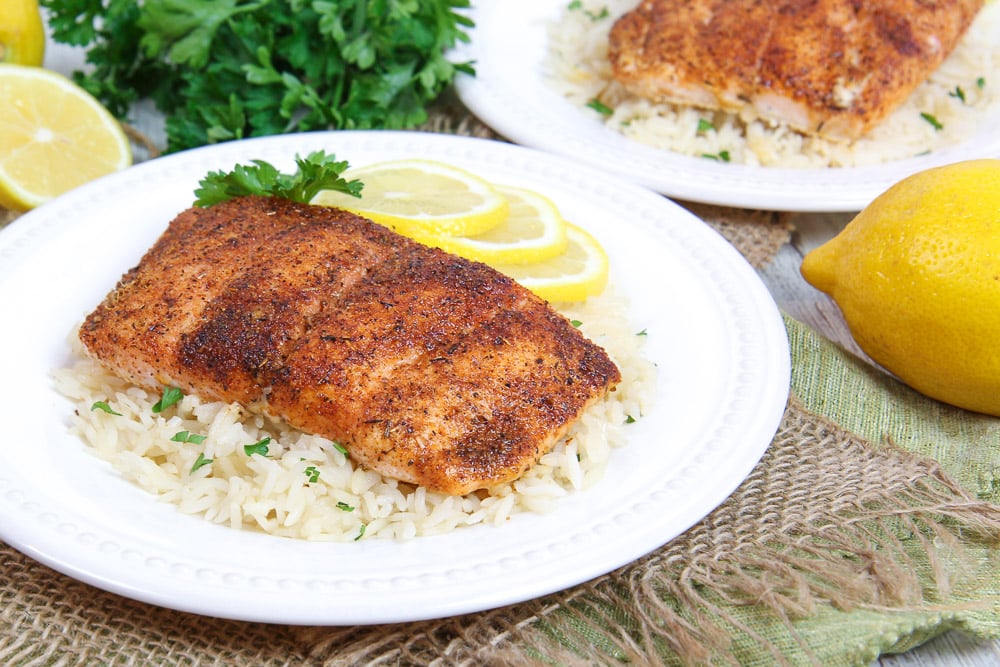 Why You'll Love this Baked Blackened Salmon recipe…
You'll love this Baked Blackened Salmon recipe because it's made with just FOUR ingredients in 15 minutes.
It's a fuss-free, foolproof oven recipe. Even if you aren't much of a chef, you can do this.
You can make it spicier if you like or keep it mild.
It's healthy! Salmon is one of the absolute healthiest fish to eat and is full of healthy fats like omega-3 fatty acids, selenium, phosphorus, and B vitamins. One serving of salmon is a great source of protein – 25 grams – and less than 200 calories.
Salmon is widely available in most grocery stores, making this an approachable fish recipe for anyone to make regardless of how close to the coast you are.
And did I mention it's super delicious?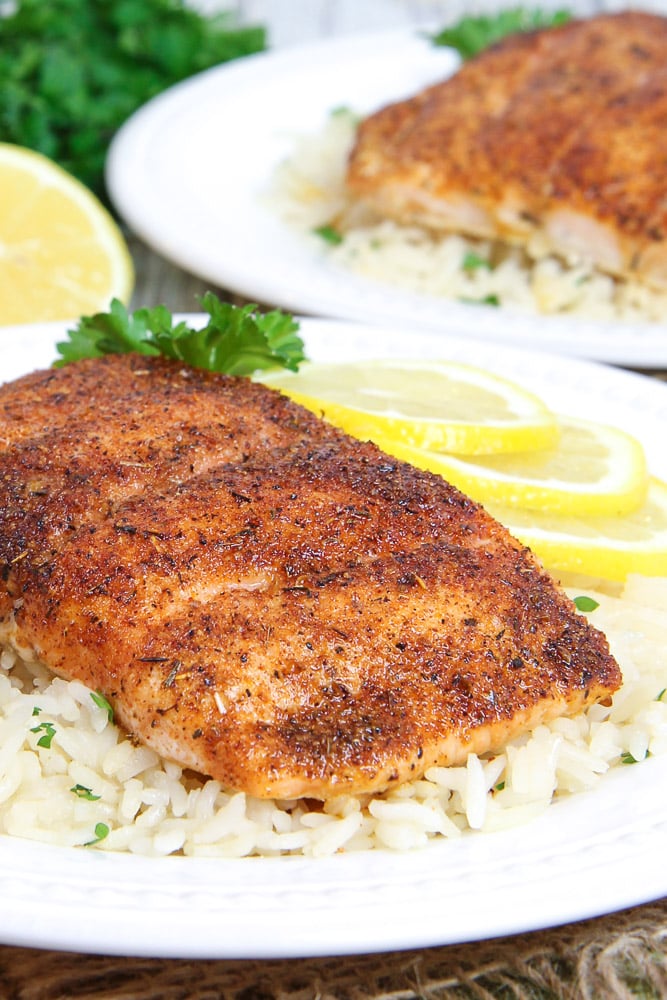 Ingredients:
Here's what you'll need (just FOUR ingredients!) to make this Baked Blackened Salmon recipe. For detailed measurements, please refer to the recipe card below.
Salmon: Two salmon fillets, approximately 4-6 ounces each. Any type of salmon works, including Atlantic, Wild Sockeye, Coho, or King. Choose fresh-looking fillets without a strong odor.
Butter: A small amount of butter adds a key flavor to blackened salmon. Melt it and brush it onto the fish for even distribution and a touch of richness.
Blackening Seasoning: Create your own Homemade Blackening Seasoning combining paprika, smoked paprika, garlic powder, onion powder, cayenne, oregano, salt, and pepper. Alternatively, you can use pre-mixed store-bought seasonings such as Chef Paul Prudhomme's Magic Seasoning Blends – Blackened Redfish Magic, Zatarain Blackened Seasoning, or Emeril's Blackened Seasoning Blend. These spice blends infuse the salmon with a Cajun-like taste.
Lemon: Fresh lemon juice brings the salmon to life after cooking, adding a bright and citrusy element.
Do I need salt and pepper? Most blackening seasonings already contain an adequate amount of salt and pepper, so additional seasoning may not be necessary. Check the seasoning mix you're using to see if it already includes these ingredients, and adjust accordingly.
Tips for Buying Salmon
With salmon readily available at most grocery stores, you may be unsure about what to look for when purchasing salmon for this Baked Blackened Salmon recipe. Here are a few tips:
Types of Salmon: The most common salmon variety at the grocery store is Atlantic Salmon, often farm-raised. Other options include King Salmon, Wild Sockeye, and Coho Salmon. Any of these types will work well. Choose the one that fits your budget and availability. All types of salmon are good for you in moderation.
Check for Freshness: Look for salmon with a vibrant color and no brown spots. Avoid any fish with a fishy smell.
Fresh or Frozen?: Both fresh and frozen salmon will work for this recipe. If buying from a regular grocery store, even the "fresh" fish is often just thawed from frozen. If freshness is a priority, look for labels that indicate the fish is fresh, never frozen. Don't hesitate to buy frozen fish to keep on hand since most fish are frozen shortly after being caught.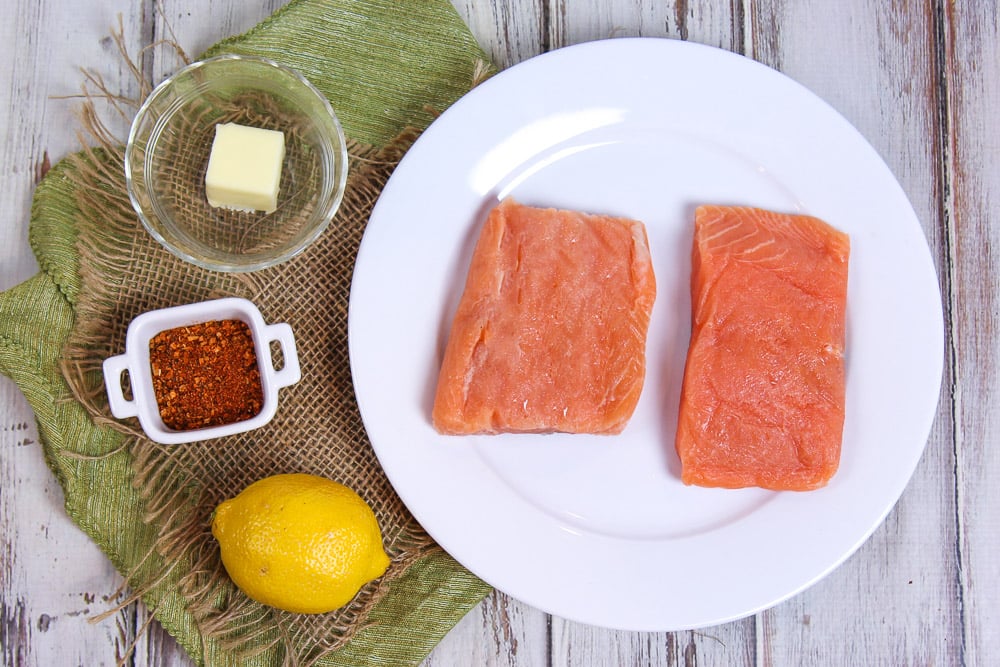 Instructions:
Here's a summary of the instructions for making this Baked Blackened Salmon recipe. For a detailed, printable recipe, please refer to the recipe card below.
Preheat the oven to 425 degrees Fahrenheit and grease a baking dish with cooking spray.
Place the salmon fillets in the baking dish and pat them dry with a paper towel. Brush melted butter onto the fillets.
Generously coat the salmon with the blackening seasoning mixture.
Bake for 8-12 minutes until the fish is pink and flakes easily with a fork. Be cautious not to overcook the salmon.
Squeeze fresh lemon juice over the fish and serve immediately.
Salmon Cooking Tips:
The Baked Blackened Salmon recipe is done when it flakes with a fork.
The cooking time for salmon is generally around 10 minutes per inch of thickness. Thinner fillets will be cooked in approximately 8 minutes, while thicker ones may take up to 12 minutes. Keep in mind that oven temperatures can vary, so keep an eye on the fish towards the end of the cooking time.
Depending on personal preference, you can serve salmon rare or well-done.
If you're unsure about the ideal cooking time for your salmon, you can use a meat thermometer. A medium-cooked piece of salmon will be done at temperatures ranging from 125 to 135 degrees Fahrenheit. However, note that the USDA recommends cooking salmon to an internal temperature of 145 degrees Fahrenheit. Keep in mind that cooking it to that temperature may result in a well-done, drier piece of salmon.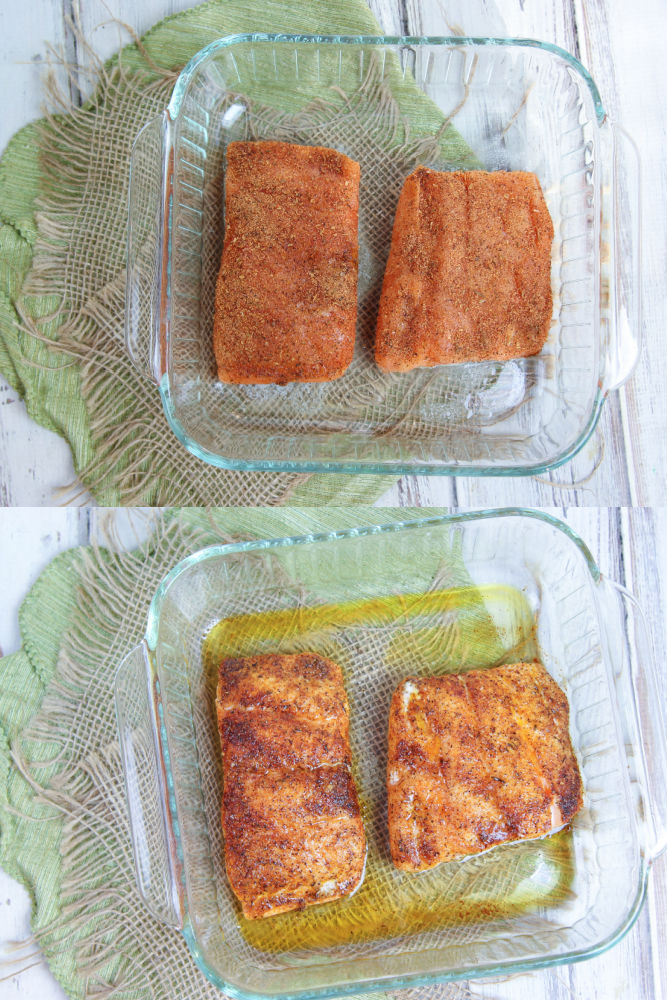 Variations
While this Baked Blackened Salmon recipe is delightful as written, here are some fun variations to try:
Make it Family-Sized: Easily halve, double, or triple the recipe depending on the size of your family.
Make it Dairy-Free: Use dairy-free butter or olive oil as a substitute to make the recipe dairy-free.
Make it Spicy: Add an extra sprinkle of cayenne pepper seasoning to increase the heat.
Make it Stove Top: If you prefer a more traditional method, you can prepare the blackened salmon in a cast-iron skillet. Melt the butter in the skillet over medium-high heat, place the fish flesh-side down, and cook for 4-5 minutes. Carefully flip the fish using a spatula, cover with a lid, and continue cooking for another 4-5 minutes. Cooking fish this way requires some skill, but with practice, anyone can master it.
Storage Instructions
Store any leftovers of your Baked Blackened Salmon recipe in an airtight container in the fridge for up to three days. Freezing is not recommended.
Reheating Instructions
To reheat the salmon, use either the oven or microwave and heat it in 30-second increments until warmed through. Keep in mind that reheating may result in a drier texture, so warm it for as little time as needed.
Frequently Asked Questions
How long to bake salmon at 425? How long do you cook salmon in the oven?
I prefer baking salmon at 425 degrees Fahrenheit for tender fillets that cook quickly. The cooking time for salmon at this temperature is typically 8-12 minutes, depending on the thickness of the fish. Fillets less than an inch thick require around 8 minutes, while thicker ones may need closer to 12 minutes.
Should you bake salmon covered or uncovered?
It's recommended to bake salmon uncovered as it allows for quicker cooking and creates a nice color and texture on the top of the salmon.
Is blackened fish healthy?
This recipe for blackened fish is healthy since it's oven-baked and uses only a small amount of butter. You can enjoy this guilt-free and know that it's an excellent choice for an easy, healthy salmon recipe.
What's the difference between grilled and blackened?
Grilled fish is cooked over an open flame or on a grill, whereas blackening involves coating the fish with spices and cooking it over high heat. These are two distinct preparation methods that result in different flavors and textures.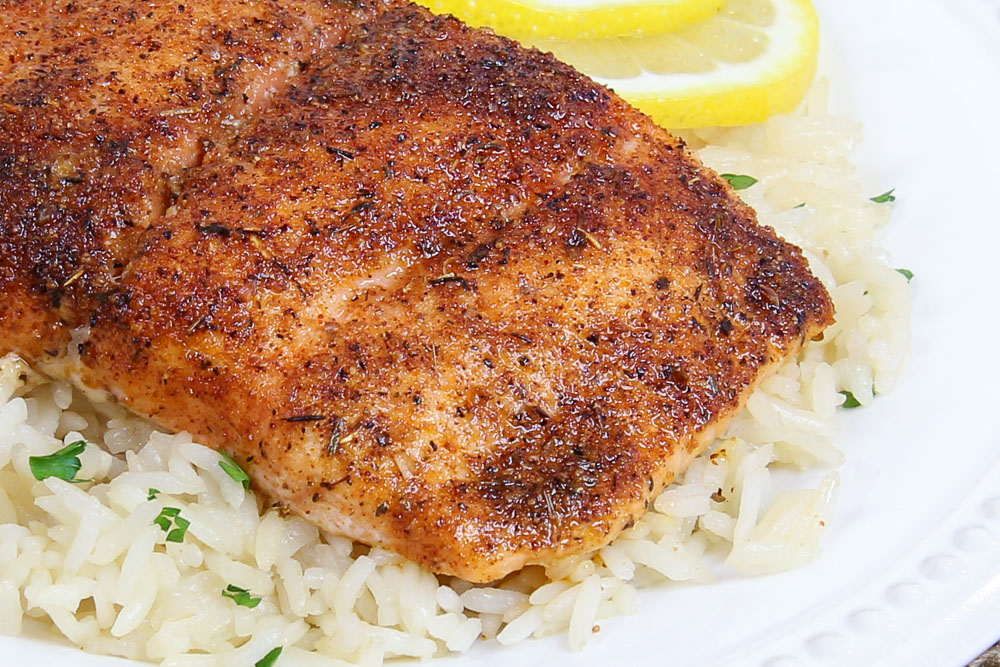 Baked Blackened Salmon: The Perfect Easy Healthy Salmon Recipe!
I adore this Baked Blackened Salmon for its simplicity and incredible flavor. It's hard to beat a healthy family dinner with just a few ingredients and a short preparation time. You can enjoy it as is or pair it with your favorite side dishes, such as Roasted Potatoes and Roasted Broccoli. This recipe also serves as a great base for other dishes like blackened salmon tacos, blackened salmon Alfredo pasta, or salads.
So, what goes well with blackened salmon? Here are a few ideas:
Top it with fruit salsa, like Pineapple Salsa, Peach Salsa, or Mango Salsa.
Add a dollop of Basil Almond Pesto.
Serve it alongside Roasted Asparagus, Mediterranean Roasted Vegetables, Roasted Brussels Sprouts with Garlic, or Lemon Garlic Kale.
Be sure to check out my 20+ Healthy Side Dishes for Salmon for more inspiration.
This Baked Blackened Salmon recipe has earned its place as a family favorite in my household. I encourage you to give it a try and let me know what you think!