Are you craving a sweet and creamy treat? Look no further than this amazing blackberry strawberry banana smoothie recipe! With just four simple ingredients, you can enjoy this delightful smoothie as a refreshing snack, a creamy dessert, or even a satisfying breakfast. Plus, it's dairy-free and vegan, making it suitable for those with dietary restrictions. Get ready to indulge in a burst of fruity flavors and a smooth, velvety texture.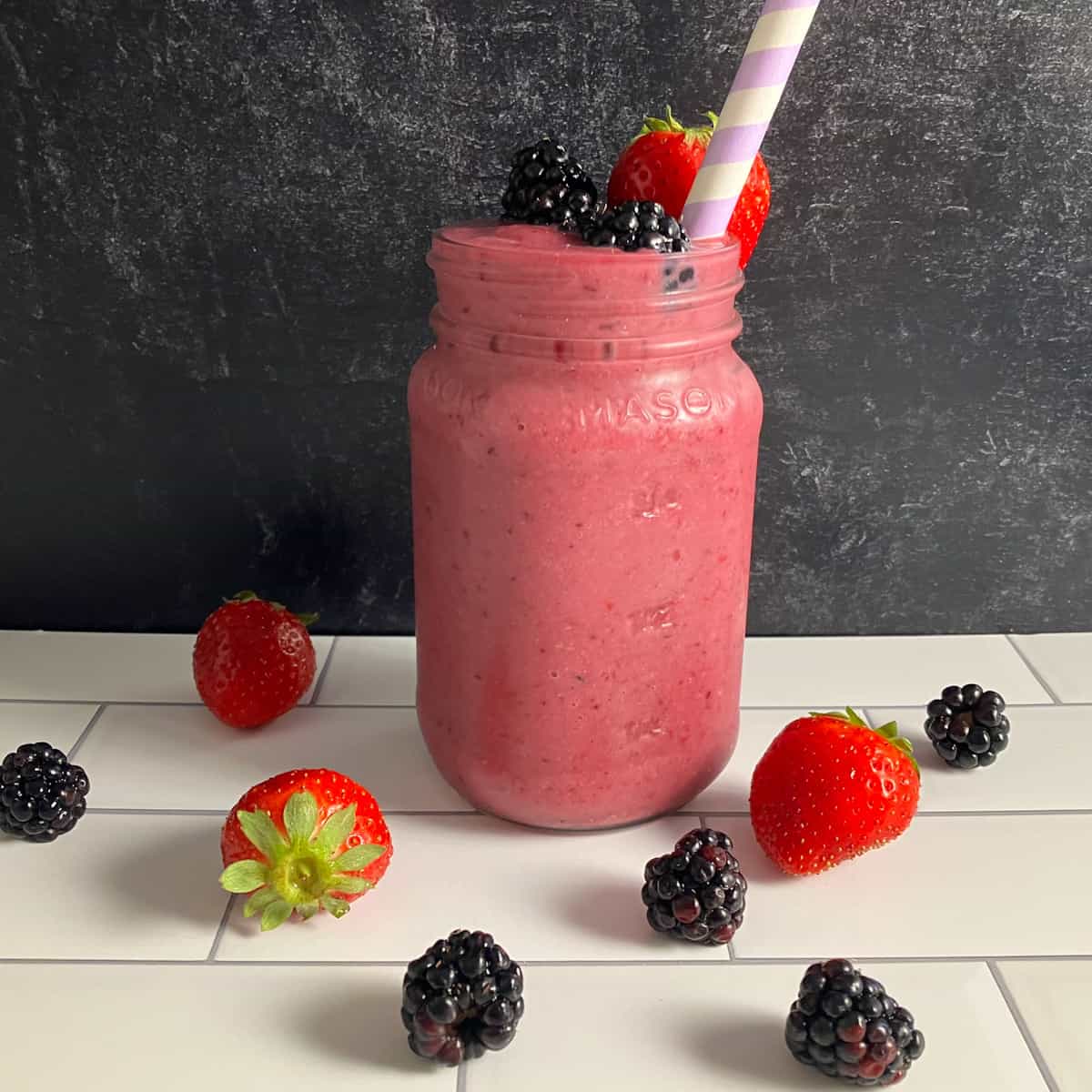 The Perfect Combination of Flavors
Ingredients:
1 frozen banana, broken into chunks
1 cup halved frozen strawberries
¼ cup frozen blackberries
1½ cups almond milk (or your preferred milk alternative)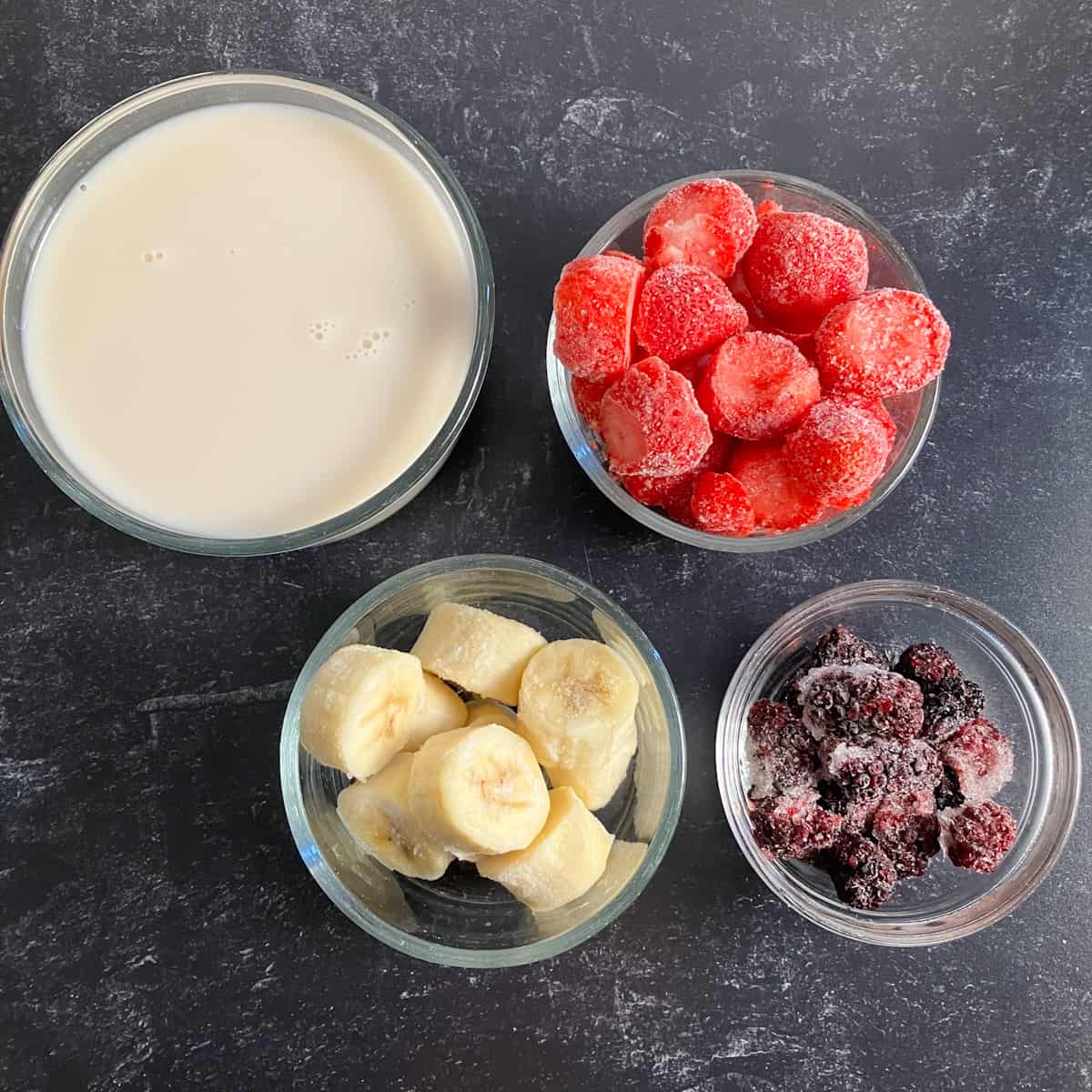 Optional Customizations
Feel free to make this smoothie your own! You can experiment with different milk alternatives to suit your taste preferences. Sweetened almond milk adds a touch of extra sweetness, while unsweetened almond milk allows the fruit flavors to shine. If you're looking for an additional protein boost, try using soy milk. Alternatively, you can use dairy-free oat milk or coconut milk for a unique twist.
Let's Get Blending!
Instructions:
Begin by halving the strawberries and cutting the bananas into chunks for easier blending.

In a food processor, combine the blackberries, strawberries, banana, and almond milk.

Blend everything until smooth and creamy.

Pour your delicious blackberry strawberry banana smoothie into a tall glass and serve immediately. Cheers!
When preparing this smoothie, be mindful not to overload it with blackberries, as they can make the texture overly seedy. By using more strawberries and bananas, you'll maintain a well-balanced flavor profile.
Embrace the Health Benefits
Are Blackberry Strawberry Banana Smoothies Healthy?
Absolutely! These delightful smoothies not only taste fantastic but also provide a plethora of health benefits. Let's dive in!
Fiber Powerhouse: The combination of strawberries, blackberries, and bananas delivers a significant amount of dietary fiber, supporting a healthy digestive system, aiding in weight management, and helping regulate blood sugar levels.

Low-Calorie Option: If you're watching your calorie intake, these smoothies are a smart choice. With their low-calorie content, they can contribute to your weight loss journey.

Antioxidant Boost: Blackberries and strawberries are packed with antioxidants like anthocyanins and vitamin C, which protect your body against harmful free radicals, boost your immune system, and promote healthy skin.

Potassium Punch: Bananas provide a good dose of potassium, which helps regulate blood pressure and supports heart health.

Quick and Hydrating: Whip up these strawberry blackberry banana smoothies in less than five minutes and enjoy the added hydration from their high water content.
So, indulge in this guilt-free treat and reap the incredible benefits it offers. Your taste buds and your body will thank you!
Try a Creamy Variation
Strawberry Blackberry Smoothie with Yogurt
If you're a fan of creamsicle-like flavors, give this variation a try! Gather the following ingredients:
½ cup strawberries
¼ cup blackberries
½ frozen banana slices
¼ cup Greek yogurt
Handful of ice cubes
Milk of choice (to adjust thickness)
In your blender, combine the frozen berries, frozen banana, yogurt, and ice. Add a splash of your preferred milk for a smoother consistency. If you have a sweet tooth, feel free to drizzle some maple syrup as a natural sweetener. For an added protein boost, incorporate a scoop of protein powder. Blend until smooth, adjusting the thickness with more milk or ice cubes as desired. Finally, pour your strawberry banana blackberry smoothie into a glass or mason jar, and savor the creamy goodness!
No Banana, No Problem
Strawberry Blackberry Smoothie (No Banana)
If you're not a fan of bananas or simply want to switch things up, try this alternative recipe. It's equally delicious and satisfying! Here's what you'll need:
1 cup almond milk
1 cup frozen strawberries
1 cup frozen blackberries
½ cup of your favorite sweetened protein powder
½ cup ice cubes
Begin by adding the almond milk to your blender, followed by the frozen strawberries and blackberries. Blend until smooth. Next, add the protein powder and ice cubes, and continue blending until you achieve your desired consistency. For those with a sweet tooth, feel free to sweeten your smoothie with date paste, maple syrup, or honey. You can also enhance its nutritional value by adding chia seeds for an omega-3 fatty acid boost (ALA).
More Smoothie Recipes to Explore
Looking for more delicious smoothie recipes? We've got you covered! Here are a few suggestions to tantalize your taste buds:
Apple Strawberry Smoothie
Keto Berry Smoothie
Banana Mango Strawberry Smoothie
Keto Blueberry Smoothie
Peach Pineapple Smoothie
Join our community and stay up-to-date with the latest and greatest recipes. Subscribe to our newsletter and receive regular updates. You can also follow us on Pinterest, Twitter, Instagram, and YouTube. We can't wait to embark on this delightful culinary journey with you!
Get the Full Recipe
For a convenient printable recipe card, scroll to the bottom of the article. Happy blending!