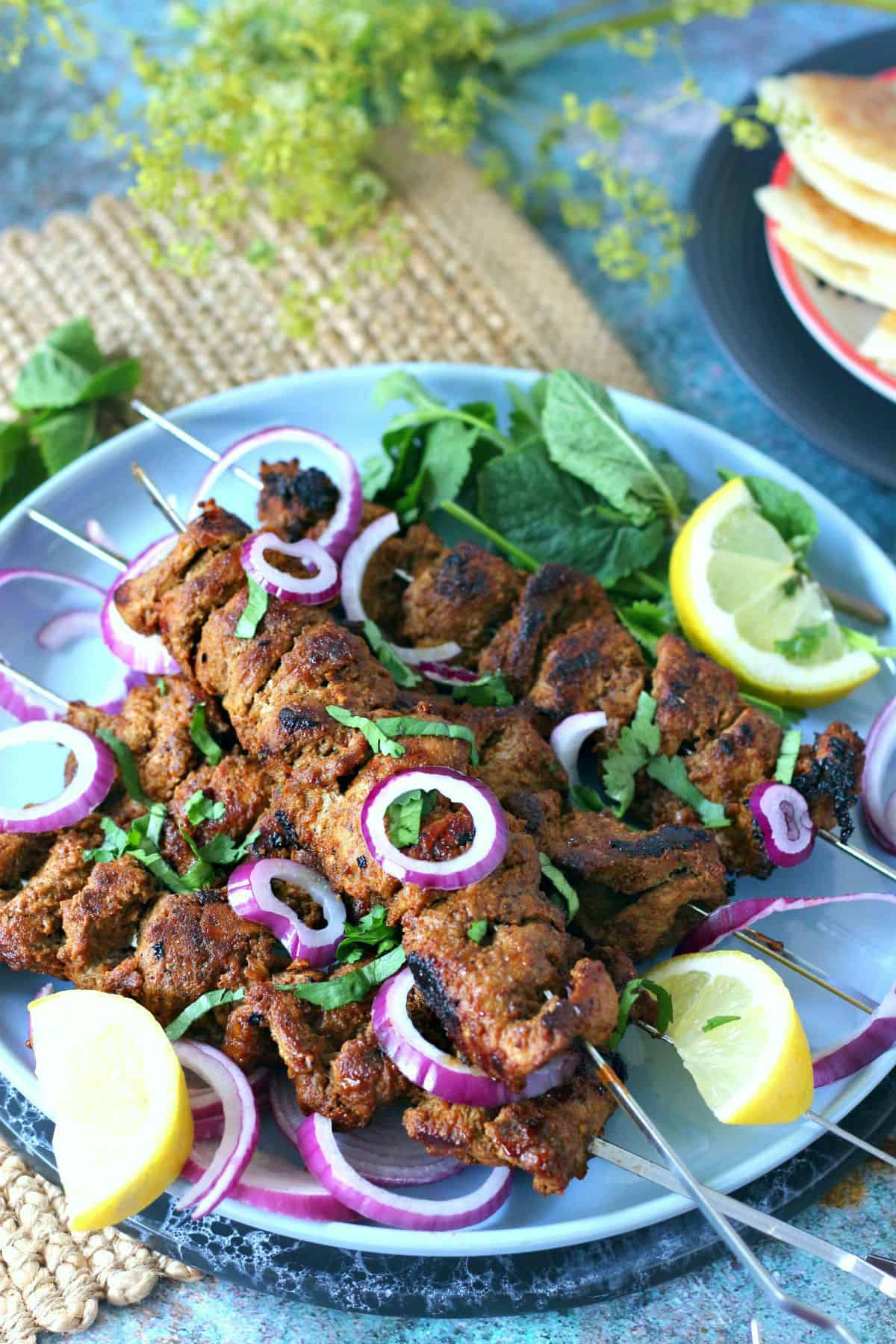 Are you yearning for a flavorsome BBQ dish that will entice your taste buds? Look no further! We present to you a delectable recipe for Bihari Kababs, a Pakistani BBQ delicacy that will elevate your next grill session.
The Origins of Bihari Kababs
Originally hailing from Bihar, India, Bihari Kababs have established themselves as a beloved BBQ item in Pakistan. These slender strips of beef are marinated in a zesty homemade masala, guaranteeing an explosion of flavors in each bite. While tradition dictates grilling them over charcoal, this recipe simplifies the process by opting for stovetop cooking.
Unleash the Flavors with the Homemade Spice Mix
To craft the perfect Bihari Kabab, you'll require a special spice blend. Here are the vital spices you'll need:
Green Cardamom (harri illaichi)
Bay Leaves (tez paat)
Coriander Seeds (sabit dhaniya)
Poppy Seeds (khashkhash)
White Cumin (safaid zeera)
Black Cumin (kala zeera)
Red Button Chilies (gol laal mirch) – Use whole dried chili if the former is unavailable.
Mace Powder (jaifal)
Nutmeg Powder (javitri)
For the remaining regular spices and measurements, refer to the recipe card below. We've thoughtfully included the Urdu names of the spices for your convenience.
Let's Get Grilling!
Now that your spice mix is prepared, it's time to create the Bihari Kababs. Follow these straightforward steps:
Step 1: Prepare the Ingredients
Begin by caramelizing the onions in mustard oil or use ready-made crushed brown onions. Keep the mustard oil aside for marination. If you've opted for store-bought brown onions, add ¼ cup of mustard oil to the marination. Next, roast the whole spices, grind them into a fine powder, and combine them with the remaining powdered spices. Set the spice mix aside.
Step 2: Marinate the Meat
Add all the marination ingredients to the beef (refer to the recipe card) and refrigerate it for a minimum of 2 hours. If you plan on marinating the beef overnight, add the meat tenderizer 2 hours before cooking.
Step 3: Thread onto Skewers
Using metal or wooden skewers (ensure the latter is pre-soaked), thread 4-5 pieces of beef strips onto each skewer.
Step 4: Cook the Kababs
Grilling is the most authentic method for making Bihari Kababs, but if you lack a grill, pan-frying or baking is equally viable. To impart a smoky touch, place a piece of coal on top after cooking.
Step 5: Serve and Savor
Serve the Bihari Kababs piping hot and relish them with Roghni Naan or Garlic Naan. They also pair wonderfully with meatless Kabuli Pulao or any variety of Pulao rice. Elevate the flavors further by serving them with Green Chutney or Raita (yogurt dip) on the side.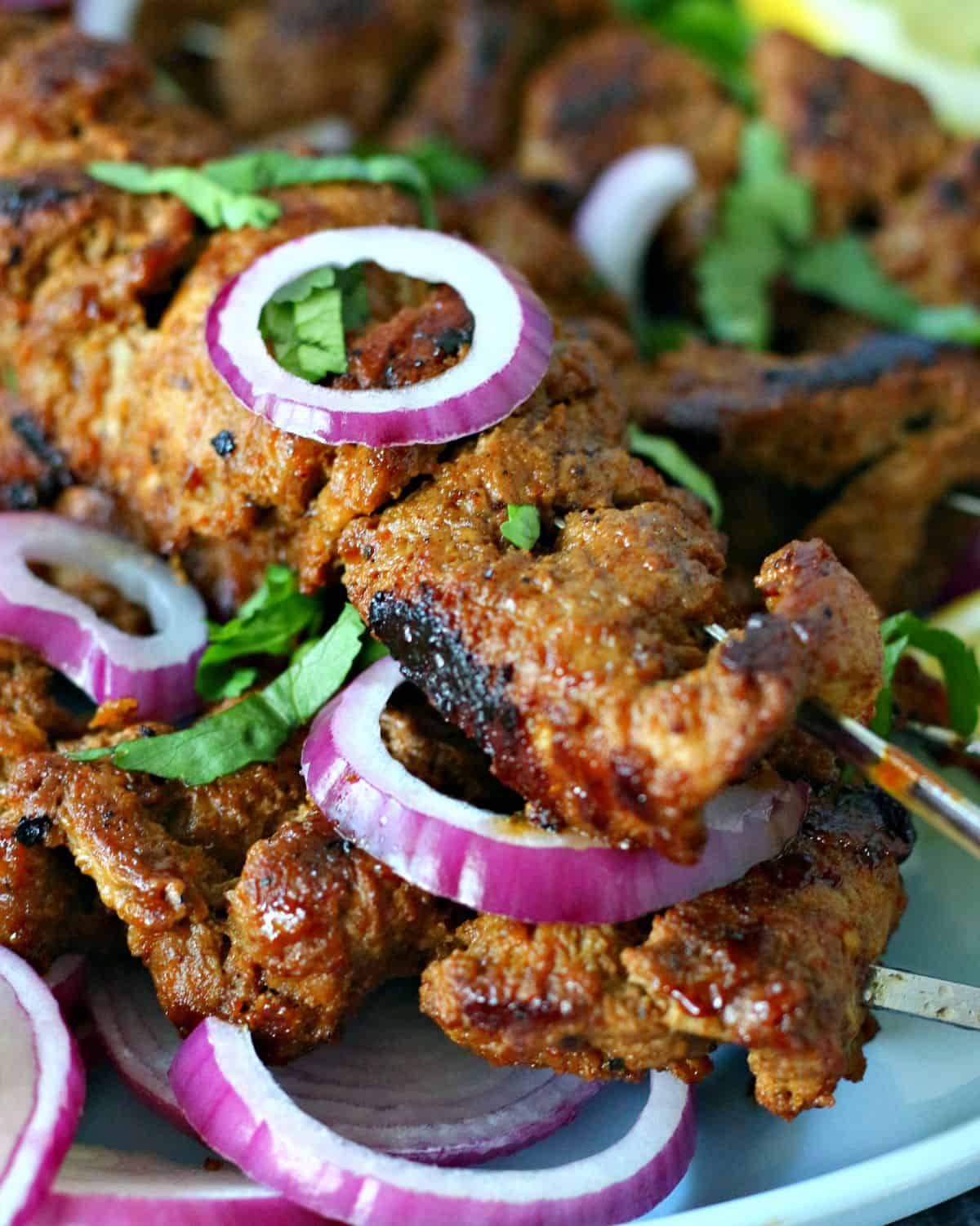 What Kind of Meat to Use
For an authentic flavor, use thin strips of boneless beef or veal tenderloin (known as undercut in Pakistan). Alternatively, you can opt for mutton or lamb. If the butcher hasn't already cut the meat into strips, you can do it at home and flatten them with a steak hammer.
Explore More Delicious BBQ Recipes
If you're in search of more scrumptious recipes for Eid-ul-Adha, check out these favorites:
Seekh Kabab Masala
Beef Kofta Curry
Pakistani Gola Kabab
Chapli Kabab
If fantastic BBQ recipes and more are what you seek, Hook'd Up Bar and Grill is your destination. Follow us on Instagram, Facebook, and Pinterest for the latest updates. Don't forget to subscribe to our YouTube channel for video recipes.
📖 Recipe
This post includes affiliate links. As an Amazon Associate, I earn from qualifying purchases. For more information, please read our Privacy Policy.
PIN IT FOR LATER