When you're pondering what to pair with pork tenderloin to create an incredible family meal, look no further! There are numerous delectable side dishes that perfectly complement pork and will make your dinners truly memorable!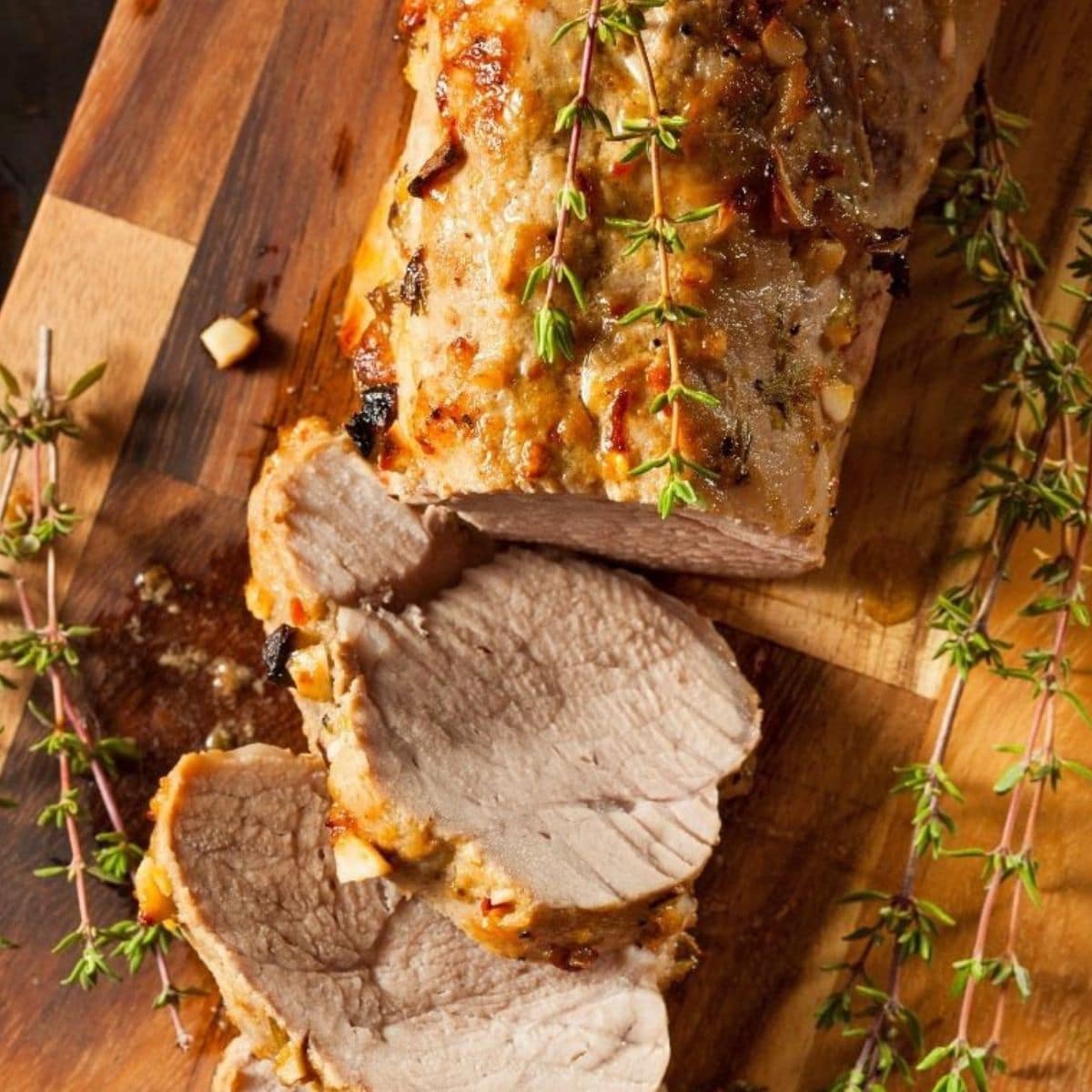 Pull together everything you need for a satisfying family meal every time!
Slow-roasted pork tenderloin is a timeless dish that pairs well with a wide variety of side dishes. Not to mention, it's incredibly delicious no matter how you season it!
Whether you're hosting a date night or a family dinner, I'm here to make it easy for you. Let's explore some of my favorite side dishes that complement pork tenderloin perfectly.
Flavorful Side Dishes for Pork Tenderloin
Here is a tasty list of some of the best side dishes to serve with pork tenderloin. From various types of potatoes to applesauce, this selection covers a range of recipes to suit all your moods and cravings!
Sweet, creamy, buttery, tart…these flavors will delight all your taste buds and more!
1. Red Skin Mashed Potatoes
You can never go wrong with a classic pot of mashed potatoes. Jazz them up with cream and cream cheese for a rich and velvety mash that will have you going back for seconds. Add butter and roasted garlic for a heavenly combination with your roasted pork tenderloin! Cheese lovers can even sprinkle in smoked cheddar or Parmesan for an extra touch of flavor.
2. Dijon Roasted Brussel Sprouts
When you're in need of a savory side dish to complement your pork dinner, look no further than roasted Brussel sprouts. Roasting vegetables brings out their natural sweetness and flavor. Toss them with some salty bacon and a sweet and tangy sauce made of brown sugar, Dijon mustard, and balsamic vinegar for an irresistible combination. For an extra kick, add some crushed red pepper flakes!
3. Zucchini Squash Casserole
Transform zucchini into a pan of buttery, cheesy deliciousness topped with Panko breadcrumbs. This zucchini squash casserole is a crowd-pleaser, loved by both picky eaters and adventurous foodies. The addition of Italian herbs balances out the creaminess, making it a perfect side dish to serve with pork tenderloin.
4. Vermicelli Rice
Is it rice? Is it pasta? Who cares! Vermicelli rice is a simple yet flavorful dish seasoned with salt and pine nuts, making it a versatile accompaniment to practically any main course. This neutral carb is far from bland, and you'll love serving it with any pork tenderloin recipe!
5. Roasted Peppers and Onions
For a touch of southwestern flair, roasted peppers and onions are both colorful and delicious. Season them with salt, pepper, paprika, and your favorite herbs, and roast them until they're perfectly crunchy. You'll love the delightful result! For an extra twist, slice up your pork tenderloin and serve it on tortillas with this vibrant mix!
6. Roasted Yellow Squash
The freshness of yellow summer squash is simply delightful. Top it with some Parmesan cheese and give it a roast until it's perfectly tender. This vegetable is an excellent companion to any meaty main dish and pairs especially well with your flavorful pork dinner!
7. Crockpot Green Beans and Potatoes
Combine green beans, potatoes, savory broth, minced garlic, bacon, and onion in a crockpot for an easy and classic side dish. It's filling enough to be a meal on its own, ideal for those looking for a convenient dinner option. You can even cook your pork tenderloin in the crockpot for an even easier and more delicious meal that everyone will love!
8. Instant Pot Braised Red Cabbage
Pork tenderloin pairs perfectly with sweet side dishes, especially those featuring apples. Try this braised red cabbage recipe that combines cabbage, apple cider vinegar, brown sugar, nutmeg, allspice, onion, and apple for a tender and mouth-watering vegetable side. It's a unique addition to your dinner lineup that will impress your guests!
9. Buttered Peas and Carrots
Keep it simple or elevate this dish with optional add-ins. Vegetables with a butter sauce are always a winner. Add some onions, herbs, broth, or honey to the peas and carrots, and you'll discover a whole new world of flavors! This sweeter side dish pairs perfectly with pork tenderloin. Feel free to experiment with different additions to keep things interesting!
10. Baked Bacon-Wrapped Asparagus
These beautiful bacon-wrapped asparagus spears are perfect for impressing dinner guests or celebrating a special occasion. Serve them with any hearty main dish, but they are particularly fantastic with your tender pork medallions. Although they require some effort, they offer a delicious mix of sweet, tangy, salty, and smoky flavors while giving the appearance of a catered meal. With only four ingredients, just wrap, cook, and serve!
11. Sauteed Green Beans
No need for blanching with these tender-crisp green beans! Spring and summer bring an abundance of green vegetables, and fresh options from your garden are always a good choice, especially when paired with hearty pork tenderloin. This sauteed green bean recipe is light and simple, with a touch of onion and garlic powder added to the sauté pan. Delightful!
12. Boiled Potatoes
To maximize flavor with minimal effort, try this boiled potato recipe. The secret lies in flavoring the water with salt, peppercorns, garlic, bay leaves, and more. In just 15 minutes, you'll be ready to toss the potatoes with melted butter and serve. It's perfect for picky eaters!
13. Instant Pot Buttered Cabbage
Instant Pots are fantastic for cooking cabbage. Simply add chopped cabbage, broth, butter, salt, and pepper to the inner pot and cook for 4 minutes. It doesn't get any easier! Buttery and tender cabbage will become a regular addition to any pork dinner!
14. Sauteed Onions
Cover your pork tenderloin with sauteed onions for an extra delicious main course. All you need is a little oil, salt, pepper, and patience. The key is to sauté the onions for a full 10 minutes. Although it may feel like an eternity, the results are definitely worth the wait!
15. Succotash
If you've only encountered succotash in Looney Tunes cartoons, you're in for a surprise! This traditional Native American dish turned southern staple is a delightful combination of sweet corn, butter beans, bacon, bell peppers, and onions. With added garlic, oregano, and paprika, it becomes a nutritious and filling side dish. The dish can be personalized in various ways, ensuring everyone leaves the dinner table satisfied.
16. Cucumber Vinegar Salad
Cucumber vinegar salad is a light and tangy addition to any lunch or dinner. Packed with fresh veggies and herbs, this crunchy, sweet, and chilled dish is perfect for a picnic on a warm summer afternoon. The sweetness of the sugar dissolved in tangy white wine vinegar enhances the flavor of the cucumbers. It's an ideal option when serving a heavier, rich pork tenderloin dish.
17. Crockpot Applesauce
"Pork chops and apple sauce!" For some reason, apples and pork are a match made in heaven. This tasty homemade applesauce, made with apples, water, lemon juice, and cinnamon, is a simple yet flavorful way to add fruit to your meal. Not to mention, it's a hit with the entire family. Try it with your pork tenderloin for a delightful combination!
18. Cheesy Bacon Ranch Potatoes
Cheesy bacon ranch potatoes are the epitome of indulgence! If you're craving comfort food, start with cheddar, salty bacon, and onions. Add cream cheese for an intensely rich finish. This incredibly easy-to-make potato side dish is a fantastic addition to any pork dinner!
19. Steakhouse Creamed Spinach
Indulge yourself with steakhouse creamed spinach loaded with creamy, cheesy goodness. Mozzarella, cream cheese, half and half, and Parmesan turn one pound of spinach into a rich and decadent dish. With garlic, butter, onions, and a hint of nutmeg enhancing the flavors, it's the perfect side to enjoy with your pork tenderloin. Serve it alongside some bread or a baked potato for a complete meal.
20. Dauphinoise Potatoes
As you can tell, potatoes and pork make a fantastic combination. Dauphinoise potatoes are a classic French dish similar to au gratin, featuring thinly sliced potatoes layered with a creamy, cheesy sauce and garlic butter. These tender, baked potatoes are always a hit when served with pork dinner!
21. Baked Sweet Potatoes
Simple baked sweet potatoes with a sprinkle of butter, salt, and pepper are an easy side that brings vibrant color and flavor to your pork dinner. They're quick to make and add a hearty element to your meal.
Did you try out any of these tasty side dishes with your pork tenderloin? Leave a comment below and let us know your favorites!
😋 More Great Recipe Ideas:
📋 Recipe