What Can I Use Instead of Tomato Salsa?
Are you wondering, "What can I use as a salsa substitute?" Look no further! We've got you covered with a tomato-free salsa alternative that's perfect for dipping tortilla chips or adding to nachos. This recipe is vegan, plant-based, Paleo, and gluten-free. Plus, we'll also reveal the best substitute for jarred salsa and a fantastic alternative for salsa on tacos.
🍅 No Tomato Salsa Alternatives? No Problem!
If you're in need of a salsa replacement, you have plenty of options to choose from. Here are some delicious alternatives to salsa:
Marinara sauce (tomato sauce)
Crushed tomatoes
Fresh tomatoes (diced tomatoes)
Canned tomatoes
Tomato juice
Ketchup
Chipotle hot sauce
Tomato paste
Picante sauce
Pico de Gallo
Enchilada sauce
Rotel
Salsa verde
Green chiles
Keep in mind that not all of these substitutes can be used in a 1:1 ratio. For instance, marinara sauce or tomato sauce can be used as a salsa substitute in certain recipes. However, avoid using hot sauce as a replacement for large amounts of salsa. Instead, use a small amount of hot sauce, ketchup, tomato juice, or tomato paste to add a hint of heat or sweetness to your dish.
For larger amounts of salsa, opt for alternatives with a similar flavor and texture. Spaghetti sauce, crushed tomatoes, or canned diced tomatoes work perfectly as 1:1 salsa substitutes in recipes. Feel free to season these alternatives with chili powder or other spicy ingredients to give them that extra kick!
🌮 Fantastic Salsa Substitutes for Nachos
Looking for the perfect salsa replacement for your nachos? We've got you covered! Here are some incredible non-tomato salsa dips that work wonders as alternatives for salsa on nachos:
Sour cream or Mexican sour cream dip
Shredded cheddar cheese
Keto cheese dip
Guacamole
Bean dip
Our unique salsa with no tomatoes (recipe below)
While these salsa substitutes are fantastic for tortilla chips, they may not be ideal for recipes. Keep that in mind when deciding on the best salsa alternative for your culinary creations.
🥫 Can You Substitute Diced Tomatoes for Salsa?
Absolutely! Diced tomatoes can be a great substitute for chunky salsa in certain recipes. For example, you can use diced tomatoes in soups and casseroles as a replacement for salsa. For extra flavor, consider adding diced green chiles, onions, and garlic powder to the tomatoes.
And here's a bonus tip: salsa can even replace diced tomatoes in chili! If you're feeling adventurous, give it a try. Just remember to adjust the spice levels according to your taste preferences.
🤔 Salsa vs. Pico de Gallo: Can They Be Swapped?
Definitely! Pico de Gallo, also known as salsa fresca, can be used as a jarred salsa alternative. It works wonderfully in both recipes and as a topping for various dishes. So, feel free to use Pico de Gallo as a salsa substitute whenever you want a fresh and vibrant twist.
⭐ Uncover the Benefits of Substituting Salsa
Why should you consider substituting salsa? Let us enlighten you with a few key reasons:
Sweet and heat: Salsa alternatives allow for better control over the sweetness and spiciness factor. Adjust the heat by including or omitting jalapeno seeds. So, you can enjoy a milder or spicier salsa alternative according to your preferences.
No added sugar: Many salsas contain added sugar, especially fruit salsas. Our sugar-free salsa alternative is a fantastic choice that goes well with various dishes, replacing condiments high in added sugar like ketchup and barbecue sauce.
Low sodium option: Store-bought salsas can be high in sodium due to added salt and natural sodium in tomatoes. However, our salsa substitute contains no added salt and is low in fat while providing you with fiber, potassium, vitamin C, and other essential vitamins and minerals. So, you can enjoy the goodness of salsa with significantly less sodium.
Easy homemade recipe: You only need five simple ingredients to make this delicious and straightforward salsa alternative.
Vegan-friendly: Salsa substitutes are often whole foods plant-based (WFPB), gluten-free, and vegan. Our salsa alternative is no exception!
Undeniably delicious: Our homemade salsa substitute is incredibly tasty. You might find yourself enjoying it as a standalone snack! The combination of peaches and cherries also makes for a delightful fruit salad.
🥘 Ingredients for the Perfect Salsa Substitute
To create your own homemade salsa substitute, you'll need:
2 cups cherries
1 cup peaches
1 jalapeno
2 tablespoons cilantro
1 tablespoon balsamic vinegar
The secret to making the best salsa substitute lies in using fresh ingredients that you enjoy. Aim to make this recipe when cherries and peaches are in season for the most flavorful results. If you're not a fan of balsamic vinegar, feel free to substitute it with fresh lime juice, apple cider vinegar, lemon juice, or orange juice.
One downside of using fresh cherries is the pitting process. To make it easier, you can use a cherry pitter or even a paperclip to remove the pits. Make sure to have a good knife on hand for chopping the fruits and veggies. Alternatively, you can save time by pulsing the ingredients in a food processor.
🔪 Let's Make Your Salsa Substitute
Follow these simple steps to prepare your salsa substitute:
Rinse the cherries and peaches, then pat them dry. Remove the pits and stems from the cherries and chop them into small pieces.
Finely chop the peaches, jalapeno, and cilantro. Aim for small, uniform pieces to ensure the salsa-like consistency.
If you prefer a milder salsa substitute, remove the seeds from the jalapeno. For a spicier alternative, leave the seeds intact.
Combine the chopped cherries, peaches, jalapeno, cilantro, and balsamic vinegar in a bowl. Mix well.
Refrigerate your salsa substitute until you're ready to serve.
Use it as a topping for tacos, fish, or burgers, or as a delicious chip dip. This salsa substitute is better suited as a condiment or dip rather than an ingredient in recipes.
🌡️ Storing Your Salsa Substitute
To keep your salsa substitute fresh, store it in a covered container in the refrigerator for up to 2-3 days. Unfortunately, it doesn't freeze well since the fruits may become mushy upon thawing. So, enjoy it while it's fresh!
📋 Nutritional Information for Your Salsa Substitute
Curious about the nutritional value of your salsa substitute? Here's what you need to know: A quarter of the recipe contains approximately 68 calories, 14.6 grams of net carbs, and 1.2 grams of protein. This portion size is perfect for chip dipping. However, if you're using the salsa substitute as a topping for fish or tacos, you may want to adjust the portions accordingly.
💭 Expert Tips from a Dietitian
As a level 1 recipe that may aid in fat loss, both salsa and its alternatives are low in calories and rich in phytonutrients. You can use salsa to top chicken, fish, pork, or even enjoy it as a traditional snack dip. If you're following a vegetarian diet, salsas make fantastic additions to cooked grains.
For a snack idea, pair your salsa substitute with corn chips or apple chips. If your goal is weight loss, consider using salsa as a condiment for lean protein. This creates a delicious and filling meal with fewer calories, potentially supporting your weight loss journey.
Our salsa substitute and its alternatives add low-calorie fiber and fluid volume to soups, chili, and casseroles. Not only do they enhance flavor, but they also provide you with more enjoyable meal options.
👩🏻‍🍳 How to Incorporate Salsa Substitutes into Your Recipes
Looking to explore different recipes featuring salsa alternatives? Here are a few ideas to get you started:
Pulled Pork Bowls
Air Fryer Stuffed Mini Peppers
Air Fryer Nachos
Vegetable Oats
Remember to use your judgment when deciding which salsa substitute works best for each recipe!
P.S. Don't forget to check out our peach pineapple salsa, low-calorie salsa recipes, and mango salsa for more tomato-free options.
Join our community! Subscribe to stay up-to-date on the latest and greatest recipes. You can also follow us on Pinterest, Twitter, Instagram, and YouTube for more delicious inspiration!
The Disclaimer…
Please note that all recipes on this website may or may not be suitable for everyone, depending on individual medical needs and personal preferences. If you need assistance determining the best dietary pattern for you, consult with a registered dietitian or your physician.
The provided nutrition information is an estimate given as a courtesy. It may vary depending on the specific brands and ingredients used. Food labels' calorie information can be inaccurate, so don't stress too much about the numbers.
For more details on how our recipe levels can support your weight management goals, check out our overnight oats no sugar post. Let's get cooking!
📖 Recipe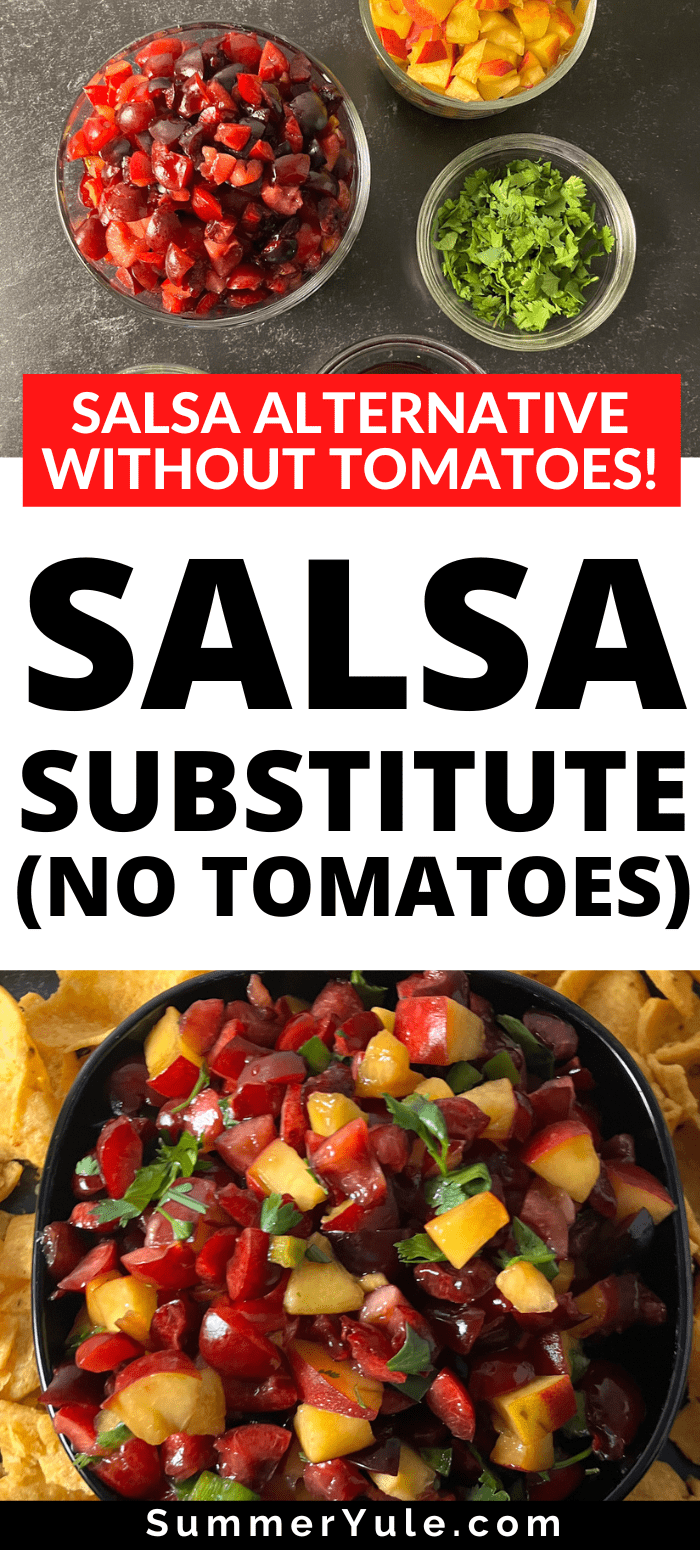 Can't wait to try out our homemade salsa substitute? Find the full recipe on our website Hook'd Up Bar and Grill. Enjoy this delightful alternative to traditional salsa and savor the flavorful combination of fresh cherries, peaches, and other ingredients!
💬 Comments:
Have you ever tried a salsa substitute? Share your thoughts and experiences below. We'd love to hear from you!
Note: This article is inspired by and partially based on the original article found at Hook'd Up Bar and Grill.