This simple recipe for delicious cheeseburger sliders features Hawaiian buns and a clever trick to make a dozen sliders in no time! Whether you're cooking for a large gathering, planning a fun family dinner, or just looking for a tasty appetizer, these burger sliders are sure to please. Pair them with sweet potato fries, wedges, or other finger foods like BBQ meatballs or sloppy joe sliders.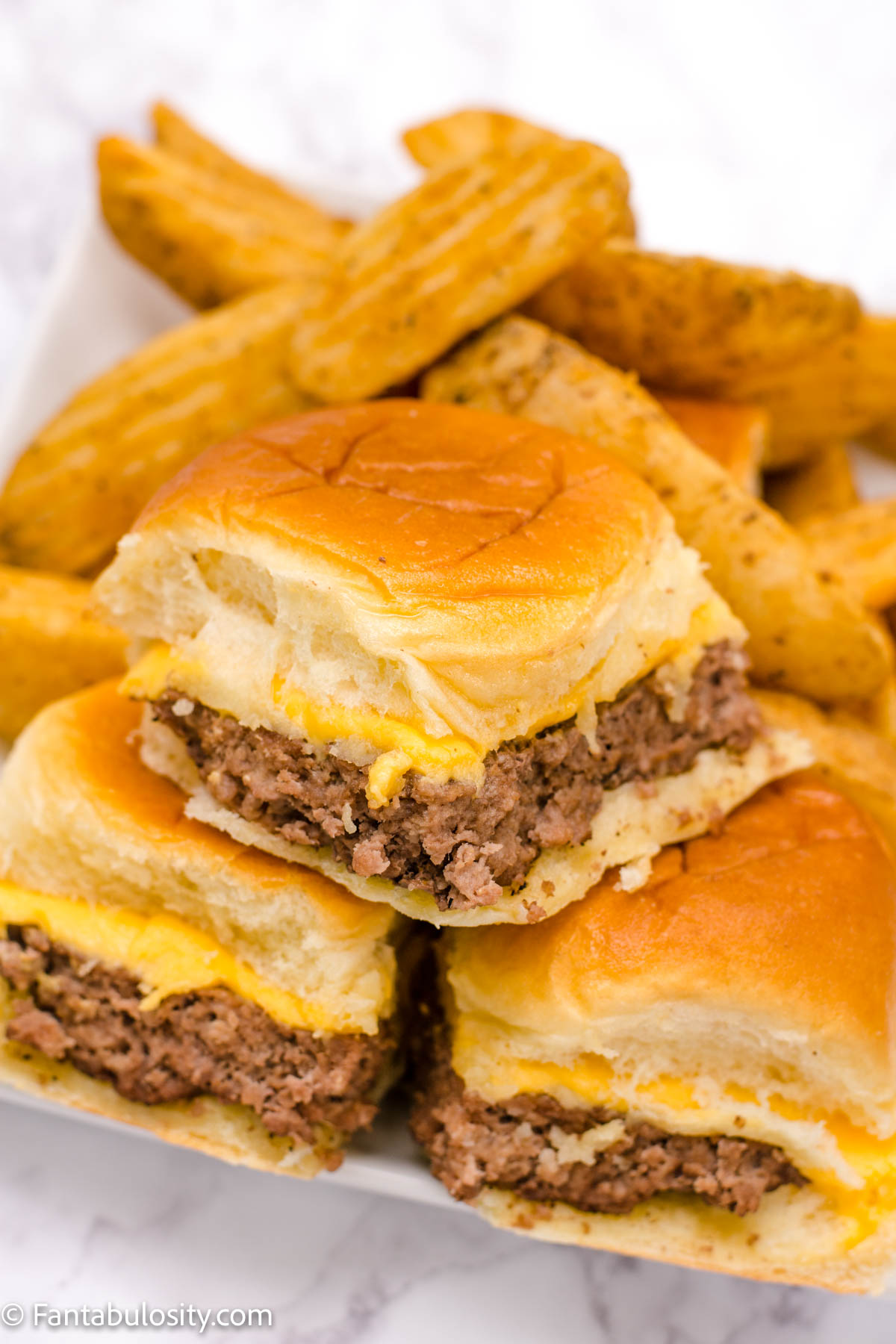 Why You'll Love this Recipe:
⭐️ Perfect for game day or any party as an appetizer
⭐️ Great for feeding a crowd or enjoying with your family
⭐️ Hawaiian buns add a touch of sweetness to complement the savory flavors
Ingredients Needed:
I've highlighted a few ingredients with relevant notes, but the rest are pretty basic.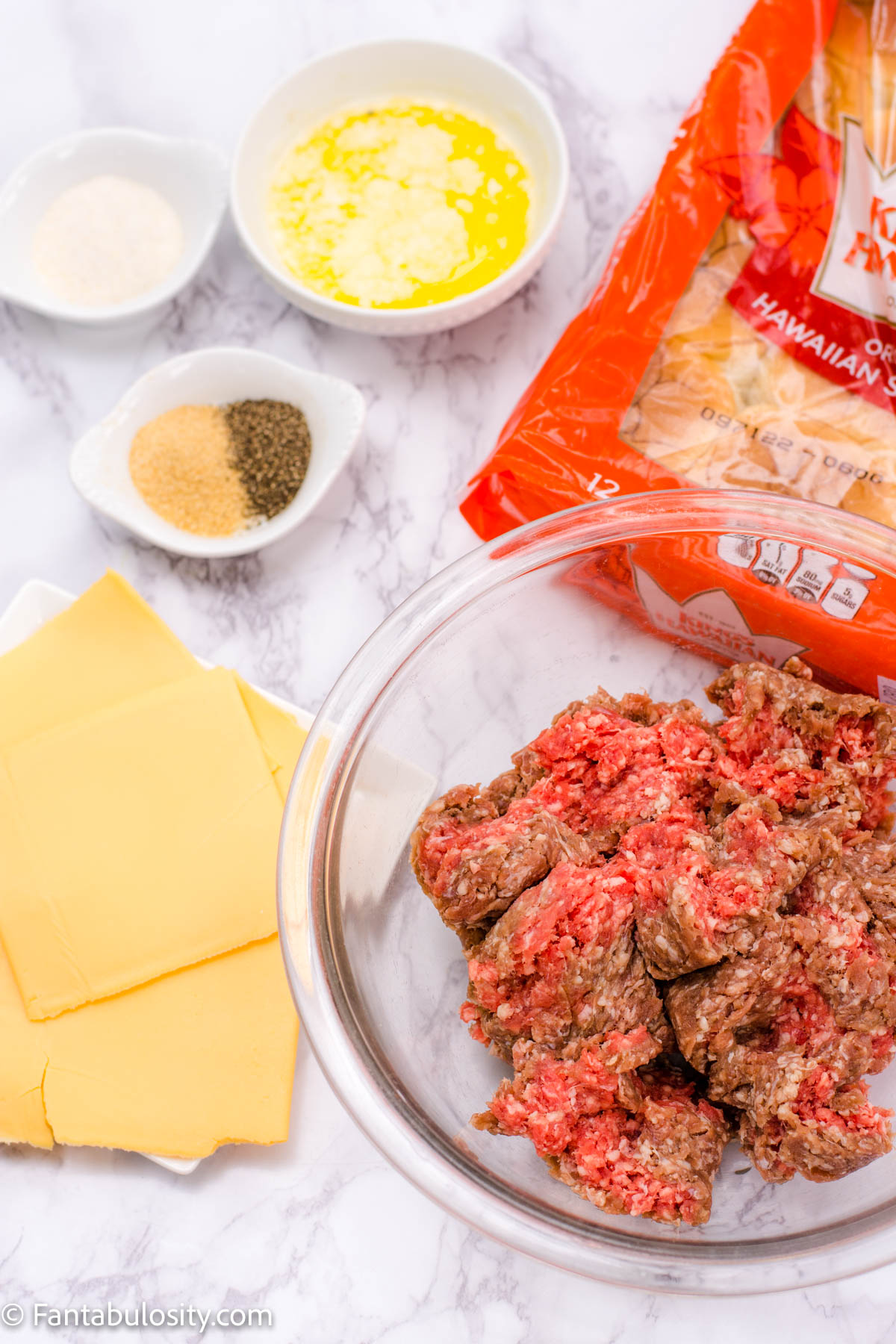 Ground beef: We use 1 lb, but some readers prefer using 2 lbs for thicker burgers.
Butter: Salted or unsalted (consider the saltiness of the other ingredients).
Hawaiian Sweet Rolls: The perfect complement to the savory burger flavors.
Be sure to check the recipe card below for the complete list of ingredients and instructions!
Hawaiian Rolls
The secret to this recipe lies in the choice of bread. King's Hawaiian Sweet Rolls are the ideal option for cheeseburger sliders. However, feel free to use another brand of slider buns or even regular dinner rolls if you prefer. The touch of sweetness that the rolls add to the meat's savory flavors is hard to beat!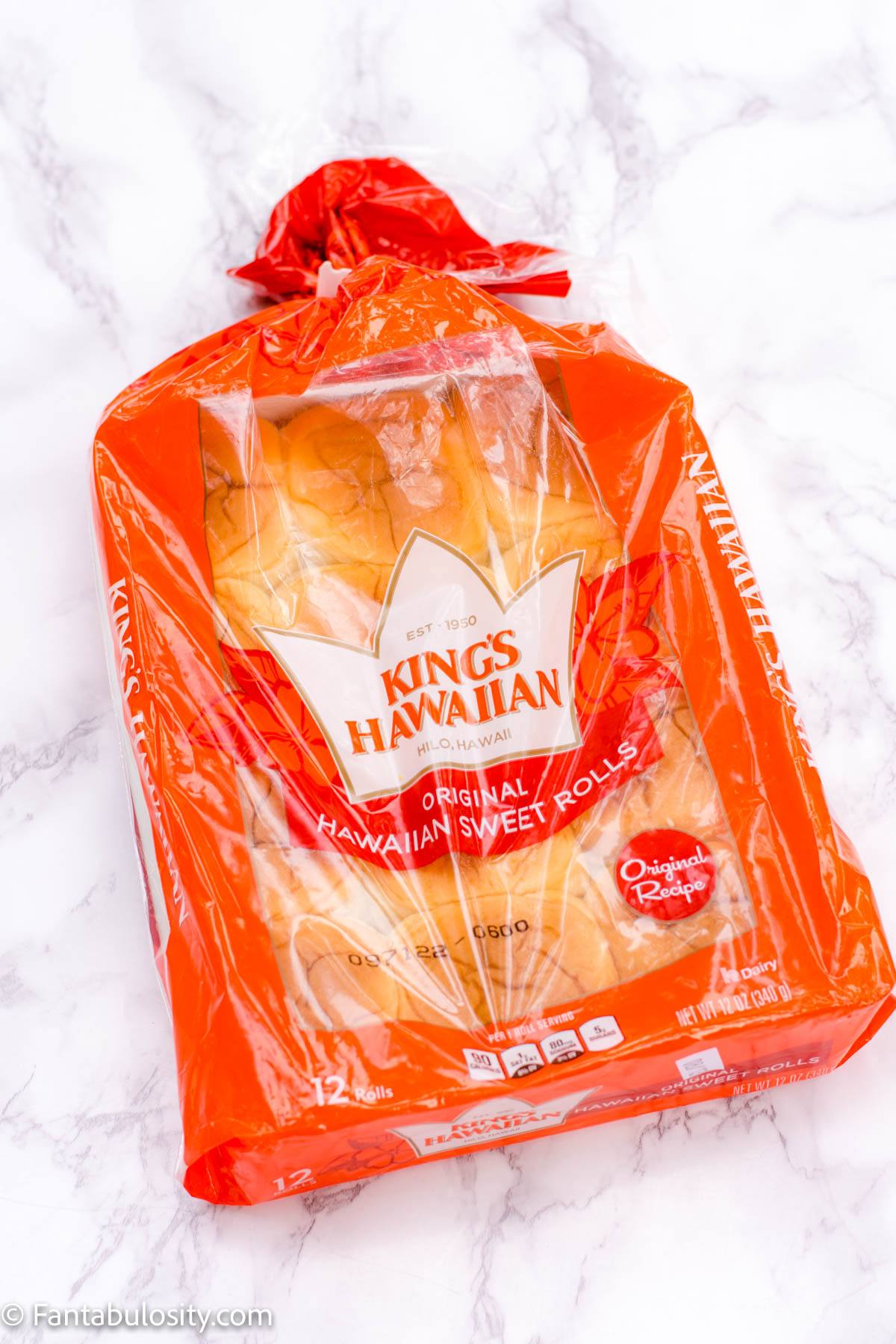 Substitutions & Variations:
Feel free to get creative and customize this recipe with your favorite ingredients and products. Here are a few ideas:
Cheese: While American cheese slices work great, you can also use Swiss, pepper jack, Colby-jack, or any other melty cheese.
Rolls: If you're using different rolls that aren't connected like King's Hawaiian rolls, you can still make this recipe! Simply bake the ground beef as described, then slice or cut the beef into squares that match the size of the rolls you're using. Alternatively, try dinner rolls if you prefer less sweetness.
Sesame Seeds: If you like sesame seeds on your sliders, sprinkle them on after brushing the buns with butter and before toasting.
Ground Beef Mix-ins: Feel free to add Worcestershire sauce, garlic salt or powder, or brown sugar to the ground beef for extra flavor.
Step-by-Step Instructions:
Preheat your oven to 375°.
Take the tray of buns out of the bag.
Cut a piece of parchment paper to fit the size of the tray, extending it slightly past the edges.
Place the raw ground beef on the parchment paper and shape it into a rectangular shape that matches the size of the paper.
Season the ground beef with seasoned salt and pepper.
Transfer the parchment paper and ground beef to a rimmed baking sheet or cake pan.
Bake at 375° for 15-17 minutes or until the juices run clear on top.
While the ground beef is baking, prepare the garlic butter and slice the rolls in half lengthwise.
Carefully remove the cooked ground beef from the pan, tilting it to drain excess grease back into the pan.
Place the bottom halves of the rolls on top of the beef on a clean baking sheet, parchment paper-side up.
Remove the parchment paper.
Place 6 slices of cheese on top of the beef.
Place the top halves of the rolls on top of the cheese.
Brush the tops of the rolls with the prepared garlic butter.
Bake the sliders in a 375° oven for 3-4 minutes or until the cheese has melted and the tops are golden brown.
Remove from the oven and carefully cut the burgers into sliders using a pizza cutter or a knife along the lines.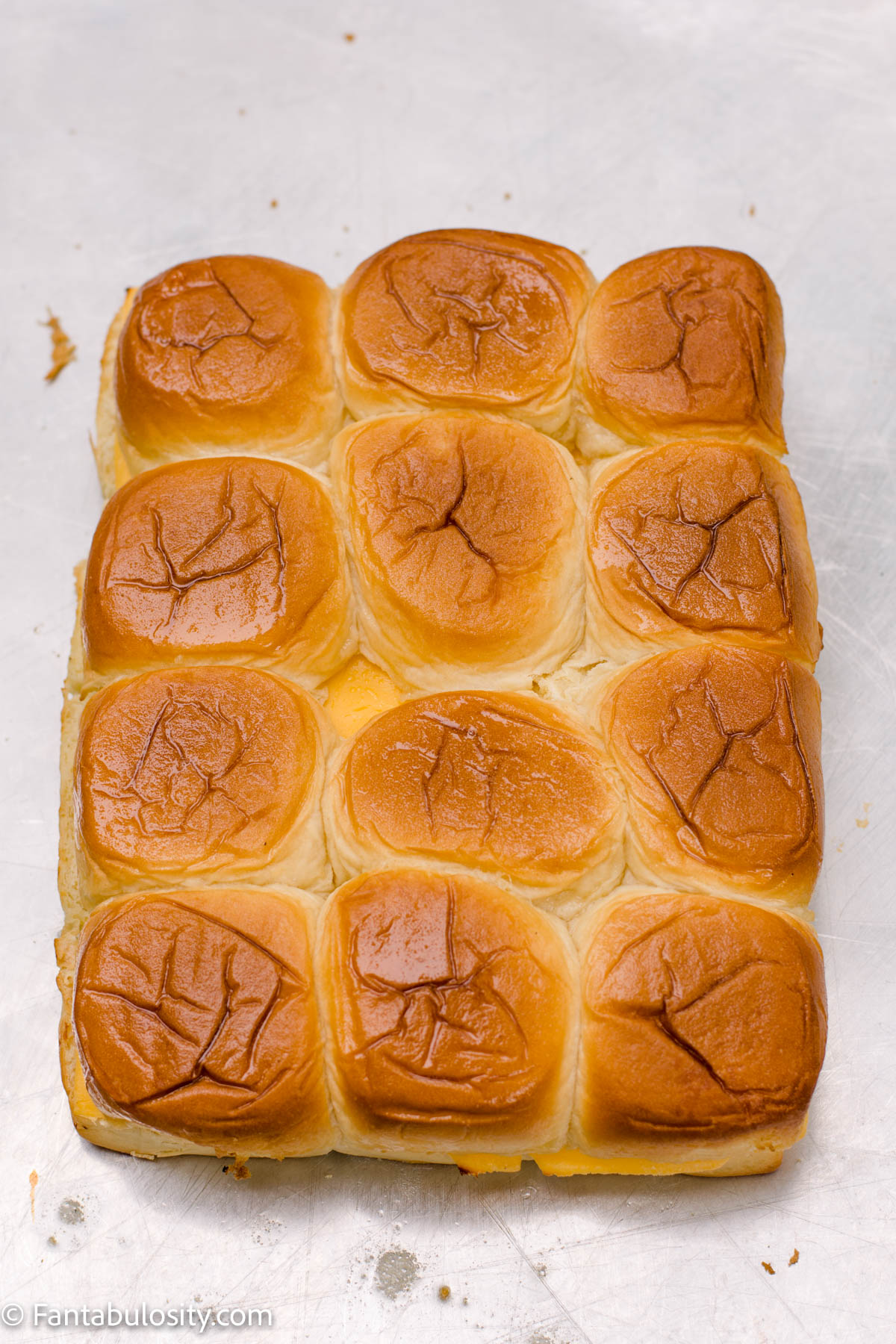 Favorite Burger Toppings:
While these sliders are delicious with just cheese, you can also add your favorite toppings to make them even better. Here are some ideas to get you started:
Lettuce: Try romaine, leaf lettuce, or even spinach instead of iceberg lettuce.
Bacon: Bake bacon in the oven while you're at it or use turkey bacon if you prefer.
Onions: Red onions, green onions, or your favorite kind.
Condiments: Mustard, ketchup, or any of your favorite sauces.
More Ideas: Check out this list of burger topping ideas for inspiration.
Storage:
If you have any leftover cheeseburgers, store them in an airtight container in the refrigerator for 3-4 days. To reheat, you can use the oven, microwave, air fryer, or toaster oven. Be careful not to burn the buns before the meat is heated through.
Cooking for a Crowd?
Make a double or triple batch of cheeseburger sliders by using multiple baking sheets and packages of rolls. Fit as many slider batches in your oven as possible. Don't forget to adjust the ingredient quantities accordingly. You can also try making Italian sliders to serve alongside these burgers.
What to Serve with Sliders:
On a busy weeknight or when hosting a crowd, serve these sliders with your favorite sides, such as french fries, onion rings, tater tots, nachos, or any of your favorite appetizer recipes.
Favorite Burger Recipes:
If you're a burger enthusiast, be sure to check out our other mouthwatering burger recipes, including air fryer burgers, smoked burgers, oven-baked turkey burgers, stovetop burger recipe, grilled burgers, and blue cheese cheeseburgers.
For the full recipe and step-by-step instructions, visit Hook'd Up Bar and Grill.