A Flavorful Delight for Any Occasion
I'm thrilled to share with you a mouthwatering treat: the Beef Jerky Dip. This delectable dish boasts a perfect blend of creaminess, cheesiness, and a hint of smoky goodness from the beef jerky, elevating it to new heights. Paired with your favorite veggies, this fabulous snack is sure to satisfy your taste buds.
The Inspiration
As a snack-loving family, we are always on the go. Whether it's school or sports, we need energy-boosting treats that everyone can enjoy. So, I decided to create a dip that would incorporate the beloved beef jerky, appealing to both the kids and the adults in our household.
Versatility at its Finest
This cheesy dip is a fantastic addition to any gathering. Whether you're hosting a party or attending a potluck, simply serve it alongside fresh broccoli, celery, and tomatoes, and watch it disappear within moments. It's also a fantastic option for school snacks, giving the little ones a burst of flavor and energy.
Beef Jerky Unveiled
For those unfamiliar with beef jerky, it's a dried meat snack that comes in various flavors and marinades. While this recipe suggests using peppered jerky, feel free to experiment with different varieties to find your personal favorite.
Planning Ahead
Good news! You can prepare the beef jerky dip up to two days in advance. Simply store it in a covered container in the refrigerator until you're ready to indulge in its deliciousness.
The Freedom to Choose
Although this recipe utilizes low-fat ingredients, you have the freedom to use full-fat alternatives if you desire. If you follow a Keto or low-carb diet, rest assured that all the necessary information is included in the recipe below.
The Perfect Cheese Combo
To achieve the ultimate flavor profile, we recommend combining cheddar and Colby jack cheese. Whether you shred the cheese yourself or opt for pre-shredded varieties, both options work splendidly.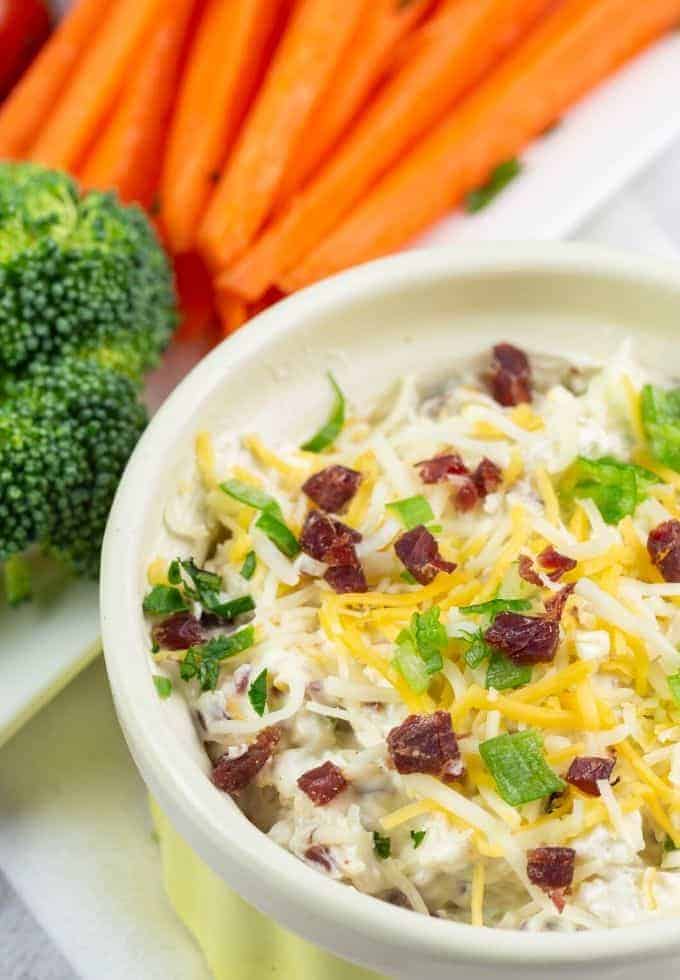 The Nutritional Value of Beef
Did you know that beef is an excellent source of protein, iron, zinc, and vitamin B? For detailed nutritional information, I recommend visiting the NY Beef Council. They offer a wealth of information on topics such as nutrition, beef cuts, recipes, and sustainability.
Looking for more delightful treats featuring beef jerky? Check out Christina's Beef Jerky Protein Balls for a no-bake delight that is as delicious as it is nutritious. And don't miss Colleen's Mini Cheese Balls, perfect for munching on during a weekend lacrosse tournament.
Create Unforgettable Moments
Expand your snack repertoire with other mouthwatering treats like Homemade Boursin Cheese Dip—the epitome of a personal favorite. Or indulge in the creamy and irresistible Jalapeno Popper Dip. These recipes are guaranteed to delight your taste buds.
Equipment and Ingredients
Beef Jerky: Choose your favorite variety to add a protein-packed punch to this dip or as a standalone snack.
Dip over Ice Serving Bowl: Keep your dip cool and visually stunning with this elegant serving bowl.
Feel free to browse my Everyday Eileen store, where I regularly update great finds, not just for cooking.
The Preparation
Now, let's dive into making this sensational Beef Jerky Dip. Follow these simple steps:
In a bowl, thoroughly mix cream cheese, sour cream, mayonnaise, mustard, liquid smoke, and Worcestershire sauce.
Add chopped beef jerky and shredded cheese to the mixture.
Blend in chopped green onion, salt, and pepper.
Serve the dip alongside fresh veggies or chips.
Remember, this recipe is meant to be enjoyed and shared with loved ones. So, grab your favorite snack companions and savor each bite together.
Give us a like on FACEBOOK and follow us for more exciting recipes and tips on Pinterest.
Thank you for being a part of the Hook'd Up Bar and Grill community, where we share our passion for food and family!
xo! Eileen
If you loved this recipe, please consider giving it a 5-star rating and leaving a comment. Your feedback is immensely valuable and greatly appreciated.
📖 Recipe
Enjoy the printable version of the recipe below:
[Printable Recipe](https://hookdupbarandgrill.com)