When it comes to satisfying your taste buds with an Asian-inspired dish, few options are as irresistible as BBQ Pork Fried Rice. The combination of tender BBQ pork, fluffy rice, and a blend of aromatic herbs creates a harmonious symphony of flavors that will keep you coming back for more. At Hook'd Up Bar and Grill, we've perfected this classic recipe to give you a mouthwatering experience that'll leave you craving for more.
Cooking Instructions
Like all great stir-fries, the key to success lies in the preparation. To ensure a smooth and fuss-free cooking process, it's important to have all your ingredients ready beforehand. This way, you can effortlessly whip up this delectable dish in no time.
Begin by finely dicing carrots and BBQ pork into bite-sized pieces, similar to the size of the rice grains. This ensures that each spoonful of your fried rice is a delightful medley of flavors. Whisk your eggs until they're light and bubbly, and set them aside. Lastly, mince garlic and finely chop coriander and spring onions, separating the white parts from the dark green parts.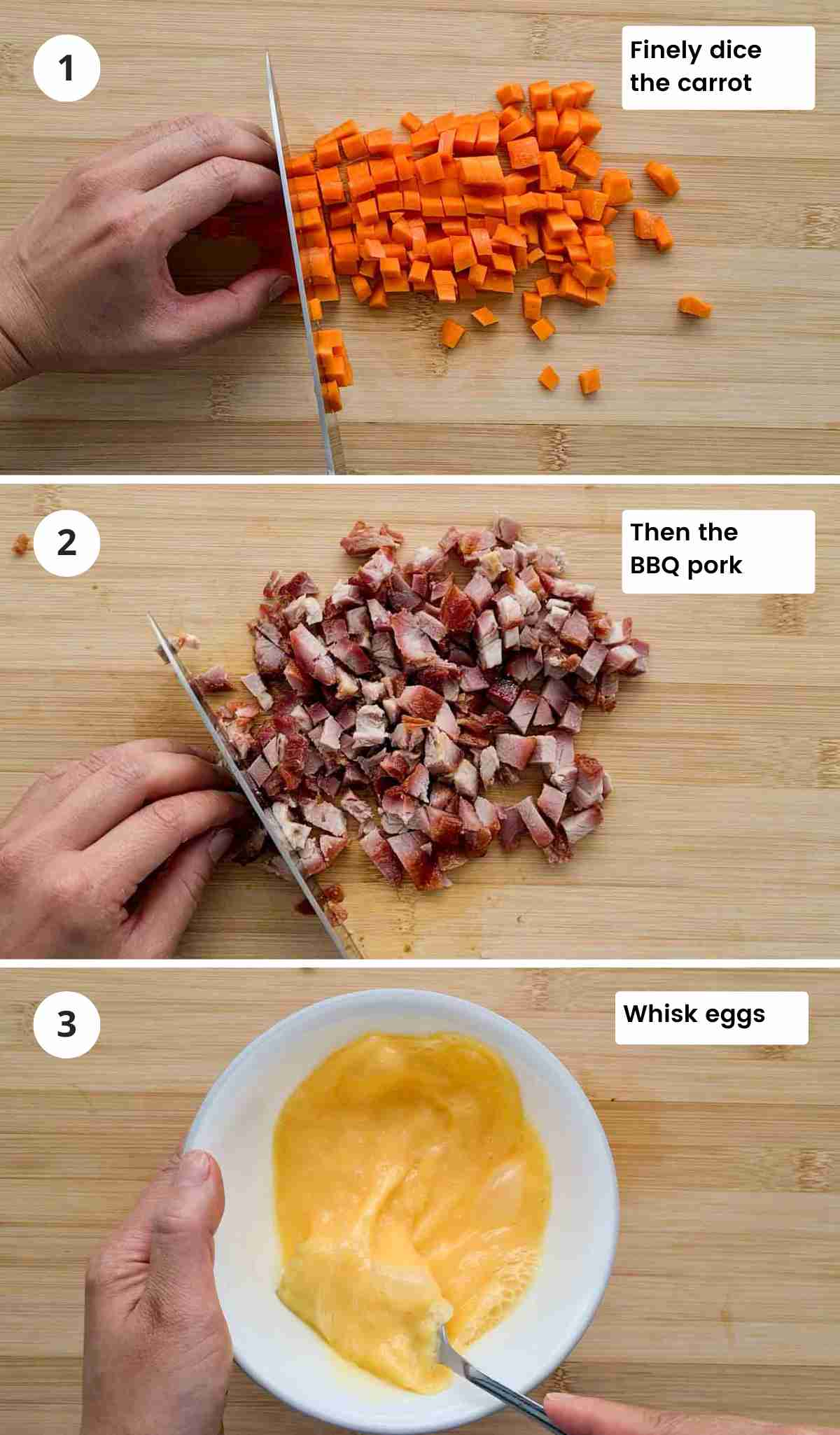 Now that everything is prepped and ready, it's time to put your culinary skills to the test!
How to make BBQ Pork Fried Rice
Preheat your wok (or a large frying pan) over high heat and add oil, ensuring it coats the surface of the wok. This step is crucial to prevent sticking. Once the oil is hot and begins to ripple, pour in the whisked eggs. Stir them every 5-10 seconds until they are just cooked and fluffy, which should take about 30 seconds. Remove the eggs from the wok and set them aside.
In the same wok, without cleaning it, add the white parts of coriander and spring onions, garlic, and carrots with a little oil. Stir-fry them over medium heat until aromatic and the carrots begin to soften. Next, add the diced BBQ pork and stir-fry over high heat until the pork starts to caramelize and the kitchen fills with an incredible aroma. This should take approximately 1.5 minutes.
Now it's time to add the rice. Using the back of your spatula, break apart any clumps of rice while avoiding stabbing them, as we want the grains to remain intact. Stir-fry the rice over high heat for about 2 minutes, ensuring that each grain receives direct heat. This step is crucial in achieving the hallmark of great fried rice—wok hei, or the breath of the wok.
Season your creation with soy sauce, salt, and white pepper (or black pepper if you prefer). Stir-fry to evenly distribute the seasoning. Add the golden and fluffy eggs back into the wok, breaking them up into small chunks, similar in size to the pork and carrots. Finally, toss in the green parts of the coriander and spring onions, stir for about 20 seconds, and serve. Don't forget to taste and adjust the seasoning if desired.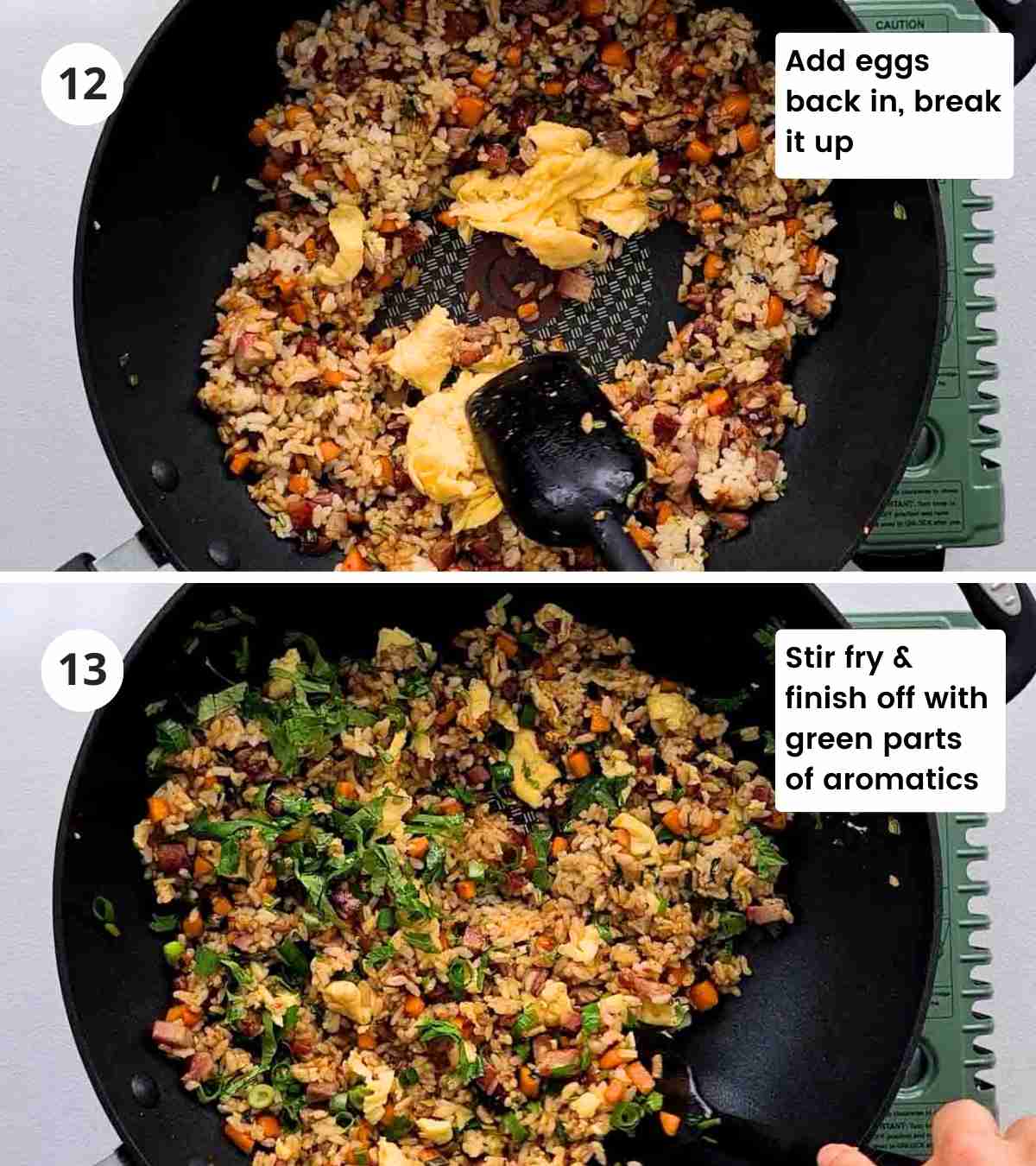 Serving Suggestions
Our mouthwatering BBQ Pork Fried Rice pairs perfectly with simpler side dishes that won't overpower its rich flavors. Consider serving it alongside a quick and flavorful spinach and garlic stir-fry or any leafy greens of your choice. For those colder days, complement your meal with a comforting Chinese pork bone soup (bone broth). The possibilities are endless when it comes to delighting your guests with a memorable Asian-inspired menu.
Useful Tips and Tricks
To ensure your BBQ Pork Fried Rice reaches its full potential, follow these helpful tips:
Get direct heat onto each and every grain of rice. Allowing the rice to toast slightly through direct heat from the wok enhances its overall texture and flavor.
Avoid overcooking the eggs. They should be light, moist, and fluffy. Remove them from the wok as soon as they're cooked and add them back in just before serving.
If you're doubling the recipe to accommodate a crowd, cook it in batches. Overcrowding the wok with too many ingredients can prevent each grain of rice from receiving the attention it needs. This dish only takes about 8 minutes to cook, so multiple batches can easily be made in no time.
FAQs
We'd love to hear your thoughts and answer any questions you may have about this recipe. Feel free to drop us a note in the comments section below.
Made with love and expertise by our culinary team at Hook'd Up Bar and Grill, this BBQ Pork Fried Rice recipe is a testament to our commitment to delivering exceptional flavors. Prepare to be hooked!