Are you tired of the usual banana pepper recipes during harvest season? If so, we have an exciting and mouthwatering solution for you: banana hot sauce. Imagine all the delicious flavors of pickled banana peppers blended into a tangy and versatile condiment. Whether you're dressing up sandwiches, seafood, hot dogs, or stir-fries, this hot sauce is the perfect accompaniment.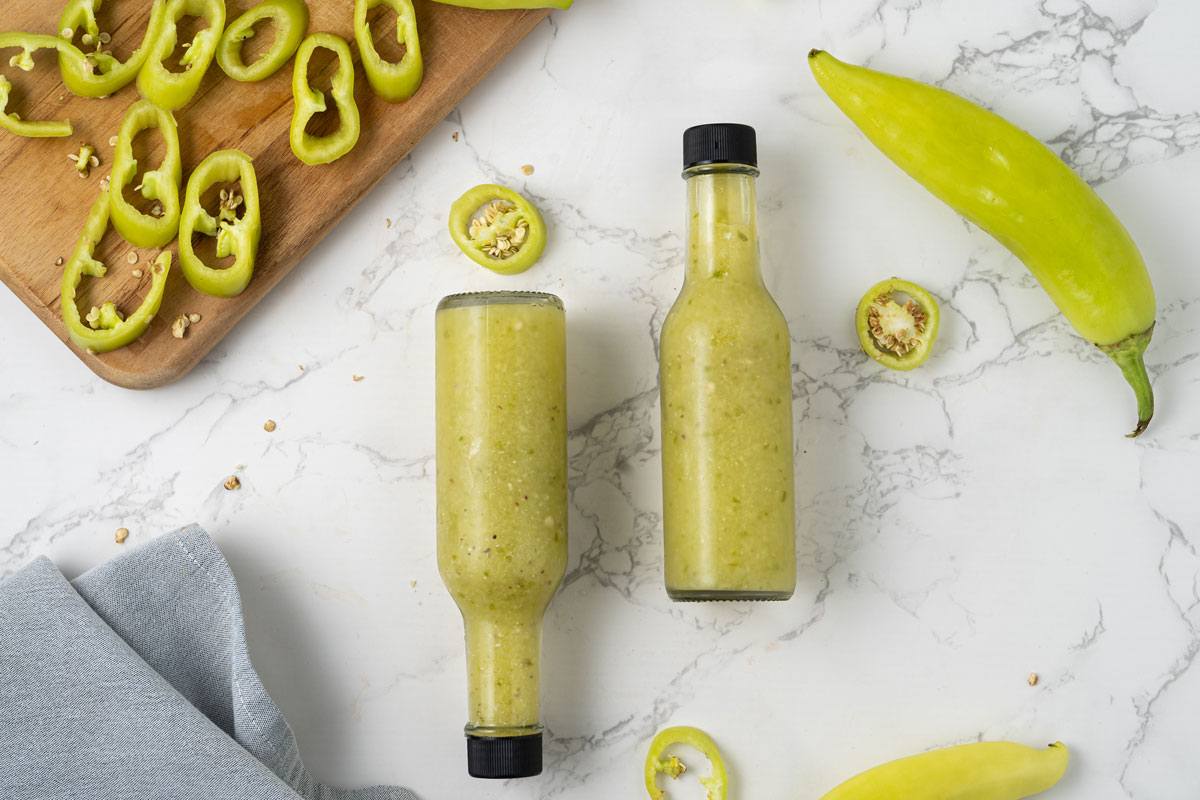 Why You'll Love This Banana Pepper Hot Sauce
A Harvest Saver: This recipe is an excellent way to use up a surplus of banana peppers from your garden or local grocery store.
A Tasty Twist: If you're a fan of traditional pickled banana peppers, this hot sauce will provide that familiar flavor with an exciting twist.
Customizable Heat: Adjust the heat level to your preference. Want extra spiciness? Add a habanero or ghost pepper for that extra kick.
Versatility at its Best: This hot sauce pairs perfectly with fish tacos, seafood dishes, or cold sandwiches, making it a versatile addition to your culinary repertoire.
Quick and Easy: With minimal prep work, this hot sauce is a breeze to make. Most of the time is spent waiting for the flavors to infuse.
A Truly Special Gift: Spice up the lives of your friends, family members, or neighbors with this homemade hot sauce.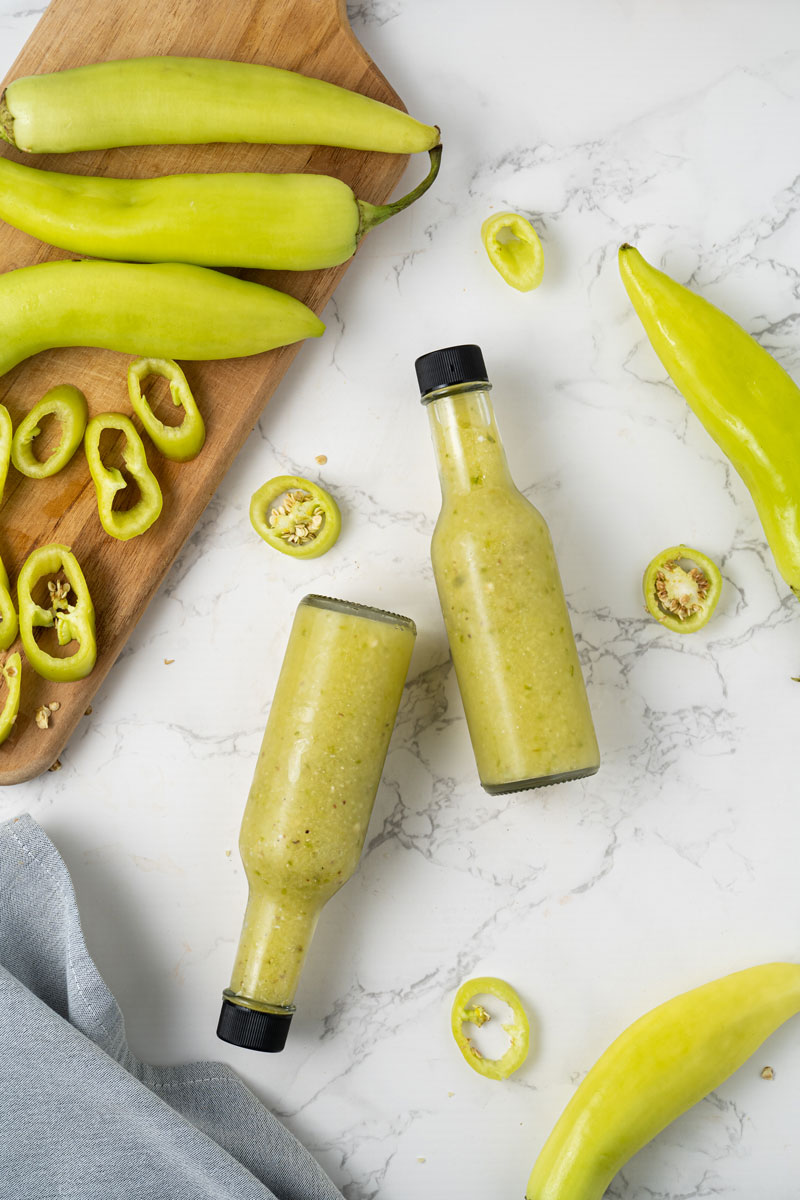 About the Ingredients
Banana Peppers: Although easily found in grocery stores, we recommend growing your own for that fresh and vibrant flavor.
Serrano Pepper or Jalapeño Pepper: Add the desired amount of heat to your hot sauce. For a milder option, use jalapeño peppers. If you're up for a spicy adventure, go for the serrano pepper or even the fiery habanero.
Vinegar: The white vinegar brings acidity to the sauce while contributing to its pourable consistency.
Filtered Water: Using bottled or filtered water is essential to maintain the quality of the sauce during the fermentation and pickling process.
Sugar: A hint of sugar helps balance the flavors of the sauce. Use your favorite substitute or omit it entirely if desired.
Garlic: The marriage of banana peppers and garlic creates a heavenly flavor that will delight your taste buds.
Salt: Opt for pure salt without any anti-caking agents to ensure a clear and cloud-free sauce.
Black Pepper, Mustard Seed, and Celery Seeds (ground): These spices combine to infuse the sauce with the beloved pickled flavor of sliced banana peppers.
How to Make Banana Pepper Hot Sauce
This hot sauce stands out because of its unique preparation method. The banana peppers undergo a quick-pickling process to enhance their flavors before being blended into the sauce. Trust us, the wait is worth it!
You will need the following ingredients:
1 lb. banana peppers (approximately 6 or 7)
1 serrano or jalapeño pepper
2-4 cloves of garlic, sliced
1 cup white vinegar
½ cup bottled or filtered water (as needed)
2 tsp sugar
1 tsp salt
¼ tsp black pepper
1 tsp ground mustard seed
1 tsp celery seed
Directions:
Begin by sterilizing a mason jar. Boil a pot of water and place the open mason jar (without the lid) in the pot for about 10 minutes. Remove the jar using tongs or kitchen mitts.
Thinly slice the banana peppers and serrano (or jalapeño) pepper, removing the tops and seeds. Some seeds can remain. Add the rings to the mason jar.
In a saucepan, bring water, vinegar, garlic, and spices to a boil to create the brine liquid. Simmer for about 5 minutes, then remove from heat.
Use a funnel (or pour carefully) to add the brining liquid to the pepper mix in the mason jar.
Seal the jar and let it cool at room temperature for about 2 hours. Then, refrigerate the mixture for 2-3 days to allow the flavors to develop and the pickled taste to infuse.
Remove from the fridge and blend the mixture until smooth.
Taste and adjust if necessary. Pour the hot sauce into woozy bottles and consume within a month. Alternatively, you can store it in a mason jar.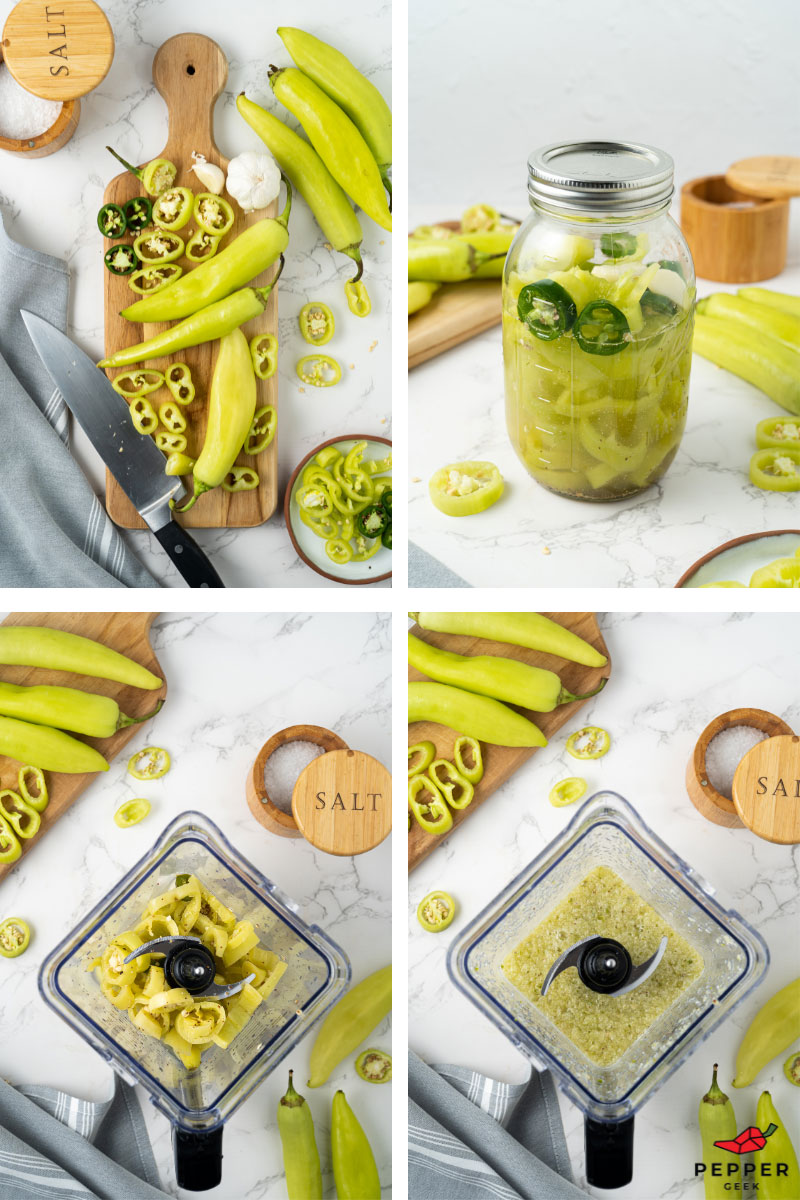 Recipe FAQs
How do I thicken or thin out this hot sauce?
To thicken the sauce, reduce it over heat by boiling off some of the liquid. To thin it out, add more white vinegar at the time of blending. Add additional vinegar gradually to avoid adding too much at once.
How long will this banana pepper hot sauce last?
We recommend consuming this hot sauce within one month of refrigeration. However, it is usually so delicious that it doesn't last that long in our homes! For longer storage, aim for a pH level below 4.0.
Can I can this hot sauce to make it shelf-stable?
While we haven't personally tried canning this hot sauce, we believe it would be a tasty option. For canning, always follow the USDA guidelines for pickles and sauces.
Can I use other types of peppers?
This recipe is tailored to banana peppers due to the addition of pickling spices. However, if you want to experiment with different heat levels, feel free to substitute the serrano pepper with other pepper varieties. We also have other delicious hot sauce recipes, such as jalapeño hot sauce and spicy mango habanero hot sauce.
How much sauce does this make?
This recipe yields 3-4 woozy bottles (5 oz. each). The final quantity depends on the amount of liquid added and the size of your peppers. Any extra hot sauce can be stored in a mason jar in the refrigerator.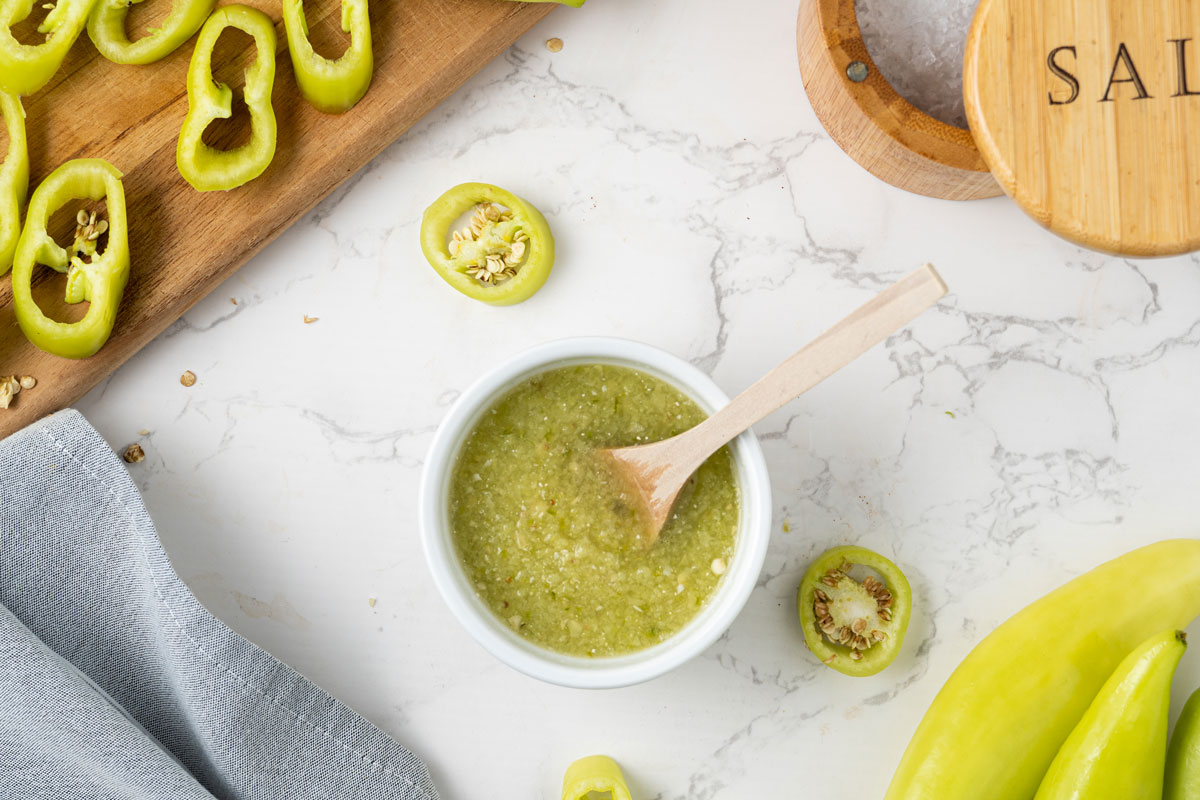 Enjoy the Unique Flavors of Banana Pepper Hot Sauce!
With its tangy and pickled taste, this banana pepper hot sauce will elevate your meals to new heights. Whether you're grilling fish, preparing a seafood feast, or enjoying a cold sandwich, this versatile sauce will add a delicious twist to your dishes. So, make the most of your banana pepper harvest and spice up your culinary adventures with this homemade hot sauce from Hook'd Up Bar and Grill. Visit Hook'd Up Bar and Grill for more delightful recipes and flavorful creations.