Can You Air Fry Turkey Burgers?
Yes, absolutely! Discover my tips and tricks to create incredibly moist and juicy air fryer turkey burgers, without the need for breadcrumbs or oil. You'll also learn how to prevent the burgers from falling apart and the ideal cooking time for air frying. These healthy turkey patties are perfect for a quick and low-calorie weeknight dinner that fits into your low-carb or keto diet.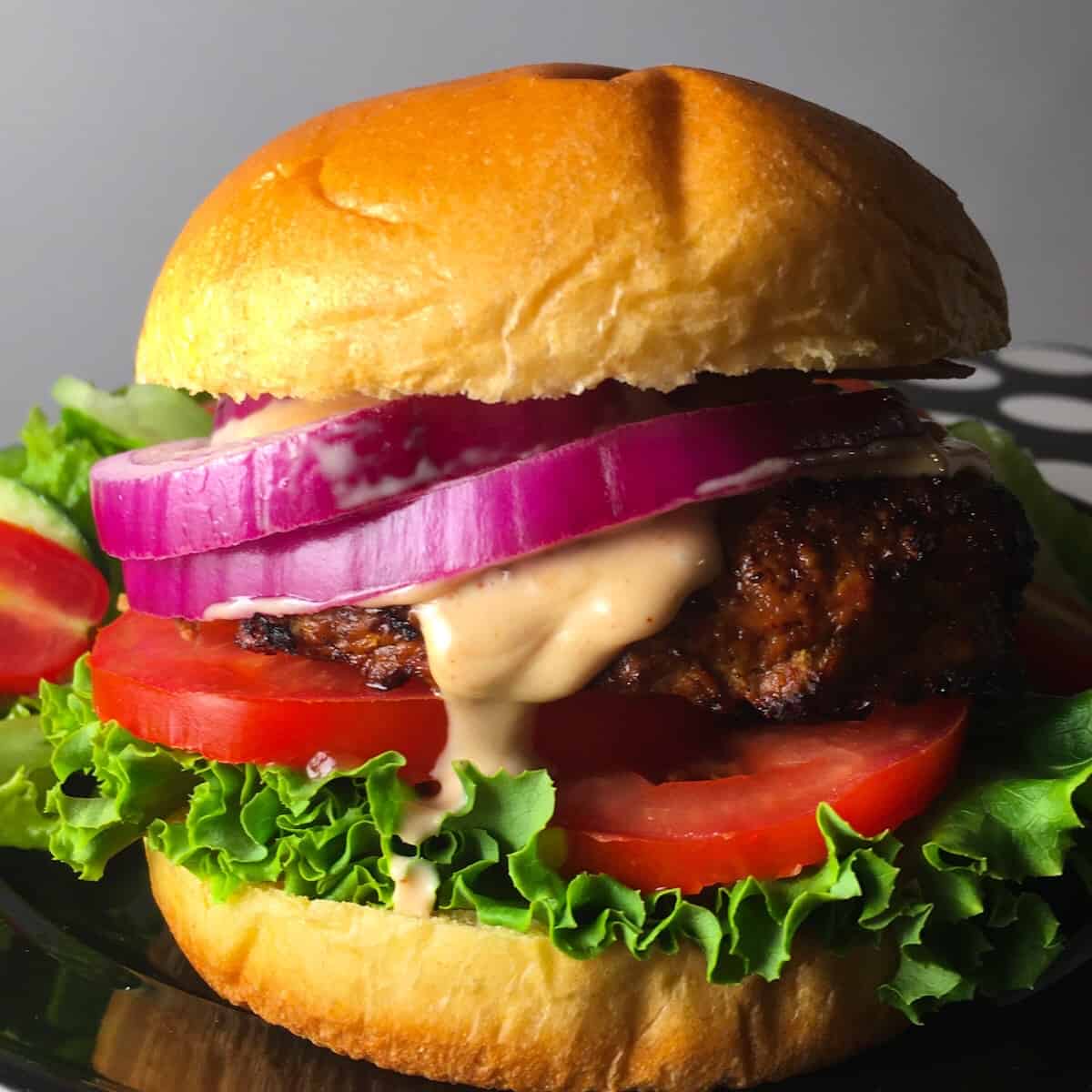 Transforming Turkey Burgers: From Dry to Delicious
Turkey burgers often have a reputation for being dry and tasteless, but this recipe will change your mind. The secret to creating a moist turkey burger without adding oil lies in the addition of zucchini. These turkey zucchini burgers are a fantastic way to introduce extra moisture into the patties and enhance their overall texture. Don't skip the zucchini, even if you're not a fan of "healthy recipes." Its main purpose is to eliminate dryness and improve the mouthfeel.
Customize for Your Preferences
If you prefer not to see visible green in your burger, peel the zucchini before mixing it with the ground turkey. You can also finely chop the zucchini after shredding it to make it less noticeable. The choice is yours.
Why Air Fryer Turkey Burgers?
Among the various air fryer ground turkey recipes, this one has quickly become my favorite due to its simplicity and incredible taste. I hope it will soon become a family favorite in your household too!
Calories, Net Carbs, and Protein
Each air fryer turkey burger patty contains approximately 269 calories, 2.2 grams of net carbs, and 19.9 grams of protein. Please note that this nutrition information includes the sriracha mayo but does not account for other toppings or a burger bun.
Benefits of Air Fryer Turkey Burgers
Here are a few reasons why I love making air fryer turkey burgers:
Low-calorie and low-carb meal option: These burgers are an excellent choice for those aiming to lose weight by cutting calories or reducing carbs. Skip the bun for a keto-friendly turkey burger.
Packed with high-quality protein: These turkey burgers are protein-rich, providing lasting satiety and potentially reducing the urge to snack between meals. They can also aid in weight management.
A vehicle for veggies: These burgers contain a generous amount of zucchini, making them a great way to increase your vegetable intake.
Family-friendly and customizable: Burgers are a hit with the whole family, and this recipe allows for easy modifications to suit individual taste preferences. Swap the sriracha mayo for ketchup if you have family members who don't enjoy spicy foods.
Fast and delicious: These air fryer turkey burgers cook in just 18 minutes, saving you time compared to ordering fast food.
Ingredients for Air Fryer Turkey Burgers
To make these basic air-fried turkey burgers, you'll only need four simple ingredients:
Ground turkey (thawed if previously frozen)
Grated zucchini
Chili powder
Non-aerosol cooking oil spray
I recommend using ground turkey thighs for this recipe as they contain slightly more fat, resulting in juicier and tastier burgers. If possible, opt for dark meat ground turkey.
For the sriracha mayo topping, you'll need mayonnaise and sriracha sauce. I personally recommend True Made Foods Veracha for its natural ingredients and absence of added sugars.
Essential Kitchen Equipment
To prepare these air fryer turkey burgers, you'll need the following kitchen equipment:
Air fryer
Peeler
Grater
Meat thermometer
The peeler and grater are necessary for the zucchini, while the meat thermometer ensures your burgers are cooked to perfection. You can use any air fryer model (such as Ninja Foodi, Instant Vortex, Cuisinart, Philips, Pampered Chef Air Fryer, Actifry, Cosori, Nuwave, or Power Air Fryer) for this recipe. Just adjust the cooking times or cook in batches as needed.
How to Make Air Fryer Turkey Burgers
Let's dive into the step-by-step process of creating delicious air fryer turkey burgers:
Allow the ground turkey to rest at room temperature for an hour, as it will cook faster.
Peel and shred the zucchini using the coarse side of a box grater.
For a better texture, finely chop the shredded zucchini.
Place the zucchini on paper towels or a clean cheesecloth, and thoroughly squeeze out excess moisture over the sink. This step ensures consistent results.
In a large bowl, combine the dry zucchini, ground turkey, and chili powder. Mix well using your hands. If the mixture sticks to your hands, wet or oil them to prevent sticking.
Once thoroughly combined, shape the mixture into four burgers. Each burger should have a diameter of approximately 3.5 inches (8.9 cm). Avoid making them too large, as they may dry out during cooking.
To prevent bulging, create a small divot in the center of each burger with your thumb (a trick that also works for beef burgers).
Cooking Time and Temperature
Wondering how long to air fry turkey burgers? Follow these steps for perfectly cooked burgers:
Preheat your air fryer to 375 degrees Fahrenheit (190C) for 5 minutes.
Mist a hot air fryer tray with non-aerosol cooking oil spray and gently place the burgers on the tray. If possible, cook all four burgers in a single layer on one tray.
Position the tray in the top rack of your air fryer and air fry for 10 minutes at 375 degrees Fahrenheit (190C).
Carefully flip each burger and continue air frying on the top rack for an additional 8-10 minutes at 375 degrees Fahrenheit (190C).
Use a meat thermometer to ensure the turkey burgers reach an internal temperature of 165 degrees Fahrenheit (74C), which is the minimum safe temperature for poultry. If necessary, give them a bit more air frying time.
After air frying, allow the burgers to rest for 5-10 minutes. Then, add your desired toppings and serve!
Turkey Burger Toppings
While your turkey burgers air fry, prepare your favorite burger toppings. For the sriracha mayo, whisk together two parts mayonnaise to one part sriracha. You can also add green leaf lettuce, tomato slices, and red onion slices to enhance the flavor and texture of your burgers.
If you're skipping the bun, opt for large lettuce leaves to wrap your burger or simply enjoy it with a fork. If the suggested toppings don't suit your taste, feel free to mix and match from a variety of options, including different cheeses, cooked bacon, sautéed mushrooms, caramelized onions, ketchup, mustard, pickles, chipotle lime mayo, BBQ sauce, coleslaw, pickled jalapenos, green chiles, blue cheese, ranch dressing, guacamole, pico de gallo, or a sunny-side-up egg.
Leftovers and Reheating
Refrigerate cooked leftover turkey burger patties, wrapped or in an airtight container, for up to 3-4 days. Alternatively, you can freeze them. To freeze, place the patties in a single layer on a baking tray lined with freezer paper. Once frozen, wrap them individually in plastic wrap and store them in a freezer bag, removing as much air as possible. This freezing method prevents the burgers from sticking together.
To reheat the leftovers, use a microwave, air fryer, or stovetop. You can also crumble the leftover burger and use it in chili, sloppy joes, tacos, burritos, or as a salad topping.
Turkey Burger Seasoning
While this recipe calls for chili powder, feel free to experiment with different seasonings and sauces to suit your taste preferences. Some alternatives include salt and pepper, steak seasoning, BBQ seasoning, garlic powder, onion powder, basil, oregano, Tajin, Worcestershire sauce, red wine vinegar, liquid smoke, sriracha, teriyaki sauce, Italian seasoning, taco seasoning, creole seasoning, Cajun seasoning, or red pepper flakes for an extra kick.
Side Dishes to Accompany Your Turkey Burgers
Wondering what to serve with your air fryer turkey burgers? Consider pairing them with fresh garden salads or roasted vegetables. Here are a few recipes that complement air-fried turkey burgers:
Smoked Mac and Cheese
Air Fryer Squash with Brown Butter and Sage
Air Fryer Frozen Sweet Potato Fries
Kale Apple Slaw
Air Fryer Jicama Fries
Air Fryer Radish (a keto substitute for potatoes)
Expert Tips from a Dietitian
This recipe falls under level 1 (may support fat loss). The provided nutrition information includes the turkey burger and sriracha mayo but does not account for a bun or additional toppings. Photographs may feature a brioche bun for aesthetic purposes, but if you prefer a low-calorie meal, I recommend skipping the bun.
You can easily adapt the side dishes to accommodate different energy needs within your family. For individuals requiring more energy (higher calories), add energy-dense whole grains, starchy vegetables, and healthy fats. To reduce calorie intake, decrease added fats and focus on non-starchy veggies. Remember, there's no one-size-fits-all approach to eating, so customize according to your needs.
Frequently Asked Questions (FAQs)
Can't get enough of burger recipes? Explore these delicious ground turkey recipes for more culinary inspiration:
Turkey Meatballs (with Zucchini Noodles and Sauce)
Ground Turkey Jerky Recipe (No food dehydrator needed!)
If you have leftover turkey breast, consider making Turkey Salad without Mayo for a delightful and healthy meal option.
Join our community! Subscribe to our Weekly Newsletter for the latest and greatest recipes. You can also follow us on Pinterest, Twitter, and Instagram!
The Disclaimer…
Please note that all recipes on this website may or may not be suitable for you, depending on your dietary needs and preferences. Consult a registered dietitian or physician to determine the best dietary pattern for your specific requirements.
The provided nutrition information is an estimate and should be considered a courtesy. Actual values may vary based on specific brands and ingredients used. Calorie information on food labels can be unreliable, so don't stress too much over the numbers.
For more information on how the three recipe levels may support your weight management goals, refer to our overnight oats no sugar post. Let's get cooking!
Recipe
This recipe has been updated with new photos, a recipe video, and slight tweaks to ensure foolproof results. Enjoy!