Can You Air Fry Sugar Cookies?
You bet! These homemade air fryer sugar cookies are not only quick and easy to make, but they're also incredibly delicious. If you're wondering how long to air fry sugar cookies or what temperature to use, we've got you covered. These small-batch sugar cookies will satisfy your sweet cravings and may just become a regular snack in your household!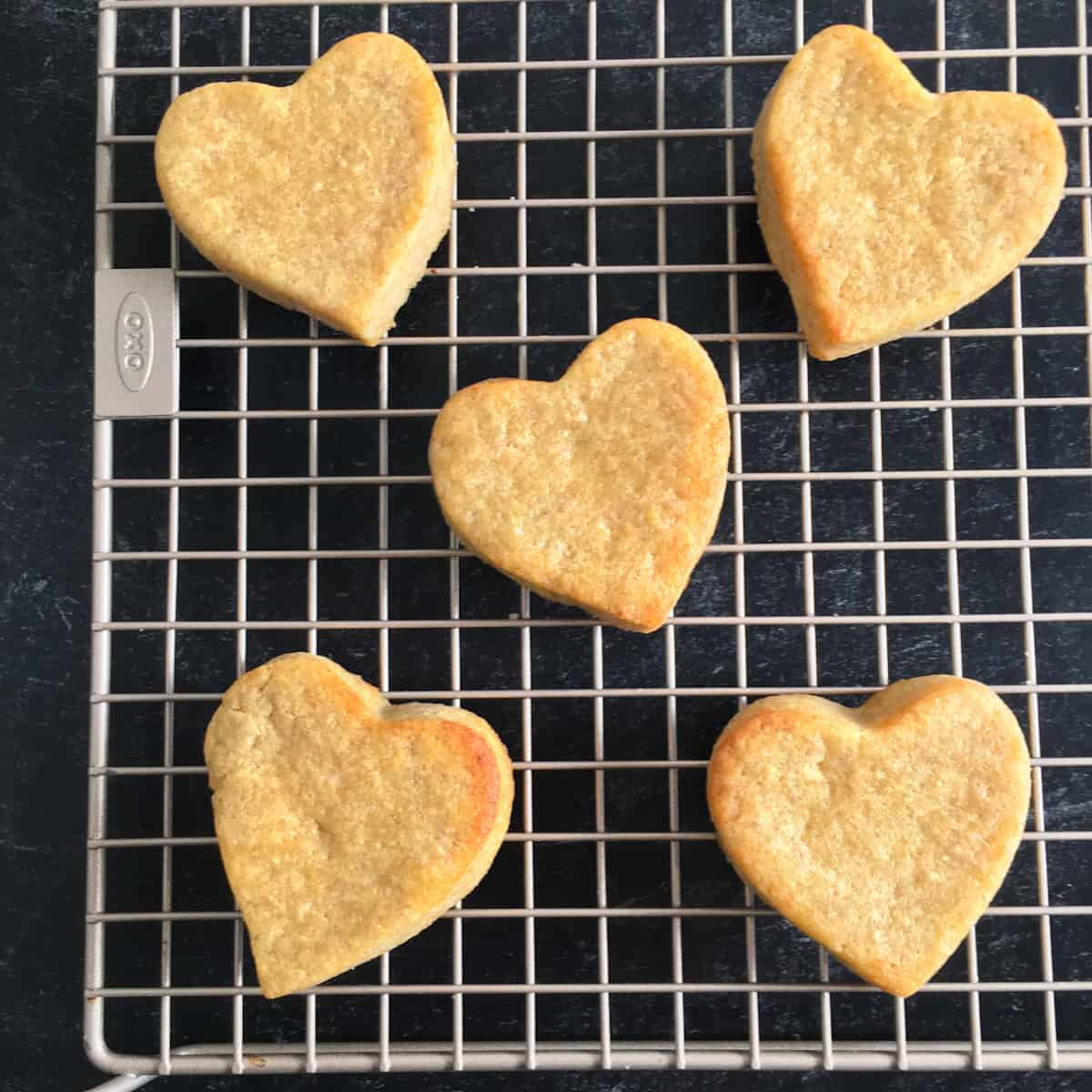 This air fryer sugar cookie recipe is wonderfully simple, resembling the classic sugar cookie rolls you can find in stores. They have a delightful combination of shortbread and sugar cookie textures, making them unique and irresistibly tasty.
Customize your sugar cookies by adding a touch of lemon extract or almond extract instead of vanilla. For an extra treat, experiment with stirring in some chocolate chips, M&M's, or Reese's Pieces. The possibilities are endless!
Air Fryer Sugar Cookies Benefits
Why should you make sugar cookies in the air fryer? Here are a few reasons why we love this recipe:
Quick and Easy: You only need a few minutes to mix the cookie dough and 5-6 minutes to air fry them. This recipe offers instant gratification when your cookie craving strikes.
Holiday Baking Savior: When the oven is constantly occupied during the holidays but you need cookies for a cookie swap, let the air fryer come to your rescue! Don't forget to check out the decorating tips below.
Convenient Snacking: Looking for an afterschool snack for the kids or something portable and freezer-friendly? Look no further! These air fryer sugar cookies have got your back.
Sugar-Free Option: We use Swerve as a 1:1 sugar substitute in this recipe, making the cookies lower in carbs and calories compared to classic sugar cookies.
Delicious Delight: Sugar cookies have always been a beloved treat, enjoyed by both young and old. You'll love these homemade air fryer sugar cookies!
Sugar Cookies in Air Fryer Ingredients
To make sugar cookies in the air fryer, gather the following ingredients:
White flour
Spelt or whole wheat flour
Baking powder
Butter
Swerve granular or white granulated sugar
Egg white
Vanilla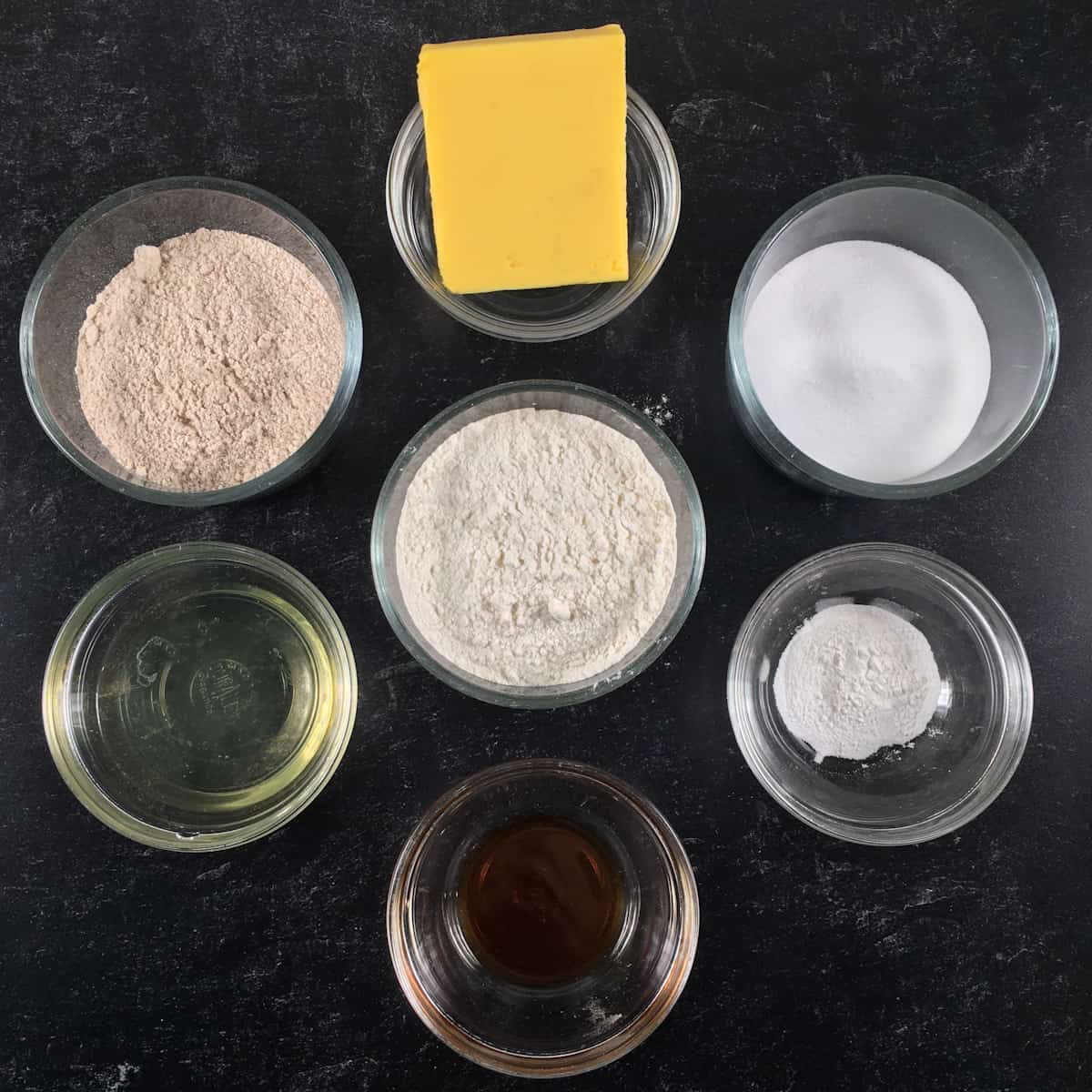 Specific quantities can be found in the recipe card at the end of this post. While everyone has their own way of making sugar cookies, we like to incorporate some whole grain flour for added fiber. Powdered sugar can be used as an alternative to granulated sugar, but we find that granulated sugar works best in this recipe.
Please note that this recipe was developed using a 10-Quart Kalorik Digital Air Fryer Oven. Other air fryer brands such as Ninja Foodi, Philips, Nuwave, Pampered Chef, Actifry, Instant Pot Vortex, Cosori, and Breville should also work. However, cooking times may vary, so be sure to check the progress early when trying a new air fryer recipe.
How to Make Air Fryer Sugar Cookies
Follow these simple steps to make delicious air fryer sugar cookies:
In a medium-sized bowl, mix together the flours and baking powder.
In a large bowl, beat the butter and sweetener with an electric mixer until light and fluffy (approximately 5 minutes).
Add the egg white and vanilla to the butter mixture and mix until combined.
Gradually add the flour mixture to the butter mixture, using the electric mixer to create a cohesive dough (a few more minutes).
The dough does not need to be chilled, as these cookies do not spread much. However, if the dough is sticky, you may choose to chill it in the fridge for 15-30 minutes. If the dough cracks when rolled, gently pinch the cracks together and let it warm up to room temperature for a few minutes.
Cut the dough into cookies by either rolling it into a log and cutting circles or using cookie cutters.
If using cookie cutters, roll the dough out between two sheets of parchment paper until it reaches a thickness of ½ inch (1.27 cm). Remember, the cookies will not spread during baking.
Remove the top parchment sheet and cut the dough into cookies. Be cautious with shapes that have thin sections, as they may not brown evenly.
Place a few cookies in the air fryer basket or tray, leaving space for proper air circulation.
Air fry the sugar cookies for a total of 5-6 minutes at 400 degrees Fahrenheit (200C). If your air fryer has an oven function, use the top rack position.
Depending on the batch size, you may need to air fry the cookies in multiple batches. If the air fryer is already preheated after the first batch, consider removing the second batch 1 minute early.
Allow the sugar cookies to cool for a few minutes before carefully lifting them from the air fryer tray. They will continue to firm up as they cool. If they stick a bit, use a spatula to release them gently.
Enjoy your homemade air fryer sugar cookies!
Tips for the Best Sugar Cookies
Here are a few tips to make your air fryer sugar cookies even more delightful:
Get creative! Use seasonal cookie cutters to shape your cookies. Pumpkins for Halloween, Christmas trees for Christmas, and more!
Experiment with various decorations. After spreading frosting or icing on your sugar cookies, try sprinkling colorful sprinkles (jimmies), crushed candy bars, or jellybeans on top. You can even use nuts, seeds, dried cherries, or other healthy options for added flavor and texture.
How to Store Air Fryer Sugar Cookies
Store your air fryer sugar cookies in a covered container in the fridge for up to 3-4 days. They also freeze well; simply place them in freezer bags with the air pressed out.
Calories, Net Carbs, Protein
Each air fryer sugar cookie contains approximately 152 calories, 11.9 grams of net carbs, and 2.3 grams of protein. Please note that nutrition information may vary based on cookie size and any additional toppings or add-ins you choose.
Expert Tips from a Dietitian
As a level 3 recipe suitable for weight maintenance and active lifestyles, these air fryer sugar cookies offer a few nutritional advantages. However, they still contain high-calorie ingredients like flour and butter. Whole grain flour adds fiber but does not significantly reduce calorie content.
One notable aspect of these sugar cookies is their sugar-free option. By using Swerve as a sugar substitute, you can reduce the recipe's calorie count by 270 and the net carbs by 72 grams. If you make nine cookies, that's a saving of 30 calories and 8 grams of net carbs per cookie.
Choosing sugar-free cookies can be beneficial if you're following a carb-restricted diet for diabetes or looking to cut back on sugar intake. However, it's important to consider how cookies fit into an overall healthy eating plan and the potential impact on blood glucose levels.
This small-batch sugar cookie recipe allows you to enjoy a cookie or two without having dozens of leftovers. Simply freeze any remaining cookies and return to your regular healthy eating plan. Remember, it's all about balance and moderation.
More Air Fryer Dessert Recipes
If you're craving more delicious desserts made in the air fryer, give these recipes a try:
Air Fryer Peanut Butter Cookies
Gulab Jamun Cheesecake with Air Fryer Gulab Jamun
Air Fryer S'mores
Air Fryer Cinnamon Rolls
Explore the entire collection of Air Fryer Recipes for even more inspiration!
Join our community and subscribe for the latest recipes. You can also find us on Pinterest, Twitter, Instagram, and YouTube!
The Disclaimer…
Please note that all recipes on this website may or may not be suitable for your specific dietary needs. Consult with a registered dietitian or your physician to determine the dietary pattern that works best for you.
The provided nutrition information is an estimate and may vary depending on the specific brands and ingredients used. Calorie information on food labels can be inaccurate, so don't worry too much about the numbers.
For more information on how our recipe levels can contribute to your weight management goals, refer to our overnight oats no sugar post. Let's get cooking!
Recipe
For the detailed recipe, please visit Hook'd Up Bar and Grill.