Are you looking for a simple yet flavorful meal that you can have on the table in under 20 minutes? Look no further! Air frying is an incredible cooking method that allows you to achieve tender, juicy pork chops with a crispy crust on the outside. In this article, we'll explore how to make mouthwatering Air Fryer BBQ Pork Chops that are sure to impress your family and friends.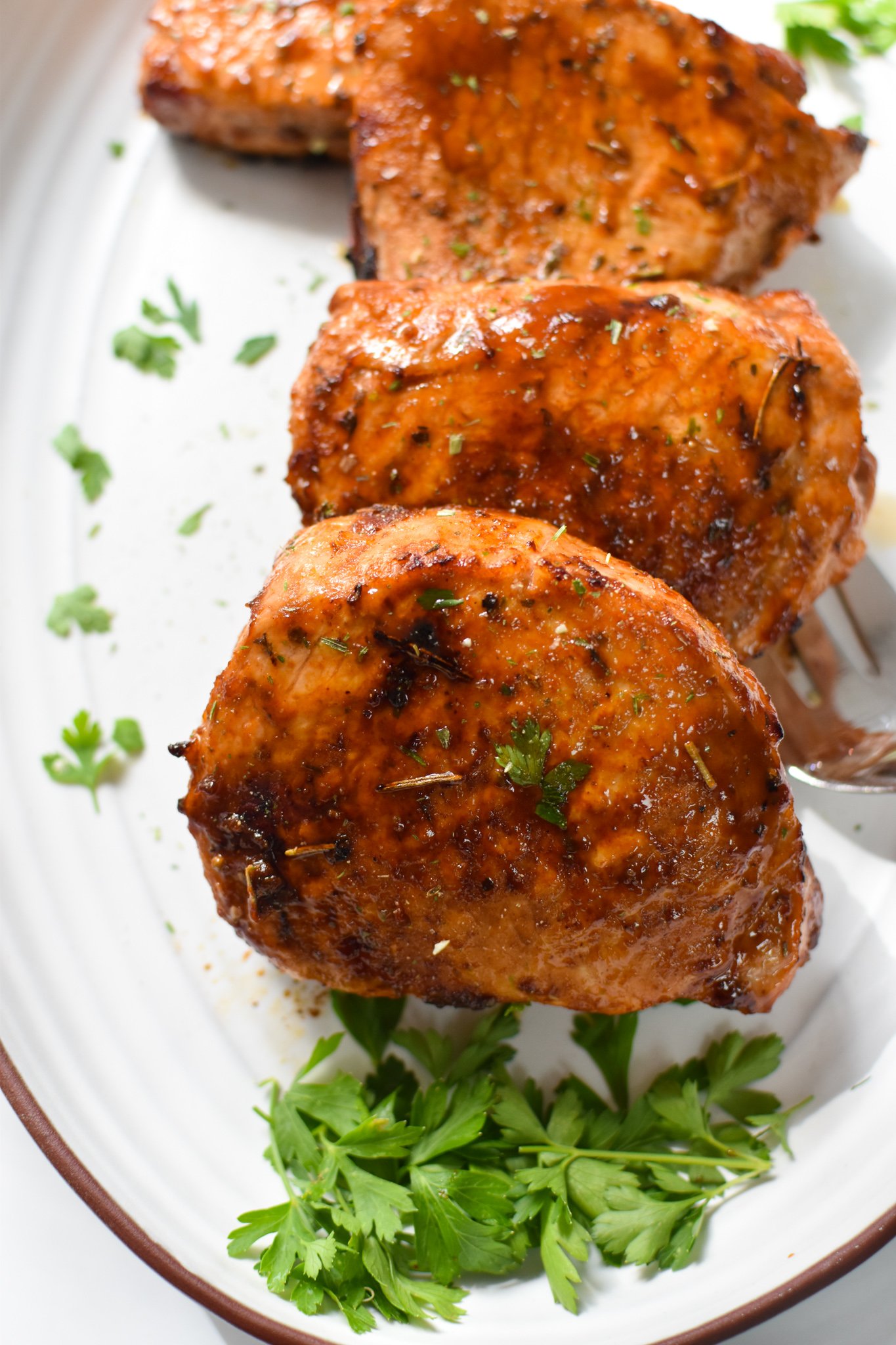 The Versatility of the Air Fryer
The air fryer is a game-changer in the kitchen. Not only can you make delicious Air Fryer BBQ Pork Chops, but you can also prepare a wide variety of other dishes, such as cod, pork tenderloin, coconut chicken tenders, salmon, and even pork taquitos. The best part? Air frying requires minimal oil, resulting in crispy food without the excessive greasiness. Plus, cleanup is a breeze!
The Perfect Meal for Busy Weeknights
When it comes to busy weeknights, it's essential to have quick and protein-packed meal options. These Air Fryer Boneless Pork Chops fit the bill perfectly. The recipe is straightforward, requiring just a handful of ingredients. To elevate the flavor, the pork chops are coated with a spice mixture and generously slathered with BBQ sauce.
Ingredients for Mouthwatering Pork Chops
To make these irresistible Air Fryer BBQ Pork Chops, you'll need the following ingredients:
Pork chops: Opt for boneless pork chops for convenience, although bone-in chops work well too.
Spices: Create a flavor-packed rub using a combination of paprika and garlic powder.
BBQ sauce: You can choose between homemade BBQ sauce or your favorite store-bought variety. Either way, the sauce will add a delightful tangy sweetness to the pork chops.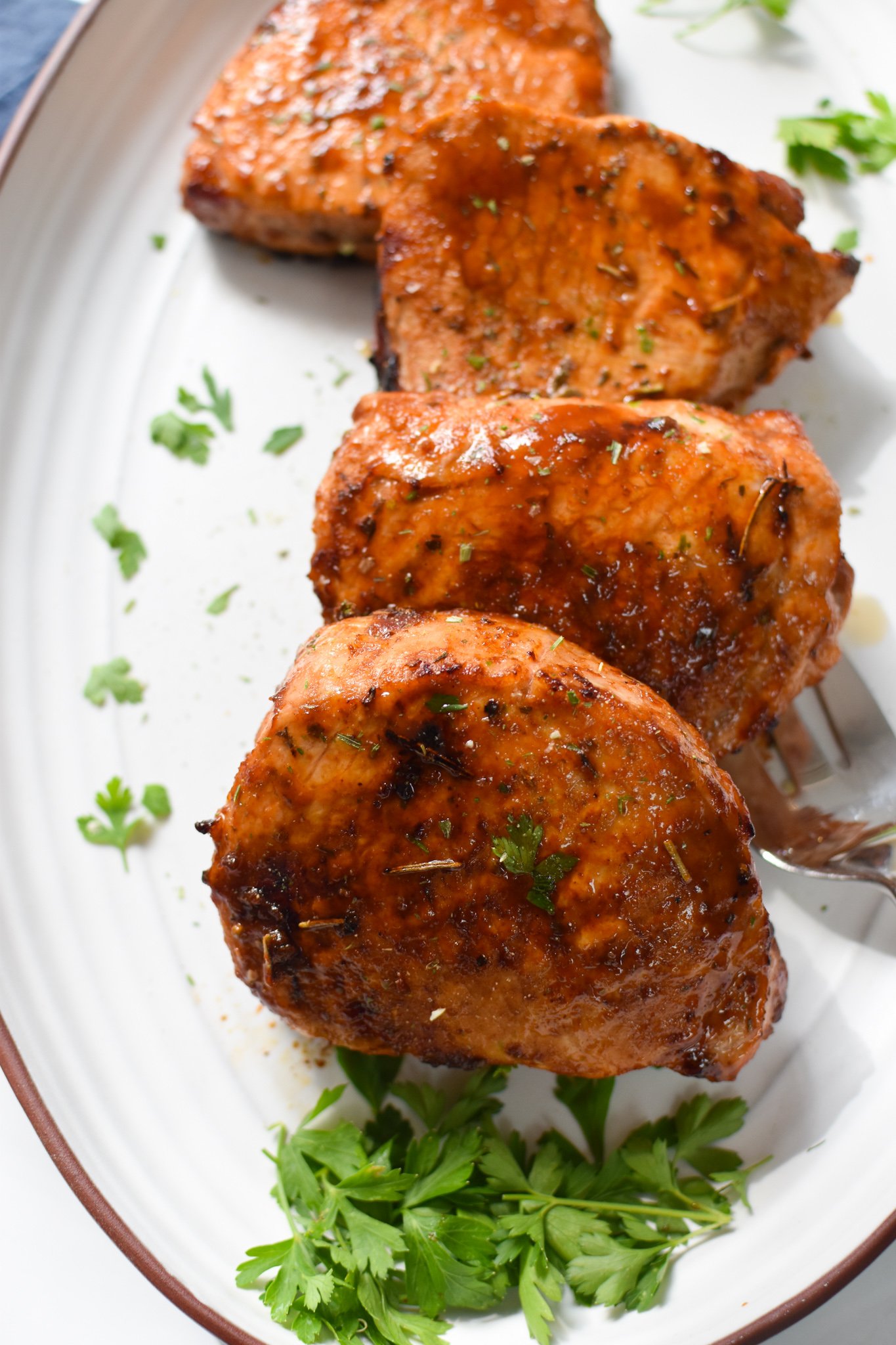 Cooking Instructions
Now, let's dive into the cooking process for these delectable Air Fryer BBQ Pork Chops:
Preheat your air fryer.
Pat the pork chops dry with a paper towel and place them on a cutting board or plate.
In a small mixing bowl, combine paprika, garlic powder, salt, and pepper to create a spice rub.
Generously rub the spice mixture onto both sides of the pork chops.
Use a brush to evenly coat the pork chops with BBQ sauce.
Arrange the pork chops in a single layer in the air fryer basket.
Set the air fryer to 375 degrees F and cook for approximately 15 minutes, flipping halfway through.
Once cooked, remove the pork chops from the air fryer and brush them with another layer of BBQ sauce.
Serve the succulent pork chops while they're still warm and enjoy!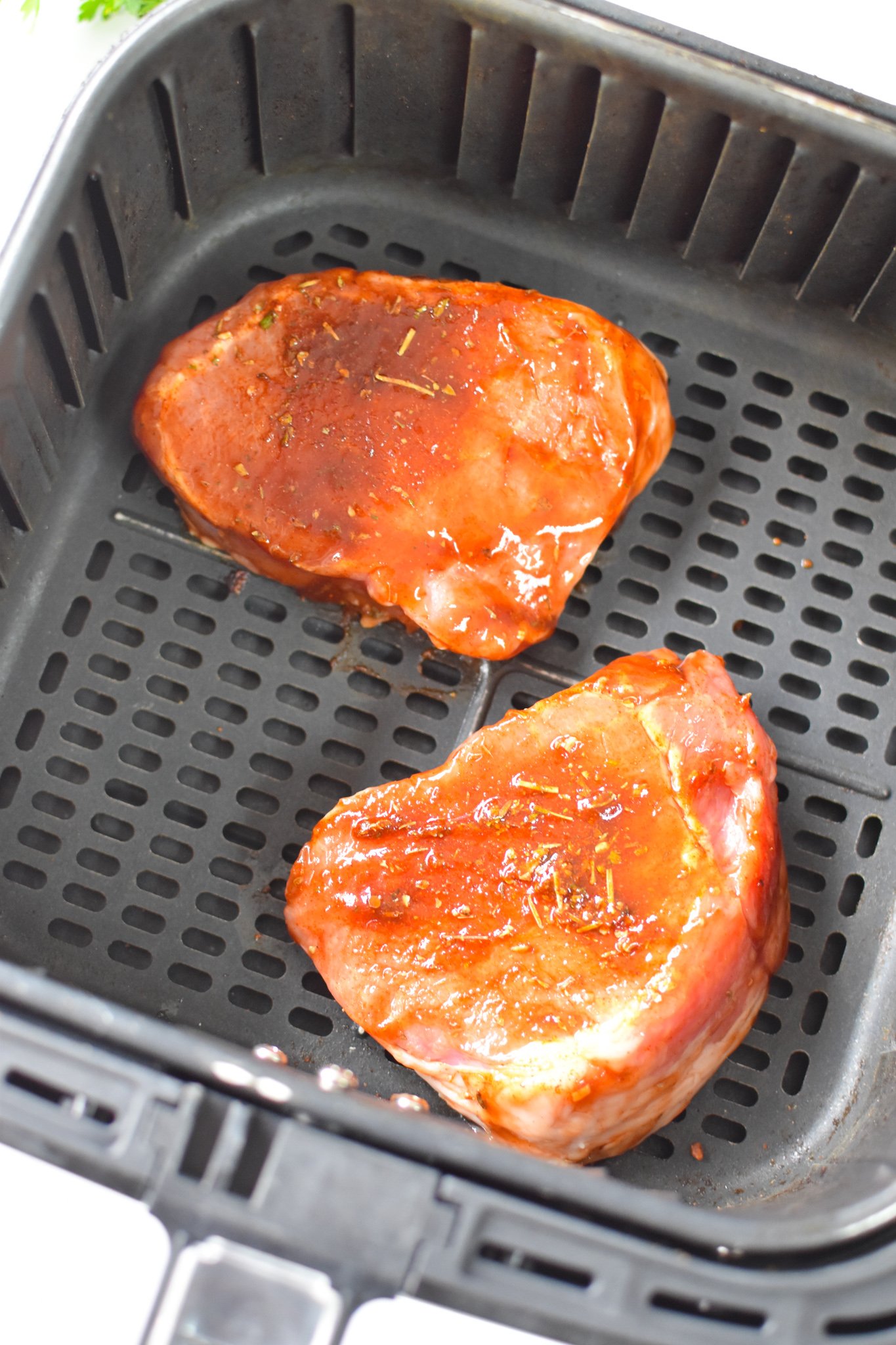 Achieving Perfectly Cooked Pork Chops
Determining the correct internal temperature is crucial when cooking pork. The ideal temperature for pork chops is 145 degrees F, ensuring they remain tender and juicy. Always use a meat thermometer to check the internal temperature. Remember, a slight blush of pink is considered safe and indicates optimal flavor and moisture retention.
Storage and Pairing Suggestions
If you happen to have any leftovers, you can store the cooked pork chops in a shallow airtight container in the refrigerator for up to 3 to 4 days. For a complete and satisfying meal, consider serving these mouthwatering Air Fryer BBQ Pork Chops with a side of delicious roasted vegetables like Mediterranean Roasted Vegetables, Turmeric Cauliflower, or Simple Roasted Broccoli. Additionally, adding potatoes to your plate, such as Spicy Lebanese Potatoes, Air Fryer Twice Baked Potato, or Crispy Potatoes, is always a great idea.
Follow Ohio Pork on FACEBOOK, INSTAGRAM, PINTEREST, and TWITTER for more exciting recipe inspiration.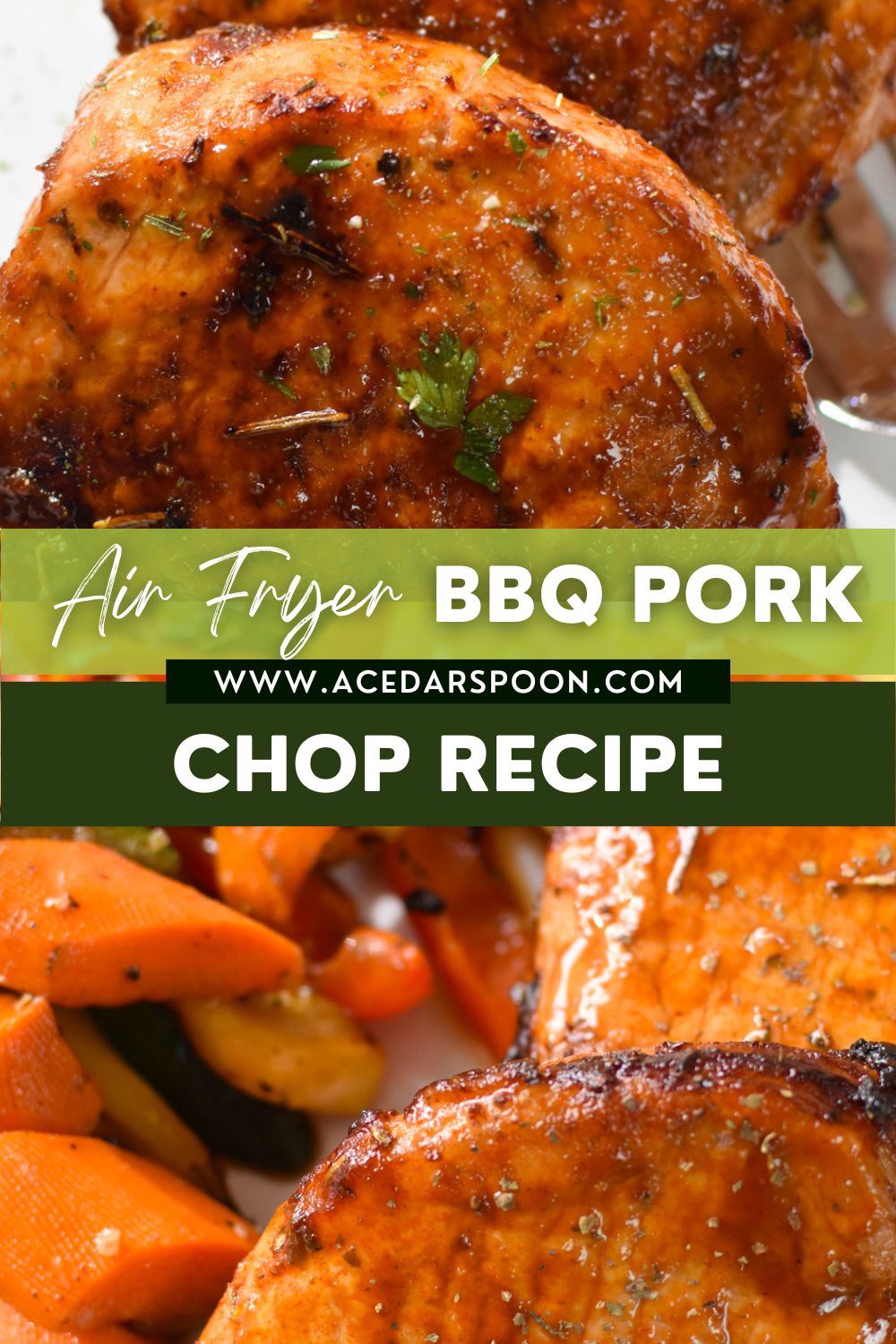 Today's recipe for Air Fryer BBQ Pork Chops is a testament to the versatility and convenience of air frying. With minimal effort, you can create a delicious and wholesome meal that will satisfy even the pickiest eaters. So, grab your air fryer, a juicy pork chop, and get ready to indulge in a flavorful dining experience like no other.