Can you believe that you can make mouthwatering barbecue chicken breast in an air fryer? You'll absolutely love this super simple recipe for air-fried BBQ chicken breast. It's the ultimate weeknight dinner option that will surely impress your taste buds. We'll season chicken breasts with smoky paprika, garlic, and onion powder, and then air fry them to perfection. A generous brushing of your favorite barbecue sauce and a short air frying session later, and you'll have yourself a winning chicken dinner.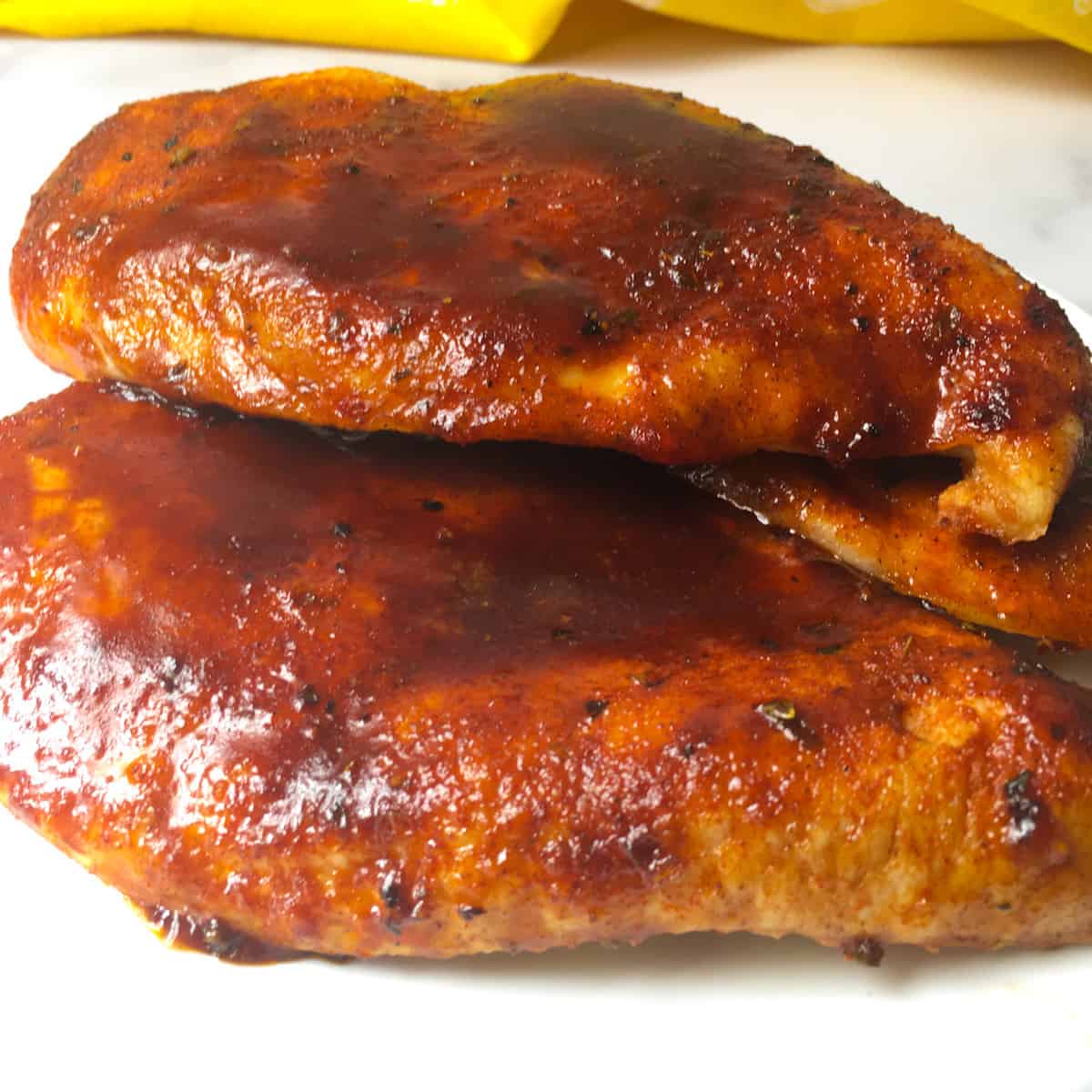 If you haven't tried air frying chicken breasts yet, what are you waiting for? Trust me, this recipe is a game changer. In a previous post, I showed you how to air fry a whole rotisserie chicken. But let's face it, sometimes you just want something quick and easy. With these air-fried BBQ chicken breasts, you can have a delicious meal on the table in under 30 minutes. It's perfect for those tired days when you need a quick and satisfying dinner. In fact, you may even be able to whip this up faster than you could drive to the nearest fast food joint. A little planning goes a long way when it comes to eating healthier.
Now, I know there are days when you have the luxury of taking your time with recipes. You might want to whip up a batch of homemade BBQ sauce to complement this chicken. But on other days, time is of the essence. That's why we're lucky to have so many great store-bought barbecue sauces available on the market. With their wide range of flavors, you're bound to find one that satisfies both your taste buds and your health needs.
What's the Best Barbecue Sauce for Chicken?
When it comes to barbecue sauce for air-fried chicken, taste is key. Why not experiment with a variety of store-bought BBQ sauces? It's a chance for your family to discover a new favorite among a plethora of options. In our kitchen, we tried The New Primal Classic BBQ Sauce and the Primal Kitchen Classic BBQ Sauce. It's interesting that both brands use the word "classic" in their names. However, each sauce has its unique twist that sets it apart.
Of the two, our favorite was The New Primal sauce. It had a delightful sweetness, similar to regular barbecue sauce, but with a subtle hint of pineapple. Here's some nutrition-related information about this sauce:
35 calories per 2 tablespoons (8g net carbs)
Gluten-free and Whole 30 approved
Sweetened with pineapple juice concentrate and tamarind concentrate
Contains beef bone broth powder (not vegetarian-friendly)
It's important to note that this BBQ sauce contains added sugar in the form of fruit concentrates. While blended whole fruits don't count as added sugars in recipes, concentrated fruits do. This can be a confusing area for many people.
How to Make Low Carb BBQ Chicken
If you're following a low-carb or keto diet, you don't have to give up on BBQ chicken. Luckily, there are BBQ sauce options available that limit the amount of added sugars. One such option is the Primal Kitchen Classic BBQ Sauce:
15 calories per 2 tablespoons (3g net carbs)
Gluten-free, vegan, low-carb, and keto-friendly
No added sugar or sweeteners
Prominent vinegar flavor
Both sauces are delicious, but if you prefer a touch of sweetness in your BBQ sauce, you'll enjoy The New Primal sauce more. On the other hand, the Primal Kitchen sauce is perfect if you're following a keto, lchf, or low-carb approach.
Both brands offer additional BBQ sauce flavors that may suit your dietary needs. For example, Primal Kitchen has a Carolina Gold BBQ sauce, while The New Primal offers a Mustard BBQ Sauce. The Mustard BBQ sauce from The New Primal offers the perfect balance of tanginess and sweetness, with just 3g of net carbs per serving. It's worth a try if you prefer a slightly sweeter sauce.
Benefits
Now, you might be wondering why you should make skinless, boneless chicken breasts in an air fryer. Let me tell you about the benefits:
Cooks in under 30 minutes: This recipe is perfect for busy nights. You can sprinkle the dry rub on the chicken, air fry it, and brush on the barbecue sauce. Keep the sides simple, like a bagged salad and frozen veggies, and you'll have dinner ready in no time.
Fits many special diets: This recipe can be easily adapted to be gluten-free, low-carb, or keto, depending on the BBQ sauce you choose. It's also likely to be dairy-free and soy-free, depending on your sauce selection.
Great for meal prep: Barbecue chicken freezes well, making it a fantastic protein option for meal prepping.
A crowd pleaser: Who doesn't love barbecued chicken? It's a guaranteed hit and a safe bet for pleasing a group of hungry diners.
Ingredients
To make air-fried barbecue chicken breasts, here's what you'll need:
Small boneless, skinless chicken breasts
Melted bacon fat or cooking oil
Smoked paprika
Garlic powder
Onion powder
Dried oregano
Salt and black pepper
Cooking oil spray
Your favorite BBQ sauce
It's important to use small chicken breasts to ensure the cook time matches what I've listed below. The chicken breasts I use are Perdue Perfect Portions, which weigh around 5-6 ounces and are about ½ inch thick.
If your chicken breasts are larger, simply pound them with a mallet to achieve a ½-inch thickness. You'll also want to trim them down to around 5-6 ounces each. Larger chicken breasts may dry out on the outside before reaching the minimum safe internal temperature. Using smaller chicken breasts will result in more even cooking.
Equipment
Air fryers come in different sizes, so cooking times may vary slightly. I personally use a 10-Quart Kalorik Digital Air Fryer Oven with two frying racks. If you have a smaller air fryer basket, you may need to cook the chicken in two batches or adjust the recipe accordingly.
One of the advantages of air frying is that it's easy to adjust cooking times. You can flip the food or switch the position of the trays in the oven as needed. This allows you to closely monitor the cooking process and make any necessary adjustments.
Keep in mind that air fryer recipes should serve as a guide, not as strict rules. If your chicken looks done before the recommended cooking time, you can remove it from the oven. Conversely, if the chicken isn't cooked through, you may need to extend the air fryer time slightly. It's all about finding that perfect balance.
How to Make Air Fryer BBQ Chicken Breast
Before you start seasoning and cooking, make sure your chicken breasts are the right weight and thickness. Aim for boneless, skinless chicken breasts that weigh around 5-6 ounces and are about ½ inch thick. If your chicken breasts are larger, use a mallet to pound them to the desired thickness and trim them down.
Start by spraying your air fryer trays with cooking spray. Then, place the chicken breasts on the tray in a single layer. Depending on the size of your trays, you may be able to fit two breasts per tray.
Next, brush the chicken breasts with melted bacon fat or cooking oil. In a separate bowl, mix together the paprika, garlic powder, onion powder, dried oregano, salt, and black pepper. Sprinkle this flavorful mixture onto the chicken breasts.
Cooking Time
You will air fry the seasoned chicken breasts for a total of 26 minutes. Here's a breakdown of the air frying procedure:
Air fry for 10 minutes at 350 degrees Fahrenheit.
Flip the chicken breasts and switch the position of the trays in the air fryer oven.
Air fry for an additional 10 minutes at 350F.
Flip the chicken breasts over again and brush them with BBQ sauce.
Air fry for 3 minutes at 350F.
Switch the position of the trays in the oven (no need to flip the chicken this time) and air fry for an additional 3 minutes at 350F.
After air frying, use a meat thermometer to ensure that the chicken has reached a safe minimum internal temperature of 165 degrees Fahrenheit. If necessary, you can extend the air fryer time slightly to ensure the chicken is cooked through.
Finally, let the chicken breasts rest for 5-10 minutes before serving.
Cooking Temperature
To achieve moist and tender chicken, air fry it at 350 degrees Fahrenheit. This temperature ensures thorough cooking without sacrificing juiciness.
Side Dishes
Pair your air-fried BBQ chicken breast with a variety of delicious side dishes. For example:
Air fryer frozen French fries
Kale apple slaw with Brussels sprouts, dates, and tahini
Air fryer cornbread
These sides perfectly complement the flavors of the barbecue chicken.
Expert Tips from a Dietitian
Here are some expert tips to enhance your air fryer BBQ chicken breast experience:
This is a level 1 recipe, meaning it may support fat loss. Calorie and nutrition information will vary depending on the BBQ sauce you use. BBQ sauces with no added sugar are often lower in calories and may be the best choice if you're aiming for fat loss.
Skinless, boneless chicken breast is a lean protein that provides great satiety. It's an excellent choice for building a healthy meal. Consider serving it with a mix of roasted cauliflower, potatoes, or a side salad packed with non-starchy vegetables. If you're opting for a level 1 meal, stick to 1-2 tablespoons of salad dressing.
Remember, these recipes are just guidelines. Feel free to adjust them based on your personal preferences and needs. It's the best way to ensure that your air-fried food turns out perfectly every time.
FAQs and More Air Fryer Chicken Recipes
Looking for more air fryer chicken recipes? Look no further! Here are some delicious options to try:
Air fryer chicken shawarma bowls
Air fryer breaded chicken breasts
Frozen chicken wings in an air fryer
Air fryer Cornish hens
Air fryer chicken legs with mustard and herbs
For more amazing recipes, make sure to subscribe to our weekly newsletter. Stay up-to-date with the latest and greatest culinary creations. You can also follow us on Pinterest, Twitter, and Instagram!
The Disclaimer…
As with any recipe, it's important to consider your medical needs and personal preferences. Consult with a registered dietitian or your physician for guidance on the dietary pattern that suits you best. The nutrition information provided is an estimate and may vary depending on the specific brands and ingredients used. Remember that calorie information on food labels can sometimes be inaccurate, so don't stress too much about the numbers.
For more information on how different recipe levels can support your weight management goals, check out our overnight oats with yogurt post. Now, let's get cooking!