Are you looking for a quick and easy way to cook delicious boneless pork chops? Look no further than the air fryer! Our recipe for Air Fryer BBQ Pork Chops is sure to become a family favorite, providing a satisfying dinner option that you can enjoy all year round.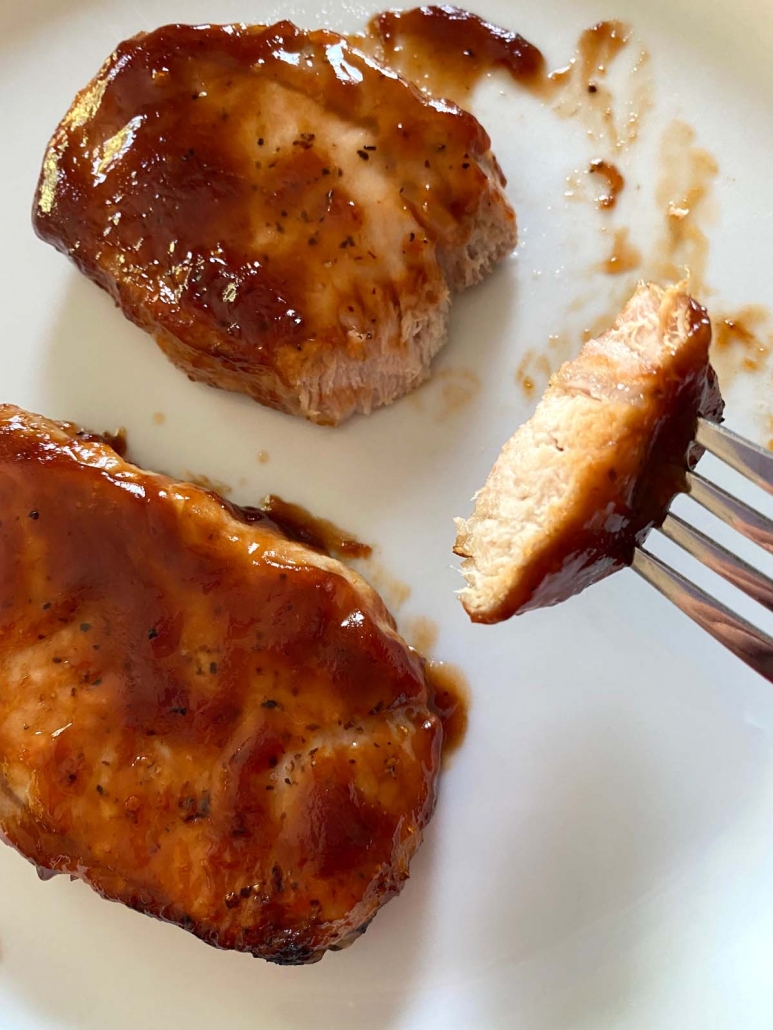 BBQ Pork Chops in the Air Fryer
In the air fryer, these pork chops turn out tender and juicy. Add a brush of BBQ sauce on top, and they become perfection on a plate. Your whole family will love them!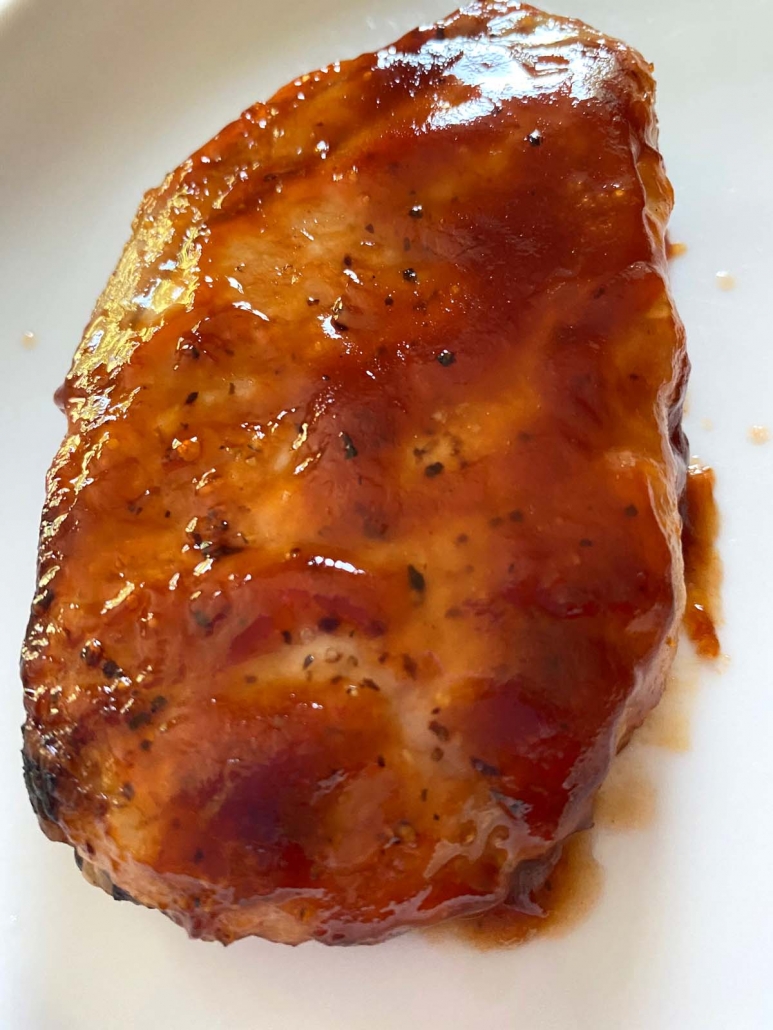 The air fryer ensures that your boneless pork chops are cooked to your liking – soft, fork-tender, and bursting with flavor. Serve them alongside hearty sides like Brussels Sprouts and Air Fryer Diced Potatoes for a warm and comforting home-cooked meal.
Looking to explore more air fryer BBQ recipes? Don't miss out on our crowd-pleasing Air Fryer BBQ Chicken Wings or Air Fryer BBQ Chicken Legs. Once you try them, you'll be making them over and over again!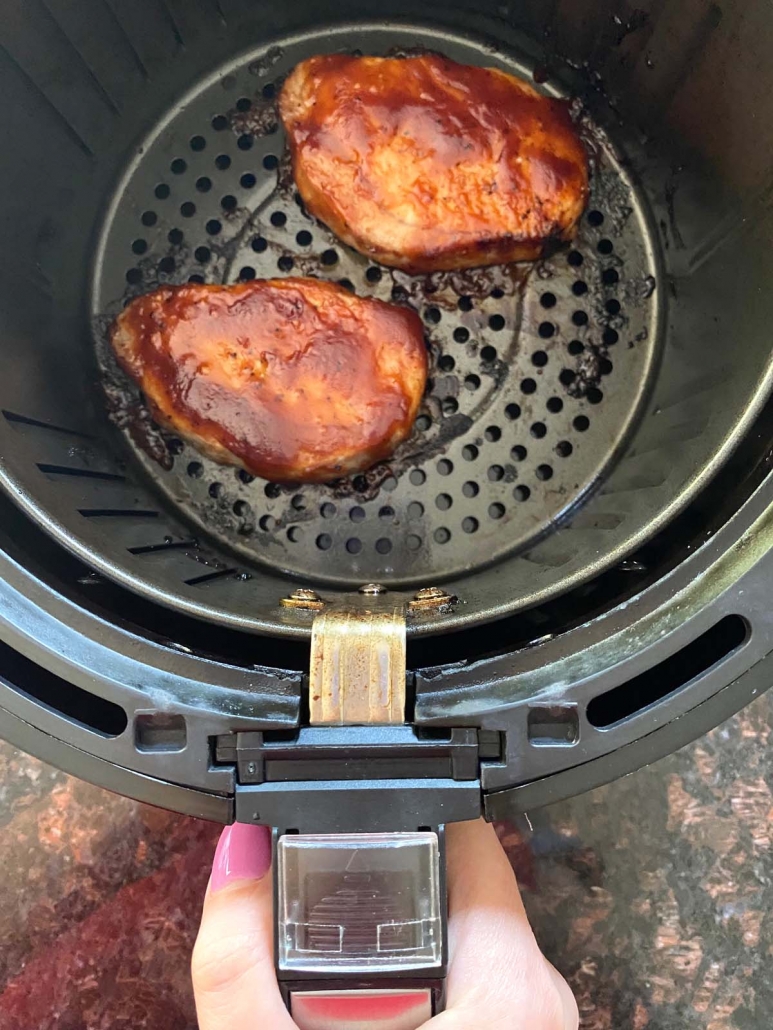 How To Make Air Fryer BBQ Pork Chops
To ensure your pork chops turn out perfectly, start by spraying the air fryer basket with nonstick spray or brushing it with oil. This step prevents any sticking. Next, season the pork chops with salt and pepper or any other seasonings you prefer. Don't forget to rub the seasonings in and ensure both sides of the chops are seasoned evenly.
Place the seasoned pork chops in the basket of the air fryer and cook them at 400 degrees for 8 minutes, flipping them halfway through the cooking time. Afterward, brush the tops of the pork chops with BBQ sauce and continue cooking for an additional 2 minutes. Flip the chops over, brush more sauce on top, and cook for an additional 3 minutes.
To ensure they are fully cooked, check the internal temperature of the pork chops using a meat thermometer. They should register at least 145 degrees. If not, return the basket to the air fryer for a few more minutes of cooking.
Use a spatula to remove the pork chops from the air fryer basket and place them on a serving plate.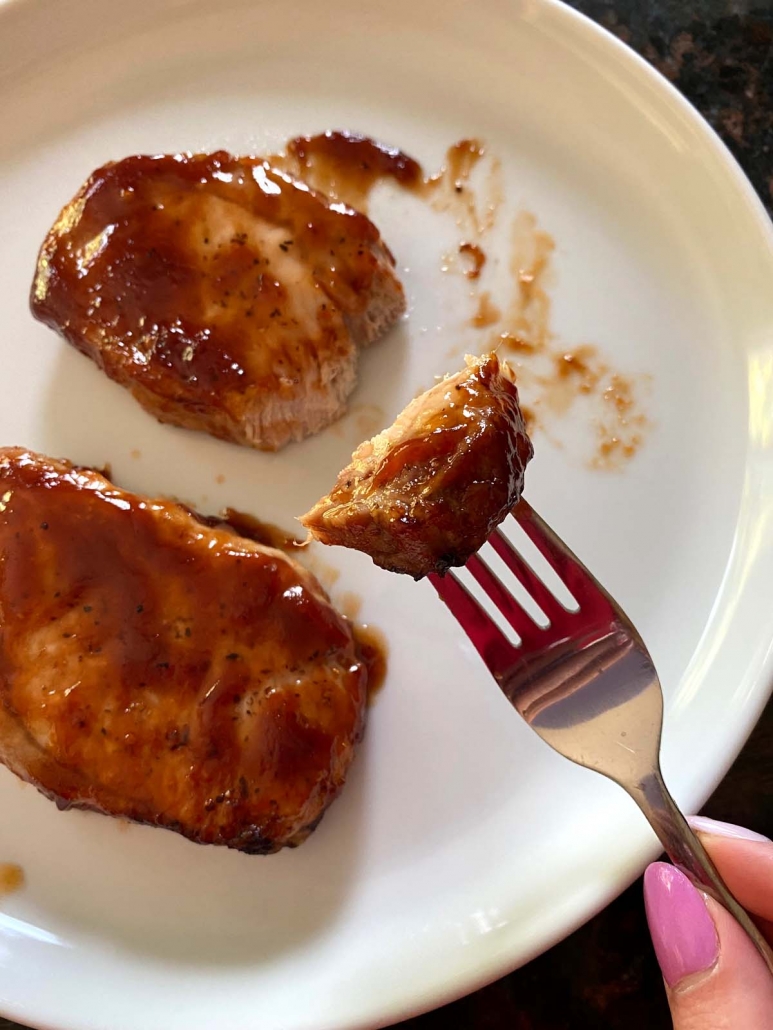 Cooking Tips
Here are a few handy tips to make your cooking experience even better:
Remember to season both sides of the pork chops and rub the seasoning in thoroughly.
Apply the BBQ sauce at the end of the cooking time to avoid any sticky mess in the air fryer.
Use a pastry brush to evenly apply the BBQ sauce to the pork chops.
What To Serve with BBQ Pork Chops
If you're in the mood for a classic BBQ feast, consider pairing your pork chops with Chicken Shish Kabobs, Grilled Onions, Corn & Potato Salad from our BBQ Menu.
For extra-tasty pork chops, why not try making your own Instant Pot BBQ Sauce? It's incredibly easy and will take your meal to the next level!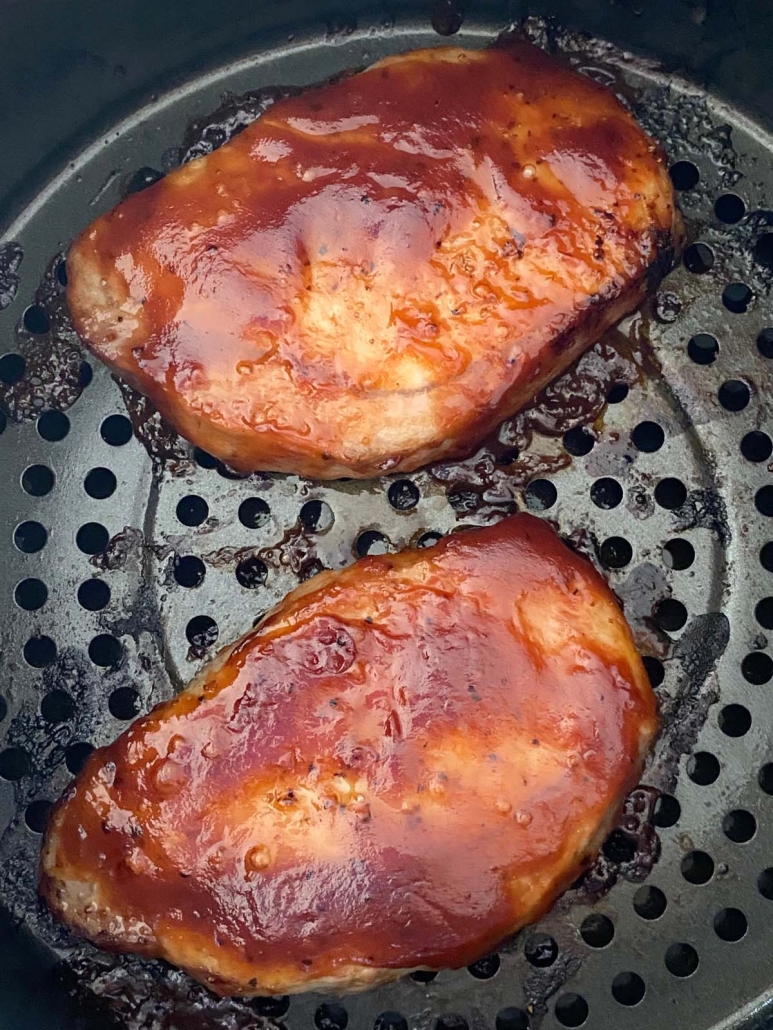 How Long Does it Take for Pork Chops to Cook in the Air Fryer?
Boneless pork chops typically require about 10 minutes in the air fryer to cook fully. If you're using bone-in pork chops, add an additional 5 minutes. Don't forget to flip the pork chops halfway through the cooking time to ensure even cooking.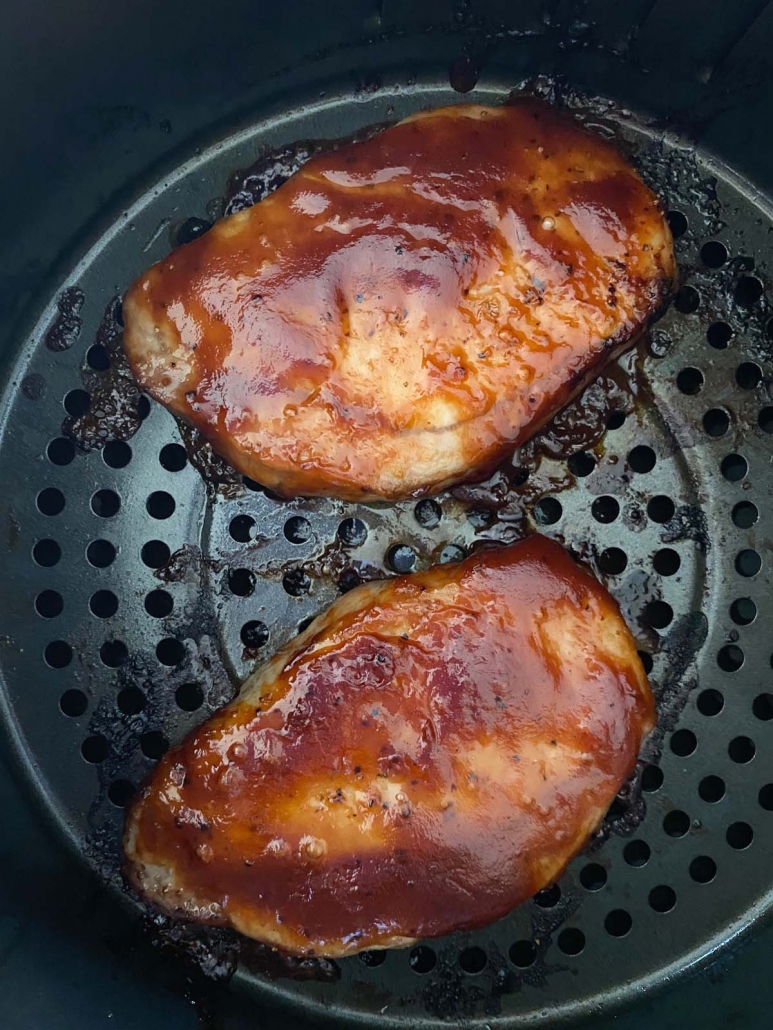 More Air Fryer Recipes:
If you want to explore further with your air fryer, here are some more delicious recipes to try:
Air Fryer Roasted Chickpeas
Air Fryer Donuts from Pillsbury Grands Biscuits
Air Fryer Frozen Calzone
Air Fryer BBQ Chicken Wings
Bacon Wrapped Asparagus
Frozen Chicken Fried Steak in the Air Fryer
Also, check out these fantastic recipes:
Scrambled Eggs in the Air Fryer
Gluten-Free Blueberry Cake with Almond Flour
Chicken Drumsticks in the Instant Pot
Air Fryer Zucchini Chips
So, why wait? Start cooking up some mouthwatering BBQ pork chops in your air fryer today and enjoy a delicious homemade meal with Hook'd Up Bar and Grill.